Who Among Your Favorite Celebrities Have The Most Kids
A lot of fans have been watching their favorite stars' lives, from the time they started in the entertainment business to the time when they were building their own families. This interest in their personal lives gave birth to several popular reality shows today.
Of course, there is Keeping Up with the Kardashians, Kate Plus 8, 17 Kids and Counting and more. What do these shows have in common? They all feature a bunch of kids.
Kris Jenner has half a dozen kids, while Kate Gosselin has eight. For the famous family of Jim Bob and Michelle Duggar, they have 20 children! Yep, they have doubled the digits to an incredible degree.
These celebrities may have their hands full raising many kids, but as they say, the more, the merrier! It looks like they are making the most out of their situations, too.
If you think raising two or three kids is already hard work, wait until you find out how many children the celebrities on this list have.
Clint Eastwood | 8 Children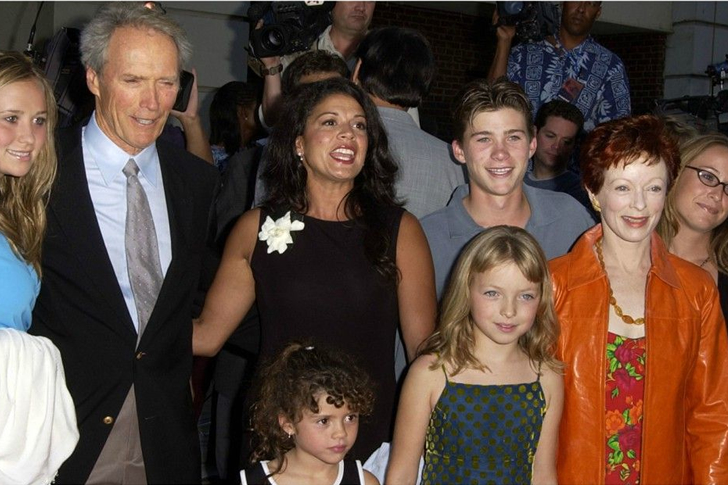 Clint Eastwood is one of Hollywood's greatest actors in the Western film industry and has become a living icon for many actors looking to pursue a career in the same genre. If his already successful career wasn't enough, he has also been blessed with a beautiful, talented set of children. Clint has a total of eight children who are all successful individuals in their own fields to some degree:
Kimber Lynn Eastwood is a film producer and make-up artist, Kyle Eastwood is a successful bass musician with numerous songs already featured in his father's films, Alison Eastwood is an actress/producer and model, Scott Eastwood is an actor and probably the most famous among the Eastwood children, Kathryn Eastwood is an actress and writer, Francesca Eastwood is a model/actress, Morgan Eastwood is the youngest and has also appeared in her father's films, Laurie Eastwood is the only non-celebrity among the 8 children and probably has her reasons for staying away from the entertainment business.
Cindy Crawford | 2 Children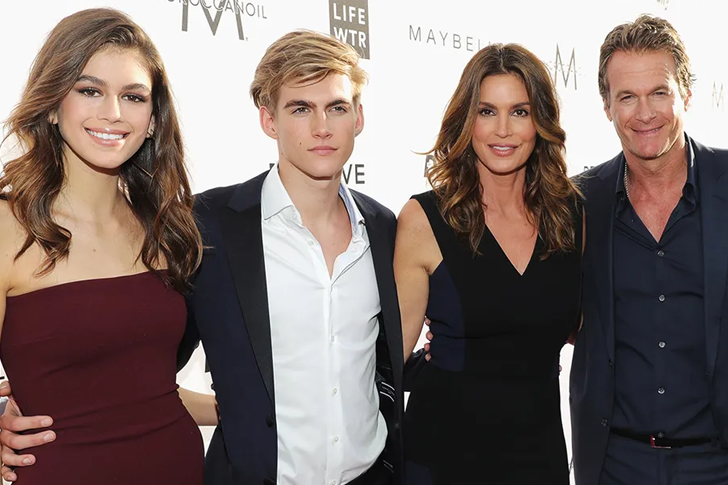 Cindy Crawford is one of those supermodels who successfully passed on her good-looking genes to her children. After finally deciding to settle down with her husband, Rande Gerber, Cindy immediately gave birth to Presley Gerber the following year. Presley is Cindy and Rande's eldest child and their only son. Presley appeared in his runway debut in a fashion show in Moschino Cruise 2017 and got featured in Carolina Herrera's Spring Campaign just two years later.
Kaia Jordan Gerber is Cindy's only daughter and is also a successful model. Her first appearance on a runway was when she appeared in Calvin Klein's Spring 2018 during New York Fashion Week. Kaia also became the face of the Daisy Love campaign for Marc Jacobs in 2018. Her latest achievement was getting chosen as Vogue China's December 2020 cover girl. It seems that the entertainment business takes the supermodel's children seriously. Crawford must be one proud mama!
Chuck Norris | 5 Children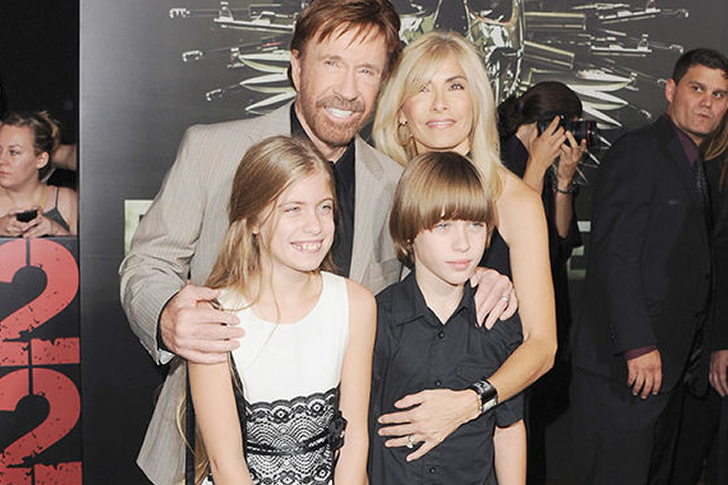 Chuck Norris needs no introduction. The famous martial artist turned actor is one of Hollywood's best, having starred in many blockbuster films in his career. As for family, Norris doesn't cut corners and makes sure that his children receive all the love that can get. His five children are blessed to have such a doting father and their success in life definitely reflects how they were brought up by their supportive father.
Chuck's first two children, Mike and Eric, were from his 30-year marriage to Dianne Holcheck. Through his sons, he has 7 grandchildren. Chuck would then proceed to marry his next partner, model and fashion celebrity, Gena O'Kelley. Chuck and Gena have twins together, Danilee and Dakota. Chuck's oldest daughter is Dina DeCioli. All of his children give credit to their father for making time for them despite his busy schedule.
Christopher Walken | No children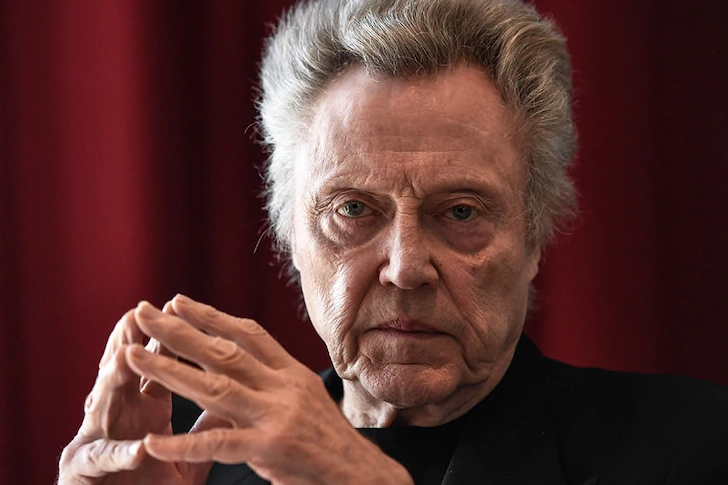 Christopher Walken prides himself as an actor, director, producer, screenwriter, comedian, singer, and dancer with 100 acting credits from movies and television shows. His performance in The Deer Hunter won him an Academy Award for Best Supporting Actor. He also appeared in critically acclaimed films such as Batman Returns, True Romance, Click, Hairspray, Catch Me If You Can, and Seven Psychopaths.
Walken has certainly achieved an incredible amount of success since his breakthrough performance in Annie Hall back in 1977. Some people are baffled as to why he and his wife Georgianne never had children despite all the necessary resources available to them. Walken stated that choosing to not have kids was what enabled him to pursue his career without having to worry about his family, while his wife supported him every step of the way because of his dedication and drive to succeed in his career.
Christie Brinkley | 3 Children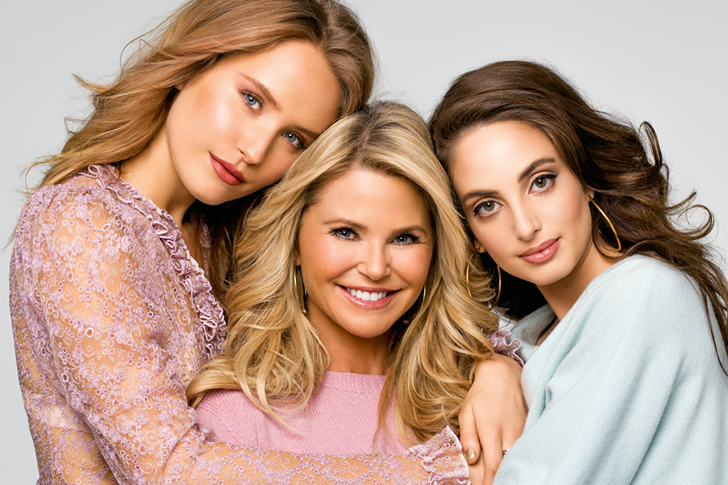 Christie Brinkley may just be one of the few models who have defied the effects of aging with her youthful appearance even at 67 years old. She has fans all over the world for her features in numerous magazines such as Sports Illustrated Swimsuit Issues. What makes Brinkley so iconic is her extensive career, coupled with many achievements and accolades over the years. The model has been married 4 times in the past and has 3 beautiful children to call her own.
Alexa Ray Joel is the oldest and has a passion for music that she got from her famous father, Billy Joel. Jack Paris Brinkley-Cook is a businessman who recently used his investment money to start a luxury transportation service called ROVE. Sailor Lee Brinkley-Cook is a model and the youngest of the 3 children and has as bright future in modelling, which would make her the closest child to take after her famous mom.
Cher | 2 Children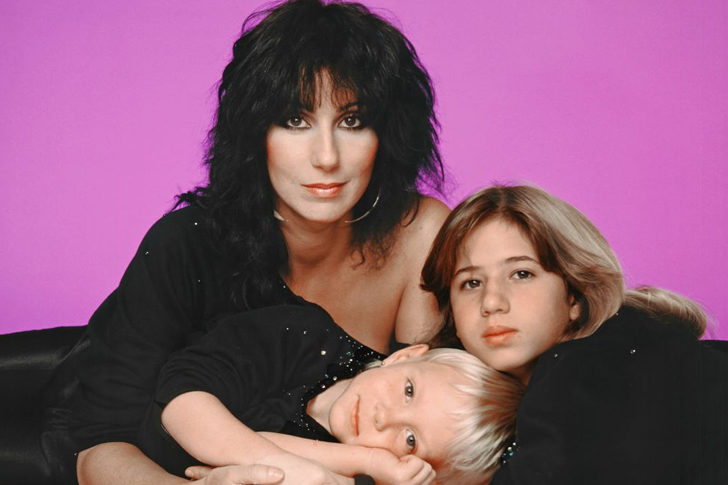 Many people recognize and admire Cher for her career as one of the most successful singers of her time, but people know little about her children, Elijah and Chaz. Chaz, the eldest, is the singer's child with her former husband, Sonny Bono. Chaz came out as a transgender man in the late 2000s. Although Chaz didn't have as much success in the entertainment business as his mother, he still appeared many times on his mother's show as a child, The Sonny and Cher Comedy Hour.
Chaz is an actor and author of four books. Elijah Blue Allman is Cher's child with the musical hitmaker, Greg Allman. As a result of Elijah's passion for music, he pursued his career with fierce dedication and eventually got the chance to take the reign for the band Deadsy. To his credit, Elijah didn't need his legendary mom to help him get that gig.
Celine Dion | 3 Children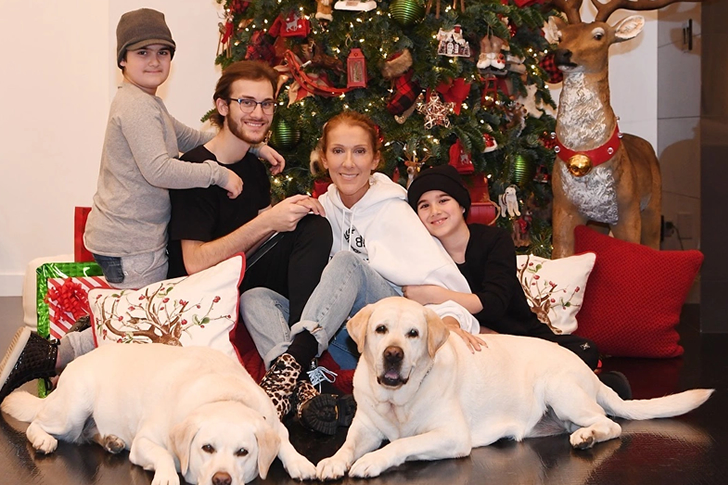 Celine Dion is a French-Canadian singer who considered a world-class talent and a household name in the music industry, due to her extensive list of credits and accolades from her top-selling albums and songs. Many of Dion's songs have become timeless pieces that will be remembered for generations. Some of her most famous songs are My Heart Will Go On, The Power of Love, and It's All Coming Back To Me Now. You would be hard-pressed to find anyone who hasn't heard about the singer, for the legacy she's built has been incredible to witness.
Rene-Charles Angelil was Dion's first child with her late husband and talent manager, Rene Angelil. Her oldest son is also an aspiring singer but has yet to feature in any of his mother's songs. After a decade, Celine gave birth to twins Eddy and Nelson Angelil, who were conceived through IVF treatments. The two sons are talented boys that speak both French and English fluently.
Catherine Bell | 2 Children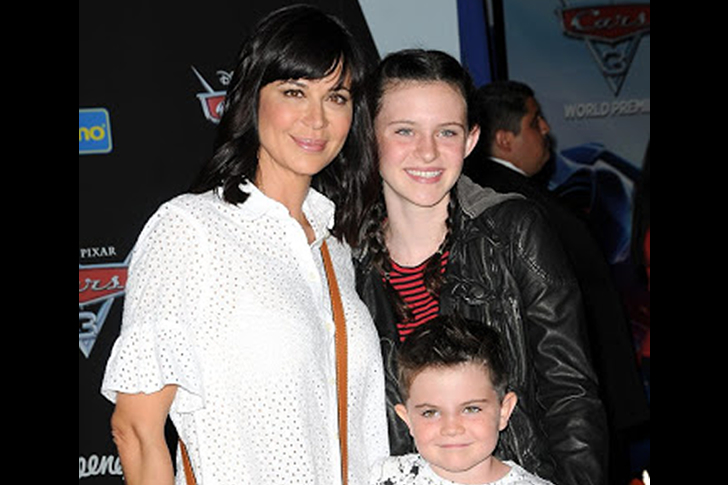 Catherine Bell is famous for her role as Sarah Mackenzie the Lieutenant Colonel on the popular television series JAG. Some of her other roles include her appearances as Denise Sherwood in Army Wives and as Cassandra "Cassie" Nightingale in The Good Witch. It's no doubt that Catherine has had a rather fruitful career and that many people love and adore her performances on television and the big screen. However, little do people know that she also has two beautiful children with her former husband, the producer Adam Beason.
Both kids have the same good looks as their mother. Ronan Beason is her youngest child and her only son. There isn't much to know about Ronan apart from the fact that he seems to be a happy, carefree child. Gemma Beason is Bell's only daughter and is the best candidate for someone who could possibly follow in the JAG star's footsteps. We're sure these two won't need to worry about student loans in the future.
Carrie Underwood | 2 Children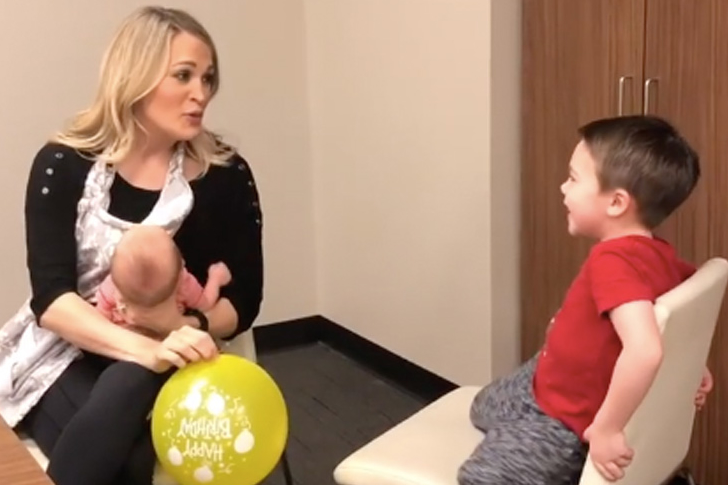 Carrie Underwood is famous for being the winner of American Idol season 4 and is arguably the most successful champion of the show to date. After winning the competition, she went on to the become one of the most successful and highest-selling musicians of her generation. The singer has numerous awards and accolades. Her oldest child is Isaiah Michael Fisher. At 5 years old, he has yet to show any interest in field or career but the No Hearts singer doesn't cut any corners when showing her son all the love and care he needs.
Isaiah's younger brother, Jacob Bryan Fisher, is only 15 months old and is one of the singer's motivations to keep making music, as she always gives free concerts to her family whenever they're at home. We're thrilled that there's still some gas left in Underwood's tank, as we can't imagine a world without new music from her.
Brad Pitt | 6 Children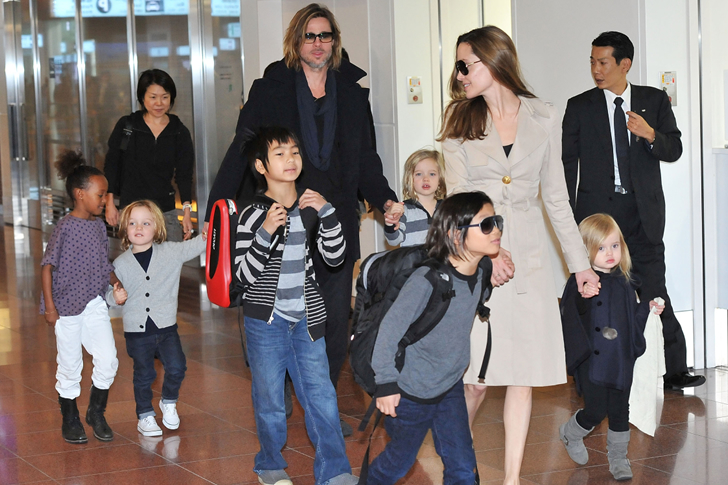 Brad Pitt is one of Hollywood's most respected actors. Not only does he have such a prolific career to an extensive degree, but he has also dated several of the industry's most beautiful actresses. Pitt's most famous relationship was with Angelina Jolie, with whom he has 6 children. Their oldest child is Maddox Chivan Jolie-Pitt, who was born in Cambodia and adopted by the couple in 2002.
Their next child, Pax Thien Jolie-Pitt, was born in Vietnam and officially adopted by Brangelina in 2003. Their oldest daughter is Zahara Marley Jolie-Pitt, who was adopted in 2005. Shiloh Novel Jolie-Pitt is the first biological child of the power couple. Their youngest children are twins Knox Leon Jolie-Pitt and Vivenne Marcheline Jolie-Pitt, who were born in France. The former couple are successfully coparenting their brood of six, with Pitt frequently photographed visiting his children.
Bruce Willis | 5 Children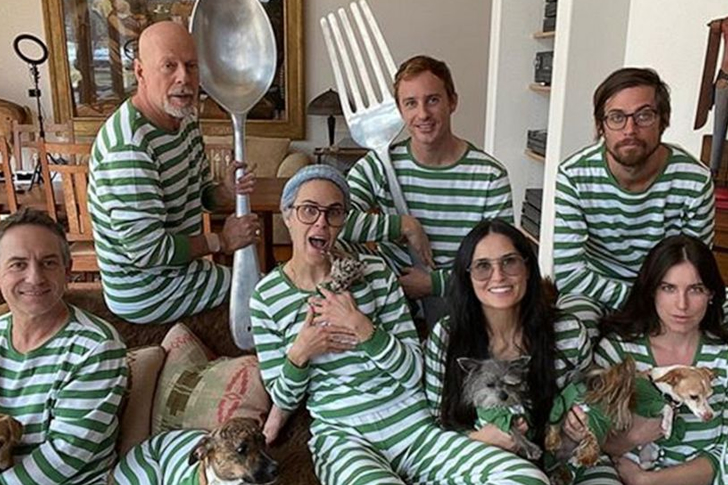 Bruce Willis is one of Hollywood's greatest actors, with a career spanning more than 40 years and a resume of films, series, and acting credits that all add to his impressive repertoire of achievements. He officially became a star when he got cast as the main character in Die Hard. Since then, his name has become synonymous with action movies. As a result of Willis' amazing career, he also gained relationships with beautiful women along the way and has 5 children with two women.
He married Demi Moore in 1987 and has three daughters with her, namely, Rumer Willis, Scott LaRue Willis, and Tallulah Belle Willis. After their separation in 2000, the action star vowed to never marry again, but retracted that promise after meeting model Emma Hemming. The couple wed in 2009 and has two daughters, Mabel Ray and Evelyn Penn.
Bruce Springsteen | 3 Children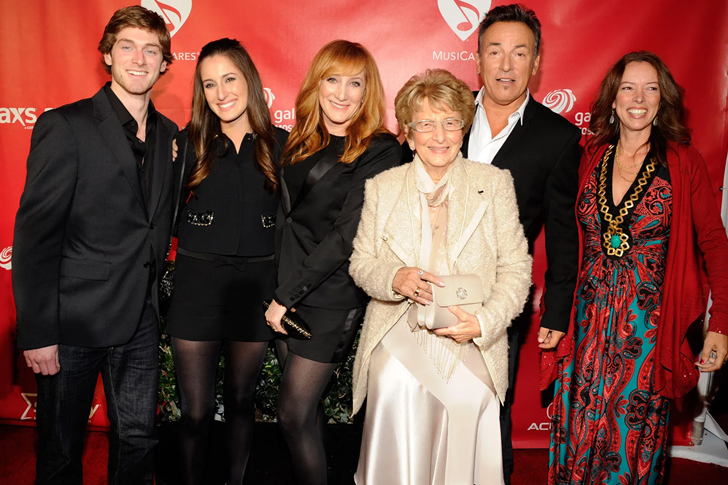 Bruce Springsteen is known as "The Boss" and famous for being the front man of E Street Band. The singer is best known for his album Born to Run, which he released in 1975. After winning dozens of awards and accolades, Springsteen became an icon to millions of fans and musicians all over the world, making him one of the most successful musicians of all time. The singer is also blessed with wonderful children who share the same degree of passion and drive for success as their father.
Evan Springsteen is Bruce's oldest child and was born in 1990. He is sometimes seen performing with his father on stage for some of his shows. Jessica Springsteen is a successful equestrian and Olympics performer that is regarded as one of the most successful horseback riders in the United States. Sam Ryan Springsteen chose to pursue a career in saving lives and is a successful firefighter based in Jersey City.
Britney Spears | 2 Children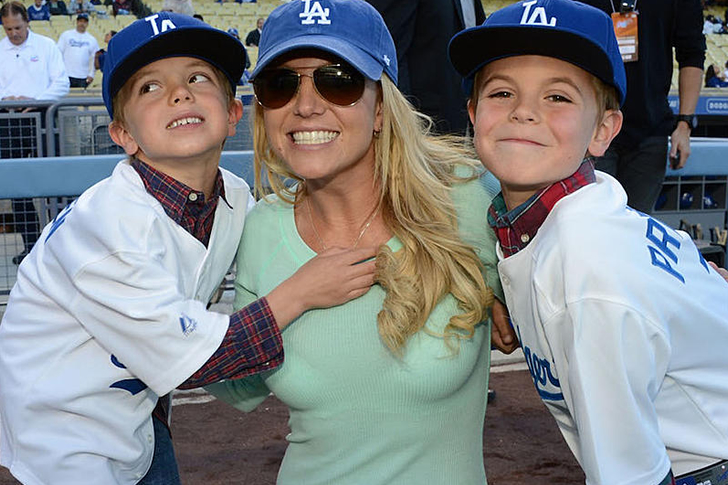 Britney Spears is famous for being one of the most successful singers of all time and her fair share of controversies in the past that involved lawyers. At age 11, Britney starred in The All-New Mickey Mouse Club, which marked the start of her very successful career. When the singer released her single Baby One More Time, her popularity soared and gained incredible sales records. Some of her other albums that gained global popularity are Oops!… I Did It Again, Britney, and Femme Fatale. Spears is also blessed with two wonderful children with her previous partner, Kevin Federline.
Her first child, Sean Federline, was born in 2005. Sean has also appeared in the television series, Britney & Kevin: Chaotic. Jayden Federline is the youngest of Britney's two sons and was born in 2006. Recently, Framing Britney Spears, a documentary on the pop star's life, was released by FX, with another documentary on her life, this time by Netflix, in the works.
Ben Affleck | 3 Children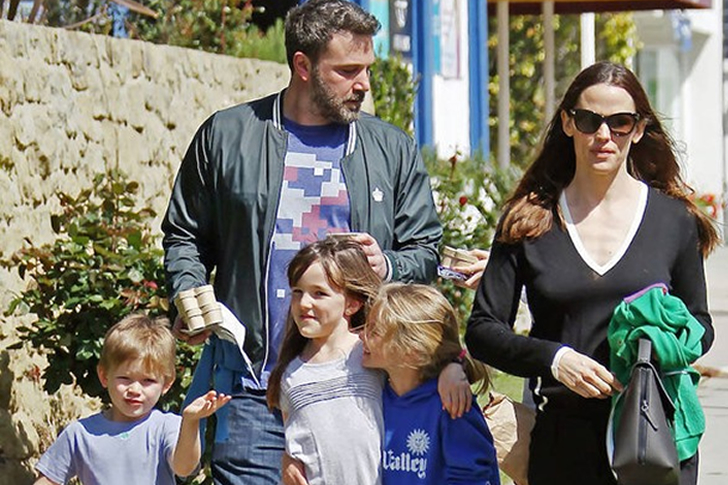 Ben Affleck is one of Hollywood's greatest actors. He has several acting credits in blockbuster films such as Good Will Hunting, Argo, Batman V Superman, Dawn of Justice, The Accountant, Gone Girl, Shakespeare in Love, and many more. His successful career also enabled him to meet the mother of his children, Jennifer Garner, with whom he tied the knot in 2005. Together, they had three beautiful children before separating in 2015.
The two remain respectable and fully responsible parents to their children and are often spotted with their children. Violet Affleck is the couple's firstborn and shares an uncanny resemblance to her mother. Seraphina Rose Elizabeth Affleck is their second daughter and enjoys going out with her mother on fashion trips. Samuel Garner Affleck is the youngest child and apparently has a great sense of humor, according to his mother.
Billy Joel | 3 Children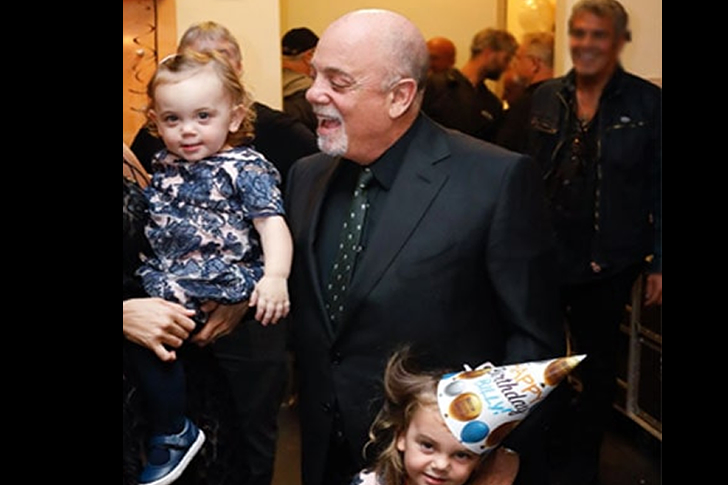 Billy Joel is a singer-songwriter who dominated the music scene during the 70s and 80s with hits such as Piano Man, Uptown Girl, and We Didn't Start A Fire. After gaining critical acclaim for his songs, the singer has the bragging rights to $100 million sales mark worldwide. He was also inducted into the Rock and Roll Hall of Fame in 1999 after achieving such a milestone. We hope he had a competent financial advisor to help him with his finances. Joel was previously married to the supermodel Christie Brinkley, with whom he has a daughter named Alexa Ray Joel. Alexa can be seen performing in Madison Square Garden sometimes as she also has a music career like her father.
Della Rose Joel is his first daughter with his current wife, Alexis Roderick. Della was previously seen singing her father's song Don't Ask Me Why with him on stage and gained the admiration of the crowd. Remy Anne Joel is the singer's youngest daughter and was born in 2017, during a time when his career was slowly declining into his retirement. Remy seems to be his favorite out of his three daughters as she is often seen beside him in family photos.
Billy Dee Williams | 2 Children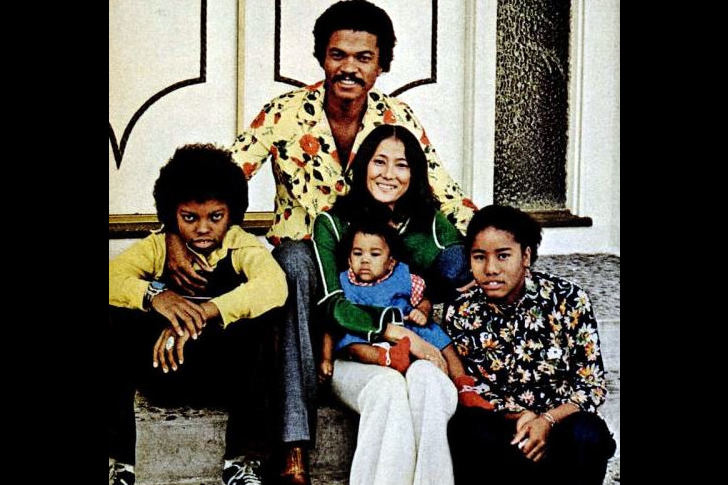 Actor Billy Dee Williams has always been passionate in his career. All credits to him being passionate in his family too, as he is a good father to his two children. Corey and Hanako Williams are the two kids of this talented actor.
Corey is 61 years old. He is also interested in acting just like his father. We see him in films and projects such as Star Wars: The Return of The Jedi and In Search of Tomorrow. He also landed a few interviews every now and them. He's been invited into film festivals around the world a few times. Hanako Williams is the second and last child of Williams with Teruko Nakagami. She is 48 years old and is also into entertainment. She is active in social media platforms. Many of us might remember this cute little girl with her dad on some past red-carpet events. Now, she is all grown up and has taken on her mother's Japanese features.
Bill Cosby | 5 Children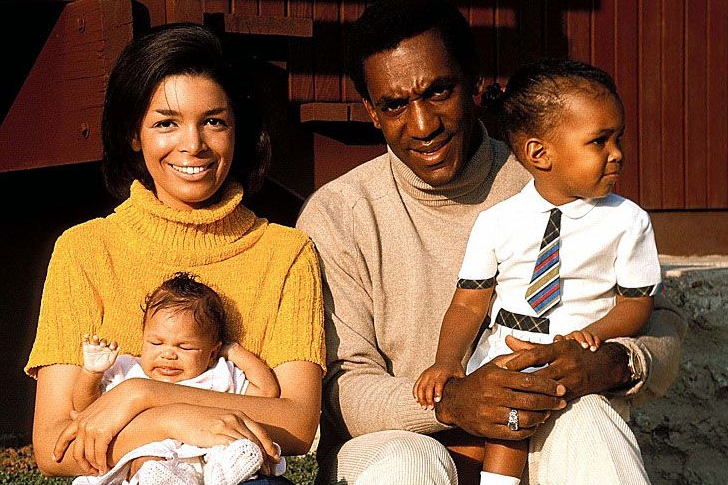 Actor, author, and stand-up comedian Bill Cosby is famous for starring in The Cosby Show. He is perhaps one of the most controversial celebrities of all time, having been in headlines and front pages not once, not twice, but more than three times in his life. Still, his daughter Evin credits him for being the best father in the world.
The comedian has five children, namely, Ennis Cosby, Ensa Cosby, Evin Harrah Cosby, Erinn Chalene Cosby, and Erika Ranee. Sadly, Ennis and Ensa passed away several years ago. Erinn is a 54-year-old photographer in LA who seems to be doing well in life. Erika, 55, also has her heart on arts since she is currently a professional painter. Evin, 44, owns a luxury boutique that carries brands such as Anna Sui and Ben Sherman. These three ladies certainly inherited their dad's good looks and intelligence.
Barbara Walters | 1 Child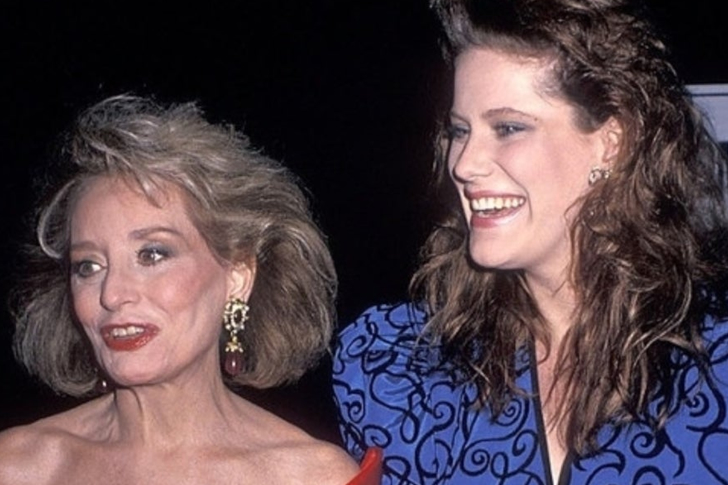 Retired broadcast journalist Barbara Walters has one adopted child. All credits to her warm heart, the second she adopted her baby girl she said she loved her as her own blood from then on. She raised her well and made sure that she is nurtured, safe, and healthy. That, for her, is what the true definition of a mother is.
Walters' daughter, Jacqueline Dena Guber is now 52 years old and has grown up to be a beautiful woman. However, some time in her life, she went through a difficult phase in her life. As she battled her personal problems, her mother never left her side and remained her biggest supporter and ally. Fortunately, she is now on her way to a full recovery. She also said in an interview that she never could have done it on her own without the help of her family and loved ones. We're pretty sure that this time around, she is going to make her mom proud.
Anthony Anderson | 2 Children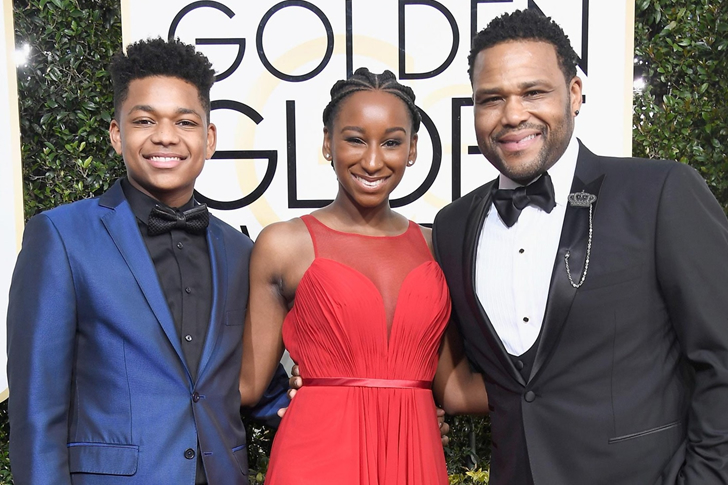 Actor, comedian, and game show host Anthony Anderson has two kids with wife Alvina Stewart. The two were wed in 1999. All credits to Anthony for being one of the rare celebrities who have chosen a private life for him and his family. He is also a very loyal husband.
Nathan and Kyra Anderson are the two children of this lovely couple. Nathan is 21 years old, almost as tall as his daddy, and frequently seen with him at red-carpet events. Their friends said it's one of the things they love to do together as father and son. Being an actor himself, Nathan is slowly looking more and more like his father. Kyra Anderson, 25, also appears on the red carpet from time to time with her father. This happy family of four seems to always have a great time in public events or even in just ordinary errand days.
Angelina Jolie | 6 Children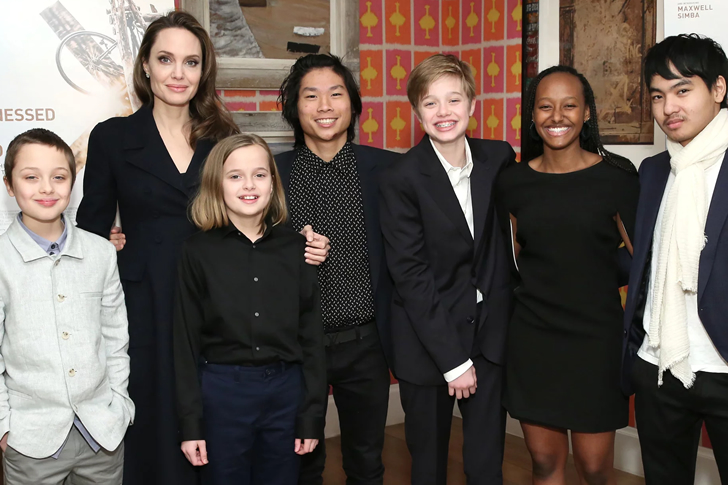 Angelina Jolie is one of the biggest names in Hollywood. All credits to her and Brad Pitt, even when they decided to call it quits, they remain in touch for the sake of Maddox Chivan, Pax Thien, Zahara Marley, Shiloh Nouvel, Knox Leon, and Vivienne Marcheline.
Yep, the couple has 6 kids. Shiloh is a 14-year-old beautiful young lady who just had a shocking transformation from being boyish to rocking a more girly look. Vivienne, on the other hand, is a 12-year-old who just simply likes to dress more than most kids her age. She has a twin brother, Knox, who is developing his love for acting. Maddox, whom the actress adopted from Cambodia, is 19. Zahara was born in Ethiopia and was adopted by Jolie when she was just 6 months old. She was later co-adopted by Brad. She grew up to be such a stunning young lady. Pax is 17 years old who Angie adopted from the Tam Binh Orphan Center in Vietnam.
Amy Adams | 1 Child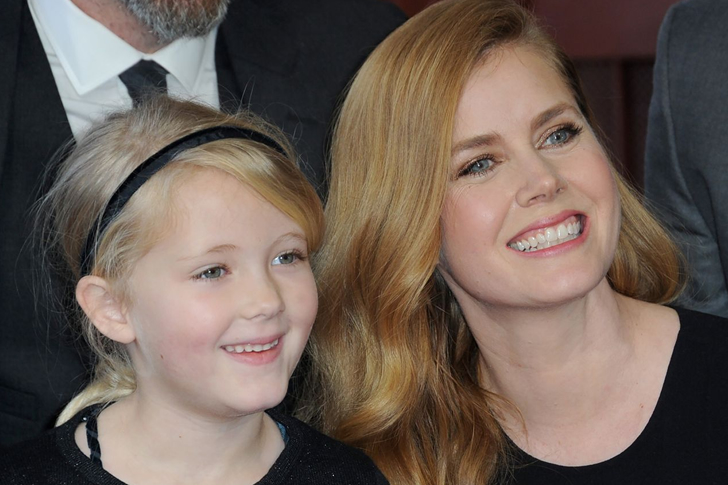 Amy Adams is one of the most promising and successful actresses of today. All credits to her early passion for acting, her ballet classes, singing talent, and a combination of red hair and fair skin, she continues to be highly in demand in Hollywood films. She is also one of the most nominated actresses at the Oscars.
The actress has been married to Darren Le Gallo for 7 years now. They share a 10-year-old daughter, Aviana Olea Le Gallo. Aviana loves to attend red carpets with her mommy. She is a spitting image of the actress and is just as elegant and classy. She certainly takes on after her mother's perfect genes. She also does charity work through Dinosaur Princess, a story book she wrote. All of its profits will go to the feeding children in their community. Adams has raised a kindhearted young woman!
Alex Trebek | 2 Children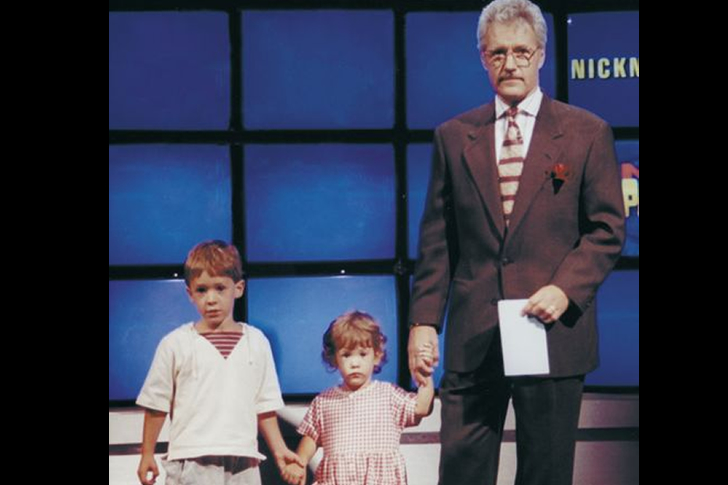 George Alexander Trebek, OC, was a game show host and television personality. His passing shook the world, and he was mourned by many. Thanks to his contribution to Hollywood, he will forever be remembered as his legacy goes on. Other than being an entertainer, he is an amazing father as well.
Matthew and Emily Trebek are the two children of the late host. Both have clearly inherited their dad's good looks. Emily is a gorgeous 28-year-old who graduated from Loyola Marymount University with a degree in Design & Architecture and works as a real estate agent. Matthew is the host's only son. The 31-year-old is a very handsome young man with passionate heart just like his father. Recently, he opened a charity in honor of his father and donated all of his dad's belongings, including his expensive wardrobe. Matt said it would only make sense since his father did a lot for other people and that his dad wouldn't have it any other way.
Adele | 1 Child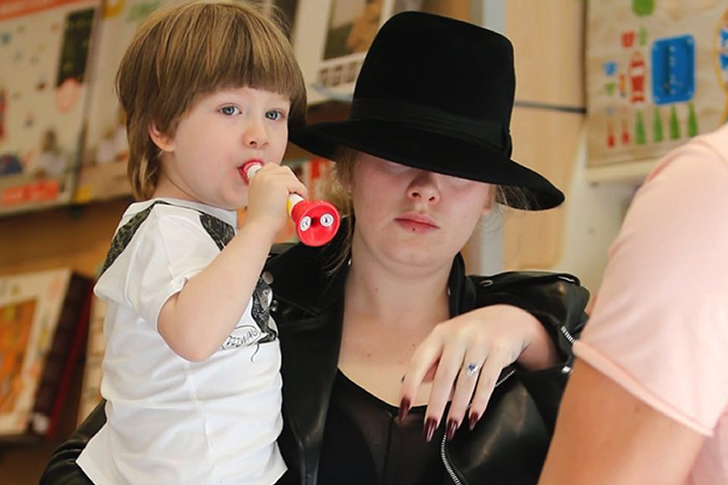 Adele is one of the biggest names in the music industry today. She had a whirlwind romance with a guy who was known to have broken her heart before she met her then-husband Simon Konecki. All credits to this man, Adele has delivered some of the most empowering breakup anthems. She is an outstanding songwriter, with an incredible singing voice and a beauty that remains unmatched. On top of it all, she has an amazing sense of humor!
Unfortunately, her marriage to Konecki didn't last, but they appear to be on good terms. Adele's ex lives across the street from the pop royalty for the sake of their beloved 7-year-old son, Angelo Adkins. Adele even has his name tattooed on her wrist. Angelo continues to rock his long blonde hair, and he is one of those celebrity children who are kept away from the spotlight.
Adam Sandler | 2 Children
Adam Sandler is a jack of all trades. He can act, sing, dance, make us laugh, make us cry, and is a very private family man. On top of all that, he is very rich and very loyal. He also served us some of the best romantic comedy films of all time. All credits to his lovely and supportive wife Jackie, the actor didn't find it hard to manage his career and personal life. The two have been married since 2003 and are still going strong.
They have two kids together, Sadie and Sunny Sandler. Sadie is now 14 years old and has appeared on some of Adam's films such as Pixels, Bedtime Stories, and more. Sunny is two years younger than her older sister Sadie and is an actress too. They both have appeared on their dad's movie Hubie Halloween.
Gordon Ramsay | 5 Children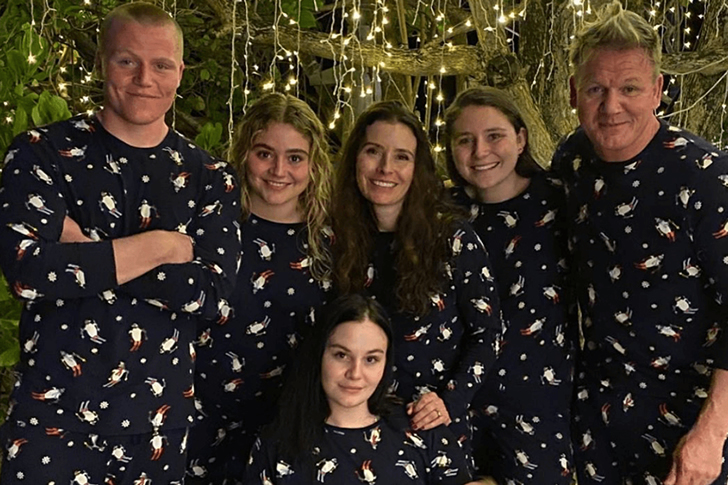 Gordon Ramsay is culinary legend and restaurateur. As he became very successful in the cooking business, he never forgot where he came from and still has a huge heart for people who needed help. All credits to his wit and humor, he became one of the world's most famous celebrity chefs.
The English celebrity master chef has five children: Matilda, Oscar, Jack Scott, Holly Anna, and Megan Ramsay. He has been married to his wife and the mother of his kids, Tana Ramsay, since 1996. Matilda is a very beautiful 19-year-old TV presenter. Holly is a very gorgeous 21-year-old model. Megan is the eldest among the Ramsays; she's 23 years old and currently attending Oxford Brookes University. At the age of 21, Jack is the spitting image of his dad. He lives quite a glamorous yet responsible life. On an episode of Master Chef Season 4, Jack appeared as a guest on his dad's show. Baby Oscar is the youngest child of the chef.
Goldie Hawn | 3 Children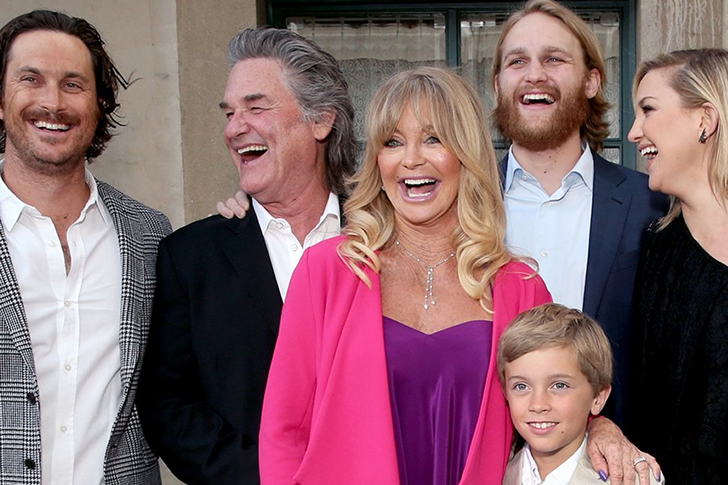 Goldie Hawn is one of the most famous and successful actresses of her time. The actress may be in her golden years, but people wonder how she still looks so beautiful and youthful. Her answer is simple. She gives the love of her life and longtime partner Kurt Russell all the credit for her radiance and glow.
Goldie is the mother of the romantic comedy royalty Kate Hudson. Kate isn't the only child of this beautiful blonde actress, though. She has 3 kids overall. With her former husband Bill Hudson, Hawn shares Kate and Oliver Hudson, while she shares her youngest son Wyatt with Russell. Kate is 41 years old who shares the same theory about marriage as her mom's. The two just don't think that marriage brings luck to their family. They are better off being with the man who loves them even without making things official. Oliver, 44, is also an actor and has appeared in Kurt Russel's film The Christmas Chronicles. Wyatt pursues hockey and acting at the same time.
George Clooney | 2 Children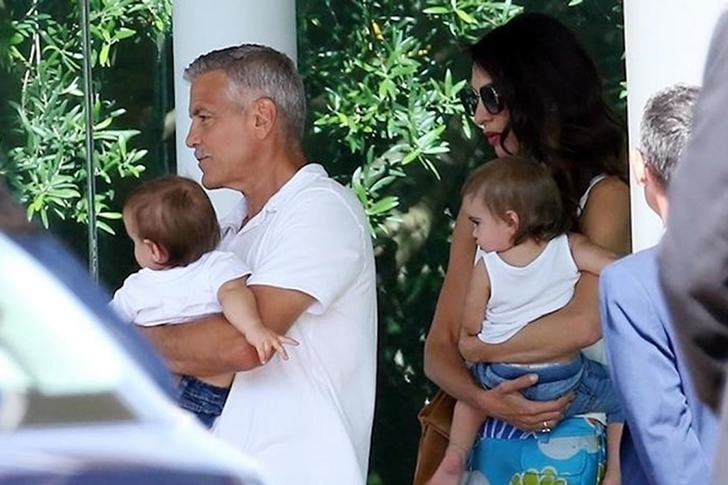 George Clooney was once hailed as the most eligible bachelor before the beautiful activist and lawyer Amal Clooney won his heart. He is one of the most famous actors in Hollywood and a known philanthropist. Now that he has been off the market for years, some think the bachelor was just waiting for his one true love, which he evidently found in his wife. This lovely couple share twins Alexander and Ella Clooney. They were born in 2017.
Clooney seems to be having the time of his life as a father even at his advanced age. He and Amal have both decided that they would not allow any paparazzi near their daughter and son just yet. Well, at least not anytime soon, just until they want to do it on their own. They are known to be quite the protective parents, which they have every right to be. We can only imagine the number people want to take a closer glimpse of their two angels.
Garth Brooks | 3 Children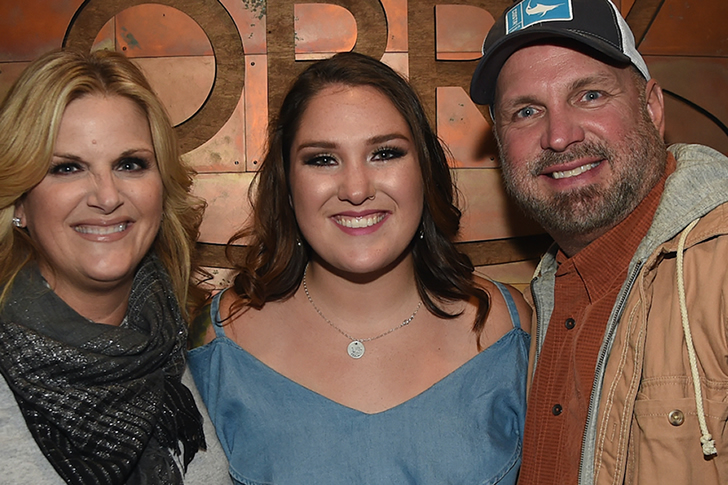 Garth Brooks is a music legend. He puts a surprising twist to country songs by infusing it with pop and rock elements. All credits as well to his songwriting process, he has served us some of the greatest songs of all time. The 59-year-old country icon has been married to his wife, Trisha Yearwood, since 2005.
Brooks is a great husband, a great musician, and a great father. Unlike other celebrities, he doesn't want to talk about his children much in order to protect them from the spotlight. Maybe other celebrity parents understand. Brooks has three children with his former wife Sandy Mahl: August Anna, Taylor Mayne Pearl, and Allie Colleen Brooks. Even for baby names, he remains creative. Taylor is 28, August is 26, and Allie is 24. Allie is the one who inherited her dad's talent in music. She is a Nashville singer and acoustic player.
Floyd Mayweather | 5 Children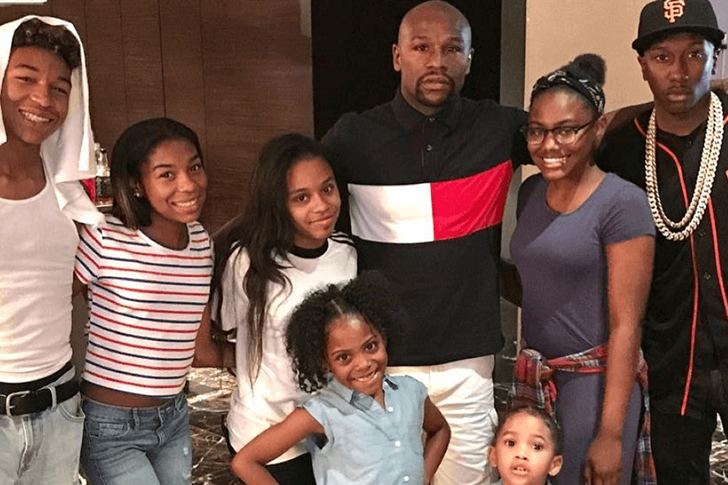 Floyd Mayweather is a boxing legend. His divisions include Welterweight, Featherweight, Lightweight, Super Featherweight, Light Middleweight, and Light Welterweight. All credits to his profession in boxing, he eventually became one of the richest boxers in the world today.
The 43-year-old champ has 5 kids, namely, Iyanna Mayweather, 20, Zion Shamaree Mayweather, 18, Jirah Mayweather, 16, Koraun Mayweather, 21, and Devion Cromwell, 19. Devion is the boxer's adopted son. Zion is an aspiring social media star, with now almost 300,000 followers on Instagram. The youngest Jirah is still in high school. It's unclear what Iyanna does for a living, but her brother Kouran is a rapper. Iyanna has said that she has the closest relationship with her dad out of all her siblings. As such, he spoils her with only the best of the best. The Mayweather family may be huge and challenging to deal with sometimes, but we're sure the patriarch know how to handle his loved ones like a true champ.
Elton John | 2 Children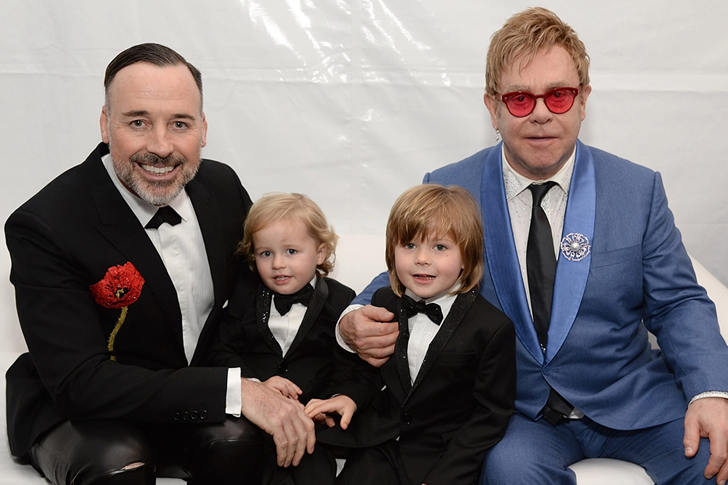 Elton John is one of the biggest names in Hollywood. He, Michael Jackson, and Drake are the only 3 artists who hold the credit of being the musicians with the most record sales of all time. Due to his authenticity, fashion, living his life unapologetically, his genius songwriting process, and his close friendship with Princess Diana and Freddie Mercury, he is a legend indeed!
John has two children: Elijah Joseph Daniel Furnish-John and Zachary Jackson Levon Furnish-John. He and husband David Furnish were more secured with their parenting skills the second time around. They both agreed it wasn't like the first time. With Elijah coming into their lives second, they wanted to create a more peaceful and calm atmosphere this time. Their first child, Zach, was conceived using a donor egg and born via surrogate in California. The donor remains to be anonymous, but his godmother is Lady Gaga, so that's more than enough to be a redemption. John said his sons are grounded and that he avoids spoiling them.
NEIL PATRICK HARRIS | 2 Children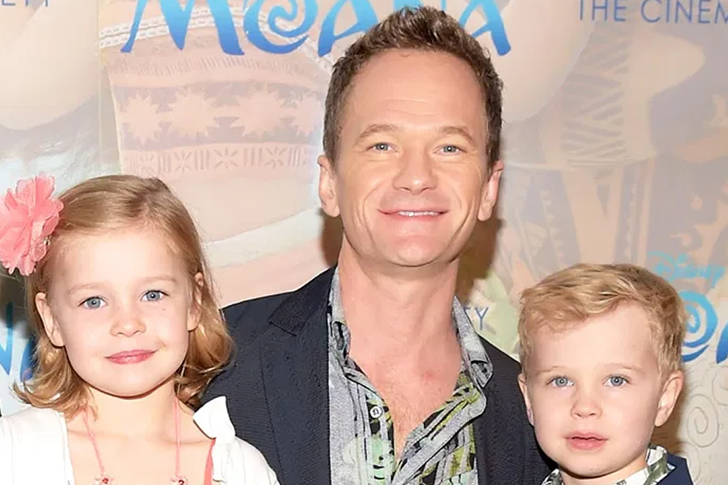 We all know Neil Patrick Harris as Barney Stinson in How I Met Your Mother. As opposed to his character on the said show, the actor is a family man. Harris and his husband David Burtka have been together since 2004 and married for almost seven years. Even before their marriage, Harris, and Burtka have shown their life-long commitment to each other when they decided to have children. The couple announced that they were expecting children in 2010 via surrogate. They also shared that both of them were the biological fathers of their twins.
Their twins, Gideon and Harper, are already ten years old. Harris stated that raising children is not as easy as it seems but is rewarding at the same time. The proud dad also shared that it was even harder to homeschool their third-graders during the ongoing global crisis. Good thing they have medical insurance to cover their medical expenses.
EDDIE MURPHY | 10 CHILDREN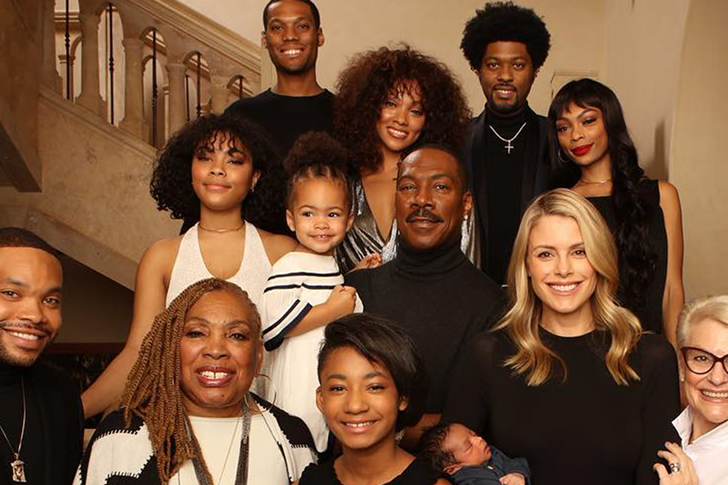 Eddie Murphy is one of the highest-paid actors in Hollywood. Thanks to his groundbreaking performances in the films Beverly Hills Cops, Coming to America, 48 Hrs., and Dreamgirls, Murphy now has a net worth of $200 million and a good credit score that will support his big family.
Murphy has ten children, comprised of four boys and six girls. His two eldest sons are Eric and Christian from his previous girlfriends. In 1993, Murphy married Nicole Mitchell and they had five children together: Bria, Myles, Shayne, Zola, and Bella. The two went their separate ways in 2006. After his split with Mitchell, Murphy dated Melanie Brown of the Spice Girls. In 2007, their baby girl Angel was born. After several failed relationships, the actor did not give up on love and started a relationship with Paige Butcher in 2012, with whom he now has two kids. Murphy, though living separately from his older children, tries to bond with them as much as possible. They gather on special during special occasions and seem to be enjoying each other's company.
DUSTIN HOFFMAN | 6 CHILDREN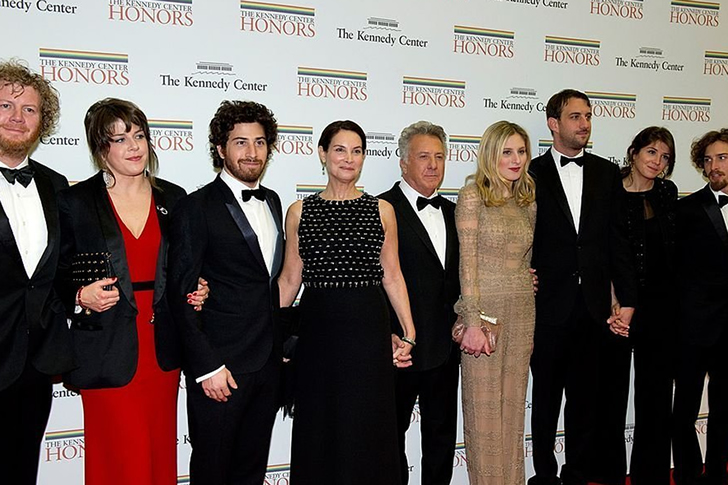 It was not long ago since we enjoyed seeing Dustin Hoffman on the screen. He is best remembered for his unconventional roles and characters. The Graduate, Papillon, Midnight Cowboy, and Rainman are just a few of his films that made a mark on the audience and carved his name in Hollywood. He might not be very active at this moment, but his legacy will continue through his children.
Hoffman has a total of six children from his two marriages – two kids with Anne Byrne and four with Lisa Gottsegen. Two of them have become actors like their father – Jenna and Jacob. Among his other children are Karen, Maxwell, Rebecca, and Alexandra. Although only five of them are his biological children, Hoffman has treated and loved them all fairly. Hoffman was inspired to be better as a father due to his estranged relationship with his own father, so he wants his children to have a good relationship with him, which is why he shows support to their every decision. In fact, Hoffman shared investment money with his son, Jacob, when he purchased a property years ago.
DREW BARRYMORE | 2 CHILDREN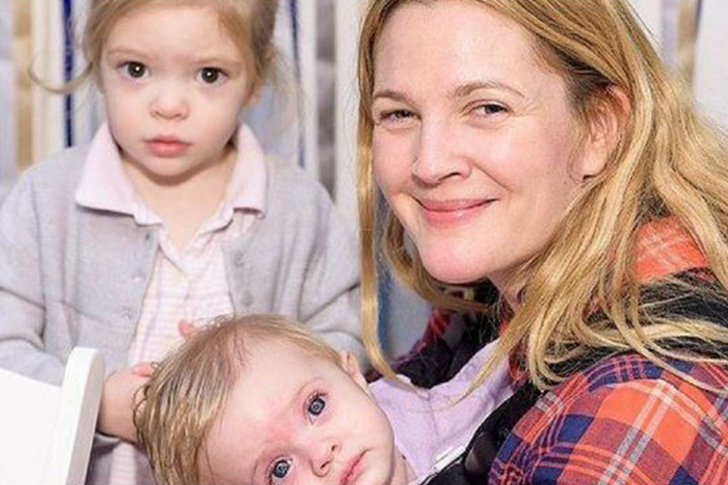 Drew Barrymore literally grew up in front of the camera. She belongs to a family of actors and actresses that honed her to be part of the entertainment industry as well. Her first starring film is E.T the Extra-terrestrial, directed by her godfather, Steven Spielberg. Unfortunately, Barrymore's childhood was not as happy as it seemed. As fame and fortune came to her at an early age, it was inevitable to find herself in a pit of downfall. Fortunately, she was able to recover. She continues her career in Hollywood with several business investments on the side.
Barrymore went on several failed relationships until she married Will Kopelman in 2012, the father of her two daughters – Olive, 8 years old, and Frankie, 6 years old. Even though she hoped for a better life for her kids, things didn't go as expected. She and Kopelman separated in 2016. Even though the separation was difficult and painful for her, she makes sure that they remain civil in front of their daughters and co-parents with Kopelman.
DR. PHIL | 2 CHILDREN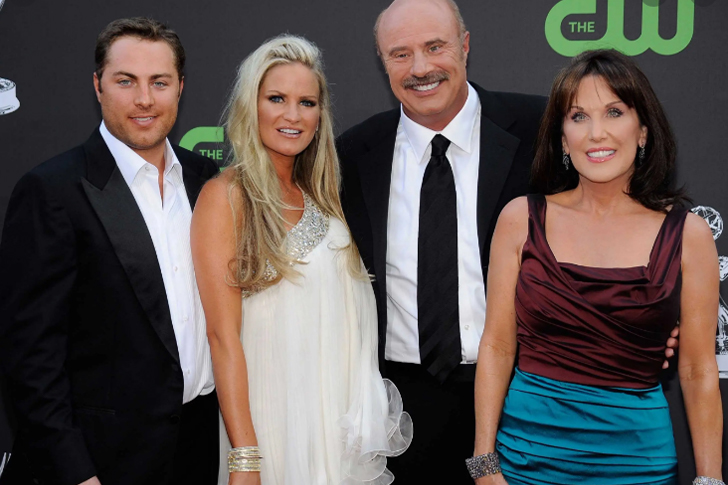 Philip Calvin McGraw, popularly known as Dr. Phil, rose to fame through his talk show Dr. Phil. He gained prominence in the entertainment industry through his affiliation with Oprah Winfrey, who got him started in his television career. His talk show provides its guests some guidance and advice. His career grew exponentially over time, which was made possible with the support of his family.
Dr. Phil has two sons – Jay and Jordan, who share a good relationship with him. His boys are close to their father and bonded with him on several occasions. For the boys, Dr. Phil is simply just "Dad." Jay, 41 years old, has worked closely with him in building their business investment, Stage 29 Productions. Jay serves as the CEO of their company and has also produced several shows. Jordan, on the other hand, is pursuing a career in music.
DIANE KRUGER | 1 CHILD
Diane Kruger plays the role of Helen of Troy in the 2004 movie Troy. Although her beauty can launch a thousand ships, she hasn't been lucky in love for years. She had her first marriage in 2001 with Guillaume Canet. They ended their marriage with a phone call to their lawyers in 2006. She then went on a ten-year relationship with the actor Joshua Jackson, but the two split up in 2016.
Finally, she met Norman Reedus in 2015 and began a relationship with him. The 44-years-old multilingual actress is now a mother to a one-year-old daughter. Kruger must have known the price of being a celebrity that is why she kept the identity of her daughter off the record. Apparently, this doesn't stop her from being a proud mom to her daughter. Kruger is just like any mom who is fond of posting pictures and videos of their kids on Instagram.
DIANE SAWYER | 3 STEPCHILDREN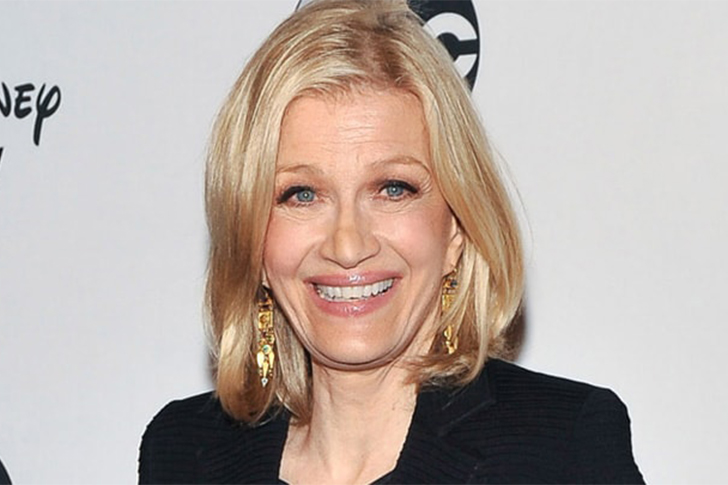 2014 must be the hardest year for Diane Sawyer, not because of a career-related incident, but due to life tragedies. On that sorrowful year, Sawyer lost her mother, Jean Sawyer. Months after, Sawyer's husband of 26 years passed away.
Mike Nichols is Sawyer's first and only husband. The two met in an airport and began dating afterward. They got married in 1988 and have no children together. Nonetheless, the couple lived happily together. Sawyer must have a taste of being a mom too with her three stepchildren from Nichols – Jenny, born in 1977, Max, born in 1973, and Daisy, born in 1964. Though she keeps mum about her relationship with her stepchildren, it was undeniable that she managed to have a good bond with at least one of them – Max Nichols. Sawyer and Max were photographed walking close together with their arms intertwined weeks after Mike's passing. She also expressed her love for them when she was asked about not having kids with Nichols. Likewise, Nichols also entrusted Sawyer with his investment money, which she will share with his three kids.
DIANA ROSS | 5 CHILDREN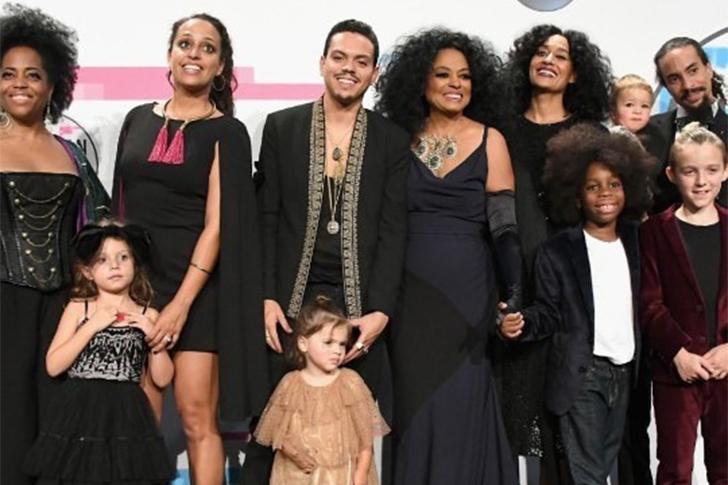 When you thought Diana Ross is all about singing and belting notes, well, you are wrong. Ross is also a proud momma of five successful children. Ross has three children from her marriage with Robert Ellis Silberstein. They are Rhonda Ross Kendrick, who is also a singer, Tracee Ellis Ross, who was born in 1972 and is a former model and actress, and Chundey Ross, who was born in 1975 and is a TV producer and author.
Ross also has two sons with her former husband Arne Naess Jr. Ross Naess was born in 1977 and worked as an actor before becoming a full-fledged father. Her youngest son, Evan Ross, was born in 1988 and is an actor and the husband of singer Ashlee Simpson. Her kids obviously inherited her talents. They make their own money and pay for their own gas. For that, Ross couldn't be any proud especially now that she is enjoying her grandkids with them.
DENZEL WASHINGTON | 4 CHILDREN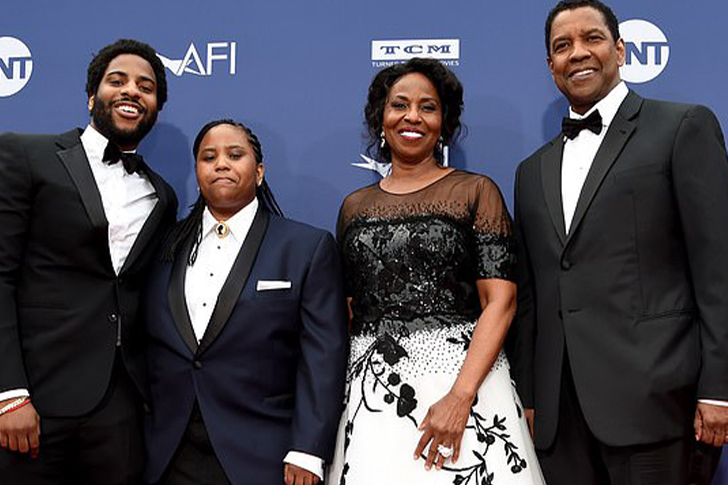 Many wonder what it is like to have a father like Denzel Washington. After all, he is a famous celebrity, who seems to be a strict and well-disciplined actor. Apparently, according to his four kids, Washington is an exemplary dad.
Washington says that his parenting style is a mix of everything and is rooted in teaching them to be good people. He also shares that he and his wife did not spoil their children. It seems like all four of them are degree holders and ended up pursuing their passion. His eldest son, John David Washington, was born in 1984. He played football back in college and in the NFL before pursuing his acting career. His second-born, Katia, is a law graduate from Yale University and is now a producer. Washington and his wife Pauletta also have fraternal twins, Malcolm and Olivia. They were born in 1991 and entered the entertainment industry after they graduated from college.
DENNIS RODMAN | 3 CHILDREN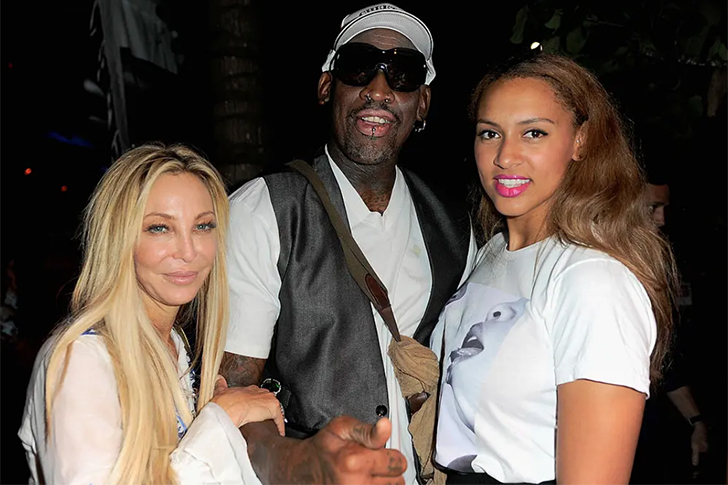 We can all attest to the whirlwind life of Dennis Rodman – the NBA star who got caught up with several shindigs that caused his fall from grace. Despite several controversies that he faced before and his failed marriages, the former basketball player has something he now looks forward to, and that is to see his children grow up.
Rodman has three children – Alexis, DJ, and Trinity. His first-born is his daughter, Alexis. She was born in 1988 to Rodman's first wife, Annie Bakes. Now, Alexis is a mom and is living with her own family. From his marriage with Michelle Foyer, he has son DJ and daughter Trinity. DJ or Dennis Jr. was born in 2000, while Trinity was born the following year. Both of them are athletes. DJ plays college basketball while earning his degree at Washington State University while Trinity plays soccer at the same university.
DEMI MOORE | 3 CHILDREN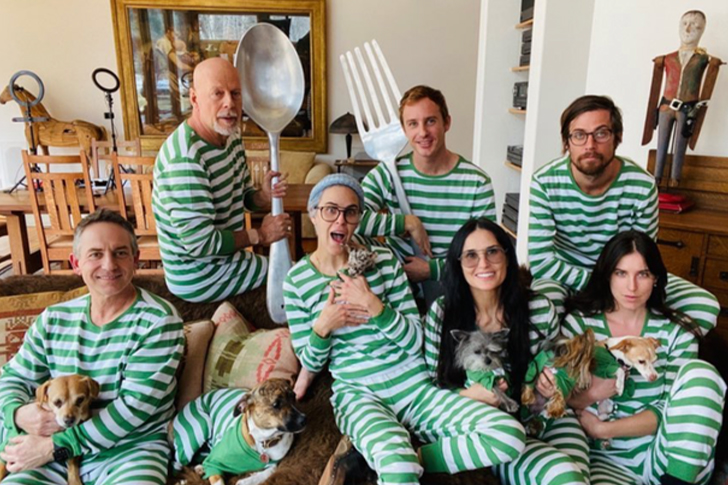 We can all say that Demi Moore and Bruce Willis's relationship is among the most admired couples in Hollywood. How could they not be, when Moore and Willis turned out to be good friends after their split? The ones who benefitted the most from their healthy coparenting are their daughters – Rumer, Tallulah, and Scout.
After her split with Willis in 2000, Moore remarried but did not have another child. It seems like the beautiful actress is already happy with her three girls, who each resemble her to some degree. Rumer, her eldest was born in 1988. Rumer followed her parents' footsteps and joined the entertainment industry. She landed the role of Roxie in the syndicated Broadway show Chicago. Scout, her second child, was born in 1991. She is mostly interested in music despite being an actress in her early years. Scout is currently working on her first album and is on her way to becoming a recording artist. Tallulah, the youngest, was born in 1994 and is pursuing fashion design. She also advocates for mental health as she once faced and overcome mental health issues.
DANIEL CRAIG | 2 CHILDREN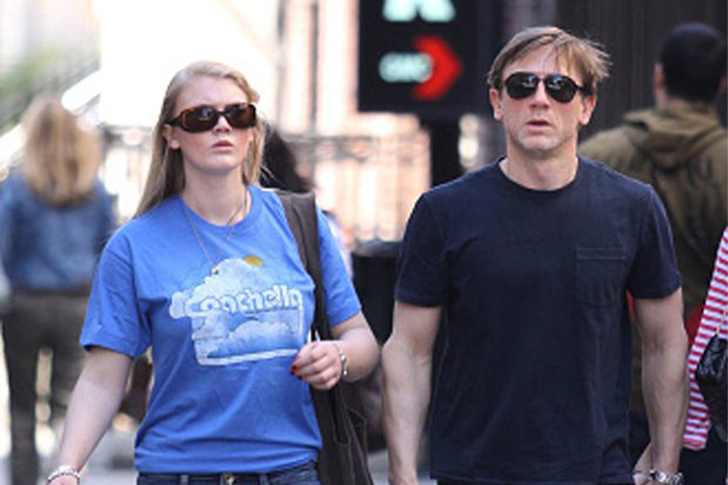 Daniel Craig and his wife Rachel Weisz welcomed their first child together in 2018. The couple chose not to spill the identity of their little one. Apparently, the eldest daughter of Craig accidentally spoiled it. Craig's first child shared on her social media account a ginger breadman with the family's names on it. This just goes to show that the blended family of Craig has a close-knit relationship.
To a degree, Craig has three children under his wings. Two of them are his, biologically speaking, and one is a stepson. His firstborn is the 29-year-old model and actress Ella. His second child is supposedly named Grace, born in 2018. His third kid is the 14-year-old Henry, who is Weisz's son from a past relationship. Despite his busy schedule, Craig finds time to be with his kids. Be it in London or in New York – he is an excellent father.
JUSTIN TIMBERLAKE | 2 CHILDREN
The ultra-successful Justin Timberlake has proven time and time again that whatever he touches turns into gold. Timberlake started in Mickey Mouse Club when he was a kid and returned to the scene as a band member of the '90s boyband, NSYNC. Timberlake launched his solo career in early 2000. Since then, he gained prominence as one of the best talents in the industry. Throughout his music career, he was able to receive several accolades from different award-giving bodies. Timberlake also received an honorary degree from Berkeley College of Music for his musical ingenuity. He even spanned his success into acting. Timberlake has shown his great capabilities in films In Time and Friends with Benefits.
Apparently, it is not the only thing that Timberlake masters. He is also a super dad to his two sons – Silas, 5 years old, and Phineas, his newborn. Timberlake says that he learned a lot from his wife Jessica Biel about fatherhood. On the other hand, Biel praises Timberlake for being a natural dad to their two boys.
JULIA ROBERTS | 3 CHILDREN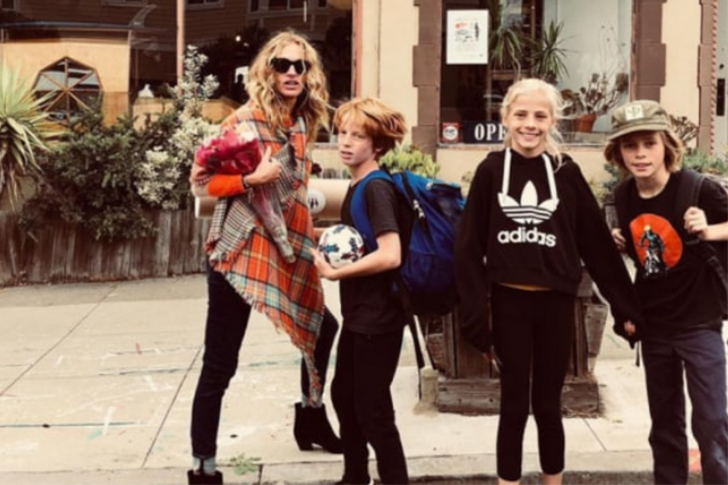 There are a lot of things that we can admire about Julia Roberts. For on, her superb acting skills. Her charisma and beauty are a close second. Seemingly, there is one more thing that most people are not aware of, and that is the kind of mother she is.
Roberts has three kids with her husband Danny Moder. Her eldest children, fraternal twins Phinneaus and Hazel, are now 16 years old, and her youngest son is 13-year-old Henry. Surprisingly, her kids were not aware that she is a superstar until just recently. She made it possible by having strict rules at home. She kept the kids from indulging in too much TV and accessing social media. The actress is also private about her family life for her kids' privacy. As Roberts is not a fan of sharing details about their life, she reported buying a property in San Francisco as a consideration to her children. Seemingly, the kids are pursuing their studies and preparing for their college degrees.
JON STEWART | 2 CHILDREN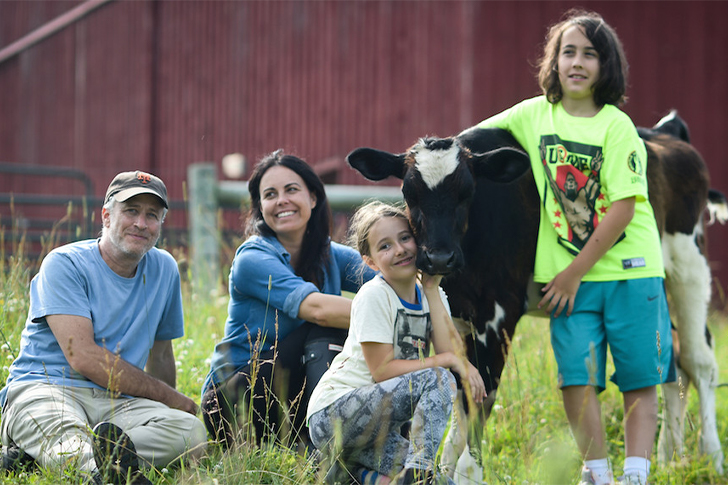 It has been a long time since Jon Stewart made us laugh with his antics after going on hiatus in 2016. However, reports have claimed that he uses his break from the business to pursue his other interests. The host has also used this time off to spend time with his kids. Since taking a break, he had the chance to bond and get to know his kids.
Jon and Tracey Stewart have two kids together – Nathan Thomas and Maggie Rose. Jon and Tracey conceived both kids via in-vitro fertilization, a known pricey procedure that they managed to receive thanks to their excellent credit standing. Nathan Thomas was born in 2004. At a young age, he faced several health concerns but managed to regain good health. Maggie Rose was born in 2006, luckily a healthy and happy kid. Knowing that Stewart supports several beliefs and activism, he must be sharing them with his children as early as now.
John Travolta | 3 children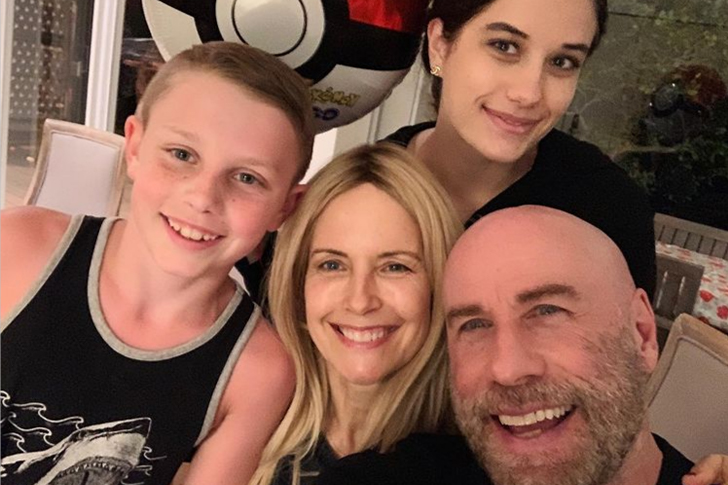 Pulp Fiction lead star John Travolta married fellow celebrity Kelly Preston in 1991. Together, they had three children, Jett, Ella Bleu, and Benjamin. Jett was born in 1992 but met an untimely demise in 2009. Meanwhile, Ella Blue was born in 2000 and Benjamin 10 years after in 2010. Benjamin was a miracle baby for the two since Kelly had him when she was already 47. He also provided a renewed spirit to the family after the tragedy. Ella Blue, on the other hand, is now 20 and has followed her parents' footsteps. She is now an actress who appeared in films like Old Dogs and The Poison Rose.
It has not always been smooth sailing for the couple, but because they wanted to make their marriage work and for the sake of the children, they attended marriage counseling. It was better than contacting lawyers for a separation instead.
Jimmy Fallon | 2 children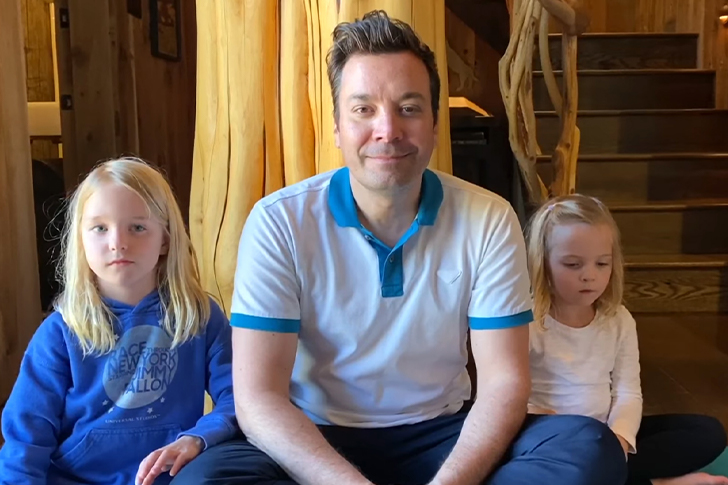 Comedy has always been Jimmy Fallon's passion and first love as a child. This is the reason why at 21, he pursued opportunities in stand-up comedy. However, Jimmy later found real love when he met his wife, film producer Nancy Juvonen. The two met at the set of Saturday Night Live, but they became closer on Fever Pitch. He proposed in August 2007 and got married four months later. They have two daughters, Winnie, born in July 2013, and Frances Cole, born in 2014.
What is interesting about his two daughters is that they were born of gestational surrogacy. They had been trying to conceive but failed each time, leading to the decision to use a surrogate. Their investment paid off as now, the two adorable kids, currently 6 and 5, are helping their father film the "At Home Edition" of The Tonight Show. Will they become hosts like their father? Only time will tell.
Jimmy Buffett | 3 children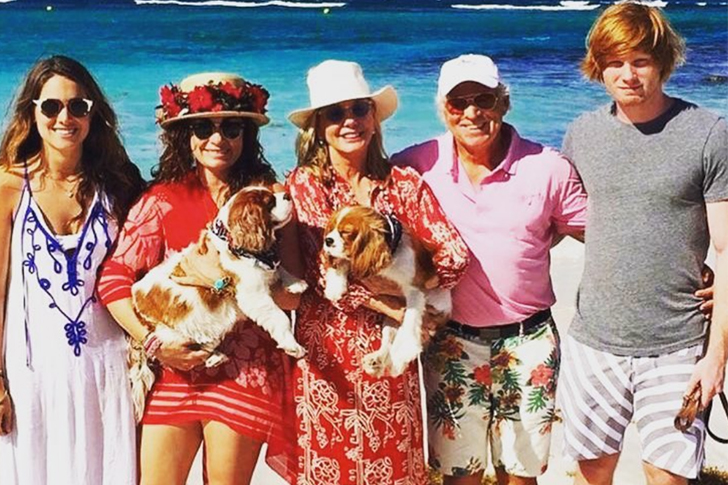 Devoted fans of Jimmy Buffet call themselves "Parrotheads," which originated from the singer's 1985 concert at the Timberwolf Amphitheater. They also are huge enthusiasts of the island escapism style of Buffet's music. Later on, the singer married his second wife, Jane Slagsvol, after his first failed relationship. Together, Jimmy and Jane had two daughters, Savannah Jane and Sarah Delaney, and an adopted son named Cameron Marley.
Since they were young, the three had been going with their father to concerts. This was Buffet's way of balancing his work and family life, maintaining a critical degree of work and play ratio. Savannah followed her father's footsteps and is now a radio personality. Meanwhile, the other two, Sarah and Cameron, have maintained a relatively private life, so not much is known about them. For sure, though, they must have some musical inclination like their father as well.
Jim Carrey | 1 child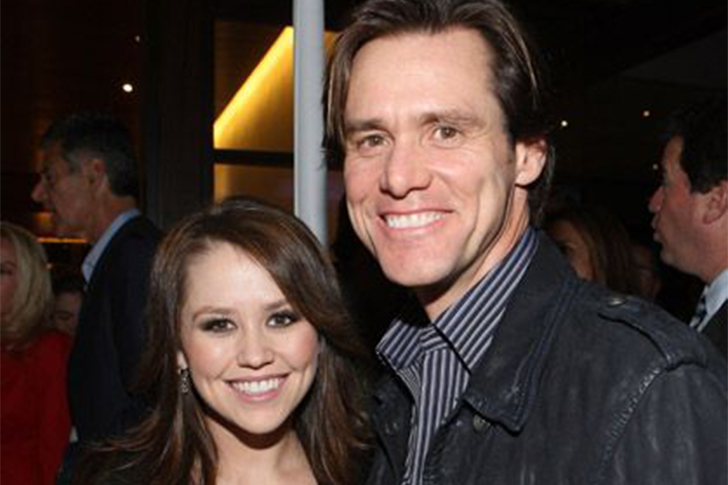 The comedian-actor Jim Carrey is quite known and given credit for his slapstick humor, which shot him to fame when he started the TV series In Living Color. Don't be fooled, though, as Carrey can carry drama movies just as well as comedy.  Just take his performances on Doing Time on Maple Drive and Man on the Moon, for example. Both films are critically-acclaimed and even earned him a Golden Globe.
Carrey was married to Melissa Womer on March 28, 1987, and six months later, on September 6, 1987, Jane Erin Carrey was born to the couple. Jane is the only child, and when her parents separated in 1995, she stayed mostly with her mom growing up. Of course, Jim made sure that Jane was provided for and visited her frequently. Jane is her own person now and has a band named the Jane Carrey Band. She also appeared on American Idol Season 11.
Jim Belushi | 3 children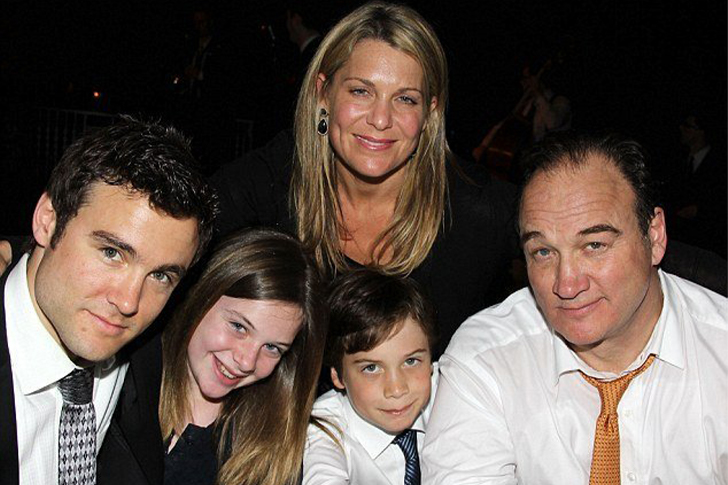 Jim Belushi is an actor, singer, and musician who took on a lead role in the sitcom According to Jim. He has also appeared in various films like The Principal, Joe Somebody, and Katie Says Goodbye. The actor has been married three times, resulting in him having three children. Two of them, Jamison and Jared, were with Jennifer Sloan, while the eldest, Robert, was with his first wife, Sandra Davenport.
All three children grew up to be actors and actresses, inheriting Jim's knack for performing. Born on July 28, 1999, Jamison has appeared on Last Summer, The Talk, and According to Jim. Meanwhile, Robert has also appeared on According to Jim, Cooper and Stone and How I Met Your Mother. However, not a lot of information is available about Jared, born on February 8, 2002. With their father's income, we're sure their basic needs, such as food, electricity, water, and some more, are met.
Jessica Alba | 3 children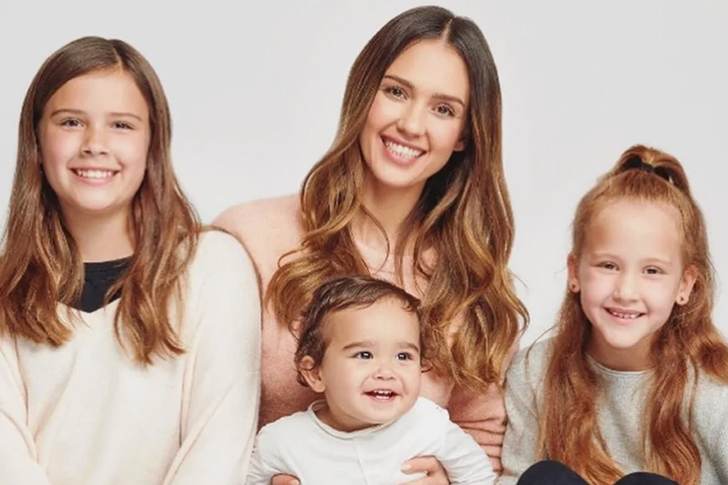 When the subject of beautiful women comes up, the name Jessica Alba inevitably comes to mind. This is not surprising considering that various magazines have also listed the Fantastic Four actress on the world's most beautiful list.  Alba has appeared in numerous films, including Good Luck Chuck and Valentine's Day. Her TV credits also include the series LA's Finest.
The actress fell in love with her second husband, Cash Warren, while filming Fantastic Four in 2004. They got married in May 2008 and had three children together. The eldest Honor Marie was born on June 7, 2008, Haven Garner was born on August 13, 2011, while their son Hayes was born on December 31, 2017. Honor Marie had already made financial contributions for the family as a newborn when, in July 2008, OK Magazine published her pictures, earning Alba $1.5 million. The future of these three children is bright as both parents would support them in every way.
Jennifer Lopez | 2 children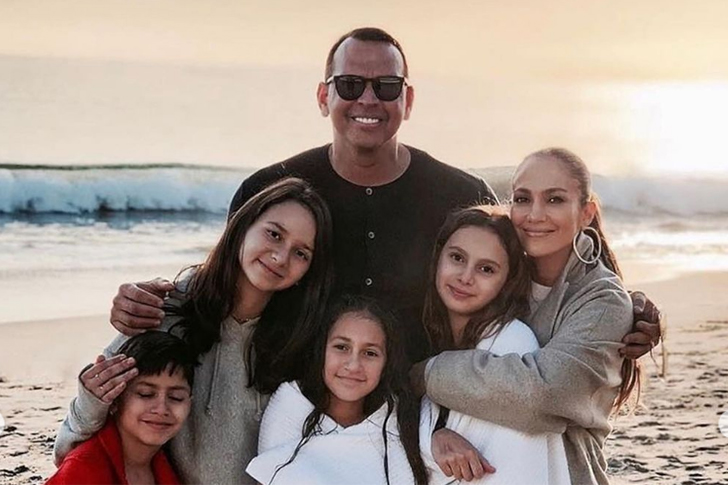 In Living Color, former regular Jennifer Lopez is a premium name in the music industry. Besides being famous for her singing and dancing prowess, J. Lo is also the first Latin actress to earn over $1 million for a film—from Selena. When she ventured into music, she helped catapult the Latin pop movement to American mainstream music.
Her personal life, most notably her love life, has also been the subject of media attention for the longest time. She was once in a relationship with Ben Affleck, which ended in heartbreak. J. Lo then tried loving her longtime friend Marc Anthony. They gave birth to a twin daughter and son on February 22, 2008, four years after getting married. Max and Emme, despite being 12 years old now, still love sitting on their mom's lap, according to a revelation by the singer. The family currently lives in New York, in a house most likely armed with a home security system for their privacy.
Jennifer Garner | 3 children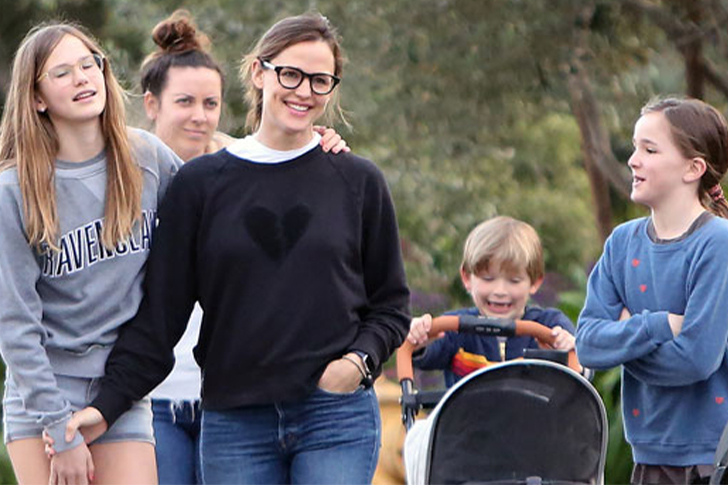 Jennifer Garner first drew attention to herself for her supporting role in the 2001 film Pearl Harbor. She also made a cameo appearance on Catch Me If You Can. Apart from acting, the actress is also a rights advocate for children and is a member of the Save the Children organization.
Garner once married Ben Affleck and had three children with him—Violet, Seraphina Rose Elizabeth, and Samuel.  The eldest was born on December 1, 2005, the second on January 6, 2009, and the youngest and only son, February 27, 2012. After ten years, the couple split in 2015, but before they did, the two made sure their attorneys put in a provision for shared custody. In a recent interview, Garner shared that she could not believe Violet is already 15. She could grow up to be like her mom someday and be a cool actress, too.
Jean-Claude Van Damme | 3 children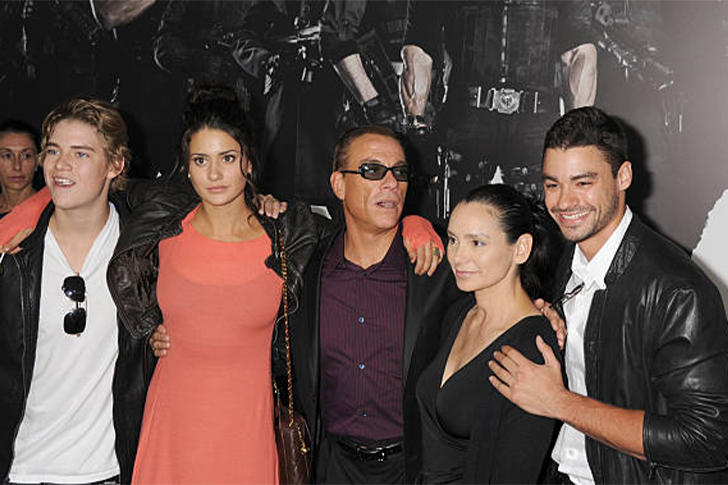 The actor Jean-Claude Van Damme is a multi-talented actor famous for his action movies like Cyborg, Universal Soldier, and The Quest. He is also good at playing antagonist characters such as with Black Eagle's Andrei or as Xander in Enemies Closer.
Van Damme had been married five times, and he had two children with his third wife,—Kristopher and Bianca Brigitte. Meanwhile, he had another son, Nicholas, with his fourth wife, Darcy LaPier. Bianca, born on October 17, 1990, is now an action actress like her dad. The same goes with Kristopher, whose film credits include Point of Impact. Nicholas appears to have taken after Van Damme's love for martial arts as he is a kickboxer on top of being an actor as well. The future bodes well for the three, and it is incredible that all of them followed their father's footsteps in Hollywood. We can only hope they become as successful or even better.
Jason Statham | 1 child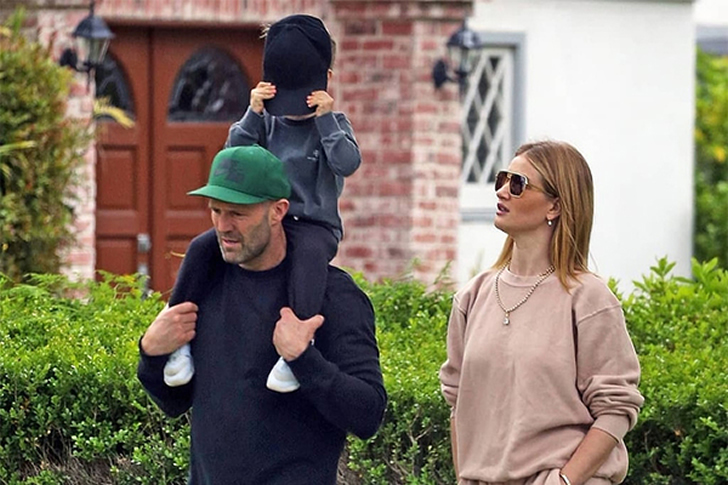 Many would be surprised to know that Jason Statham worked at a market stall when he was young. While doing that, he practiced kickboxing, kung fu, and karate on a recreational basis. However, agents soon contacted him to appear on various advertising campaigns. Statham then went on to become an action star, known for portraying antihero and Machiavellian characters.
The actor dated Rosie Huntington-Whiteley in 2010 and announced their engagement on January 10, 2016.
Their son, Jack Oscar, was born on June 24, 2017. However, Jack's parents do not want him exposed to the media just yet, but paparazzi, with a great degree of effort, managed to get a hold of some photos. While Jack is the only child, Whiteley said that Statham wants to have more children. Who knows, maybe a second baby announcement might just be right around the corner.
Janet Jackson | 1 child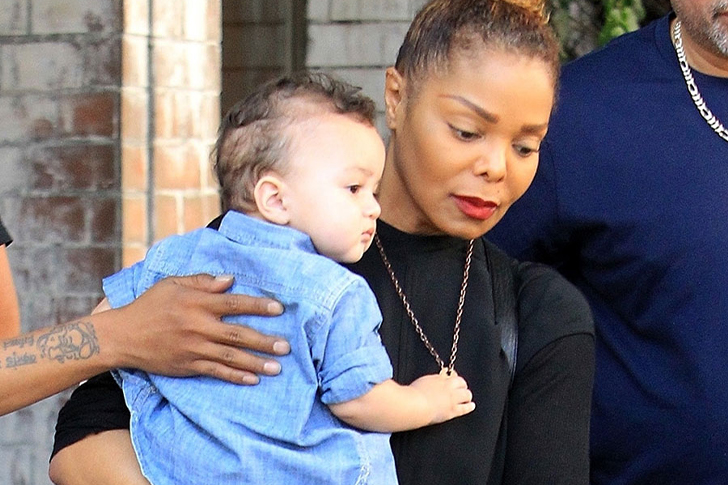 Many often remember Janet Jackson as Michael Jackson's sister, but she has also made a name of her own, distinct from the Jackson family over the years. The singer is now quite popular for her socially conscious and sonically innovative music and elaborate stage shows. It all started in 1991 when she received a break after Jackson received an offer for a multimillion contract with Virgin Records.  She went on to sell over 100 million records worldwide, leaving her safe from personal loans.
Jackson has been in at least four relationships, but it is the last one, with businessman Wissam Al Mana that produced a son, Eissa Al Mana, born on January 3, 2017. Giving birth at 50 was a challenge for Jackson, but she and her then-husband welcomed Eissa and described the delivery as stress-free. Now that the two are separated, Jackson is putting double efforts into raising her son, and it appears that she is doing a good job so far.
Jaleel White | 1 child
Jaleel White first made waves in the industry as Steve Urkel on Family Matters in 1989. The project was supposed to be a one-time gig, but fans loved his character so much that he became a regular cast member. After Family Matters ended, White went on an acting hiatus, attended UCLA, and obtained a degree in film and television in 2001. He then went back to acting and made appearances on Castle, House, and Boston Legal.
Nowadays, White's Instagram is full of updates regarding his daughter, showing just how proud he is of Samaya. The actor is definitely not shy about sharing his adorable father-daughter moments. One of their favorite hobbies is eating together, and among their favorite? Ice cream! White is also showing her daughter the ropes when it comes to acting, so we can expect that Samaya would follow her dad's footsteps and become an actress herself.
Jada Pinkett Smith | 2 children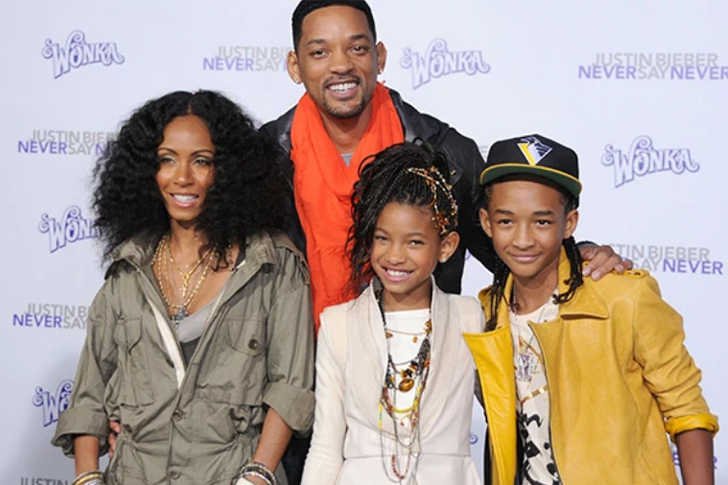 The short-lived True Colors served as Jada Pinkett Smith's stepping stone to becoming a popular actress. She subsequently appeared on A Different World and then received film credits for Collateral, The Matrix Reloaded, and Gotham. Throughout the years, Pinkett Smith also ventured into music and ultimately set up her own production company. The actress and occasional singer-songwriter has been married to Will Smith since 1997.
The couple has two children together, Jaden and Willow. Jaden was born on July 8, 1998, and is now an actor like his parents. He appeared alongside her father, Will, in the tear-jerking movie The Pursuit of Happyness. On the other hand, Willow was born on October 31, 2000, and is a rapper like her brother and an actress. Her acting debut was with I Am Legend. We hope that with their career starting to blossom, the two children will also display excellent money management skills to secure their future.
Jack Nicholson | 6 children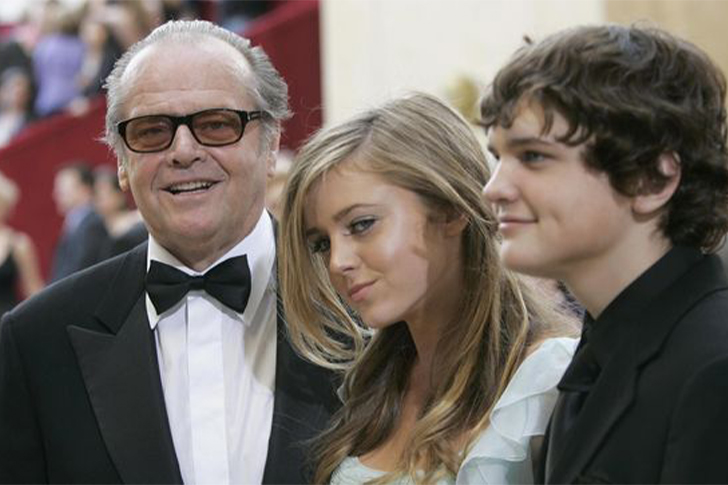 Jack Nicholson holds the record of being the most nominated male actor for the Academy Awards, having his name thrown 12 times. His career spanned a total of 60 years, and he has appeared in a variety of villains or anti-hero roles. Thanks to his mysterious charms and skillful acting, Jack has earned an incredible reputation in the industry.
The actor was only married once to Sandra Knight from 1962 to 1968, but he has been in a relationship with other women. He has six children, the eldest of whom, Jennifer, was born on September 13, 1963. Like her dad, Jennifer is an actress and is given credit for her role in Johnny Christ. She was not the only one who followed their father's footsteps as Lorraine, Ray, Caleb, Honey, and Tessa all became actors and actresses, too. They all inherited their father's genes and his love for the big screen.
Hugh Jackman | 2 children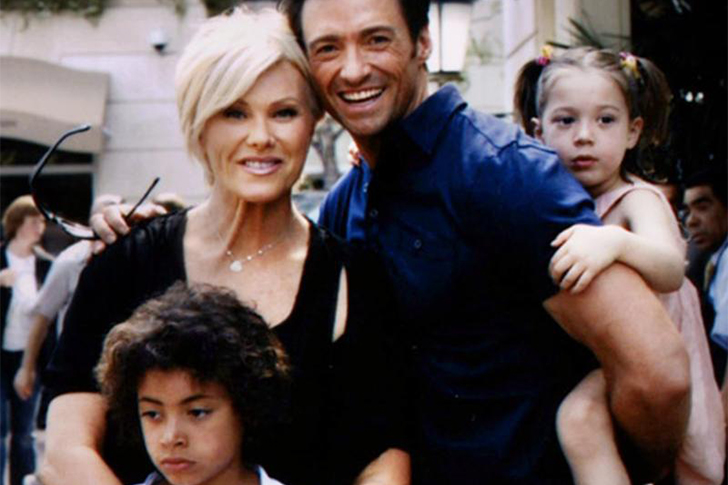 Did you know that Hugh Jackman holds a Guinness World Record for having the longest career as a live-action Marvel superhero? It's all thanks to his role as Wolverine in the X-men film series. He is, however, more than Logan or Wolverine as he also appeared in various hit movies like Les Miserables, Van Helsing, and The Prestige. He also took a risk by making investments in a production company, Seed Productions, which he set up along with assistant John Palermo.
When he met Debora-Lee Furness on the set of Corelli, he knew she was the one, so they agreed to get married on April 11, 1996. They tried having biological children, but after Debora suffered two miscarriages, they decided to adopt Oscar and Ava instead. Their life now revolves around making the two kids happy. The couple never thinks of them as adopted and wanted only the best for the two children.
Heidi Klum | 4 Children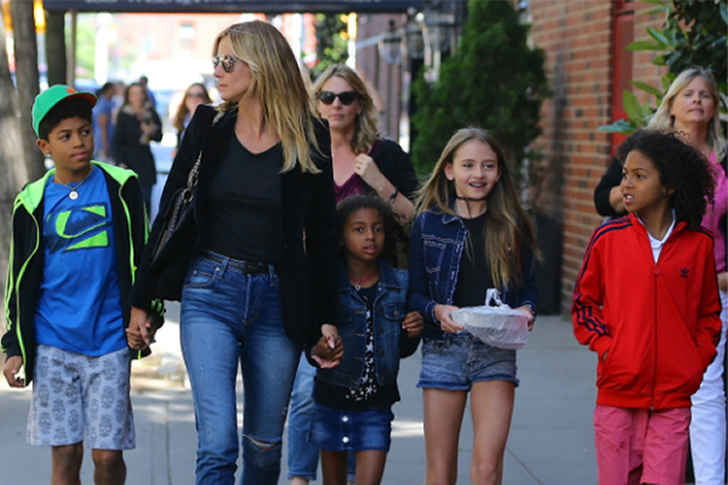 Former Victoria Secret Angel, Heidi Klum, is one of the most in-demand models in the world. However, after 13 years with her company and she decided it was time for her to retire. Not only is Heidi the queen of the runway, but she is also the queen of her household. She may look youthful as ever, but she is a dedicated mom to four.
Klum has four children. Her firstborn was with her ex-boyfriend, Flavio Briatore. She had her three younger children with her ex-husband Seal. Namely, 16-year-old Helene Boshoven Samuel, 15-year-old Henry Günther Ademola Dashtu Samuel, 14-year-old Johan Riley Fyodor Taiwo Samuel, and 11-year-old Lou Sulola Samuel. Talk about being a supermom! Giving birth to these kids must have been challenging, but she certainly had the help she needed from her pregnancies. Protecting her children's privacy is also one of her top priorities, and because of this, Klum's house must have some of the best home security systems in the market.
Heather Locklear | 1 Child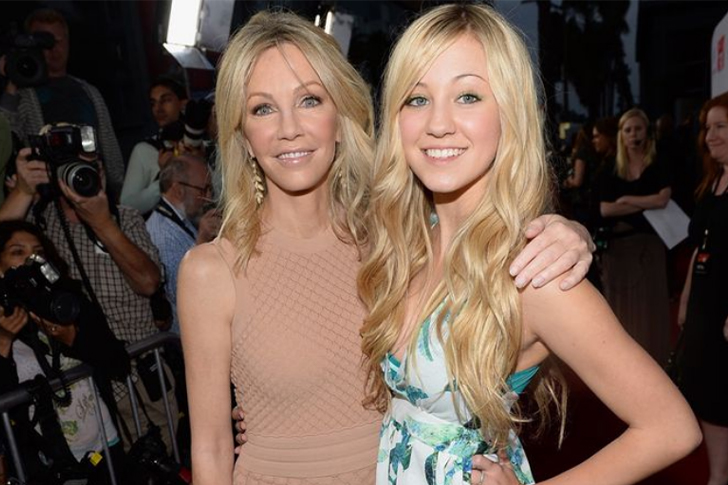 The 90s classic series Melrose Place brought actress Heather Locklear to fame. For that show, Heather received four Golden Globe nominations for Best Actress in a Television Series – Drama for the show.
The renowned actress was first married to the Mötley Crüe drummer, Tommy Lee. After 11 years, she had her first and only child, Ava Elizabeth Sambora, with her ex-husband Richie Sambora, Bon Jovi's guitarist. To her mother, Ava is an angel that walks on earth. Locklear would often shower her daughter with praise on her birthdays. Recently., the mother-daughter duo celebrated Ava's college graduation and shared it with Heather's fans. Her amazing daughter also emulates her mother's style. Like Heather, Ava also likes to shower her mom with love and support as the actress continues to fight through her personal challenges. This mother-daughter sure deserves credit for being great examples.
Halle Berry |  2 Children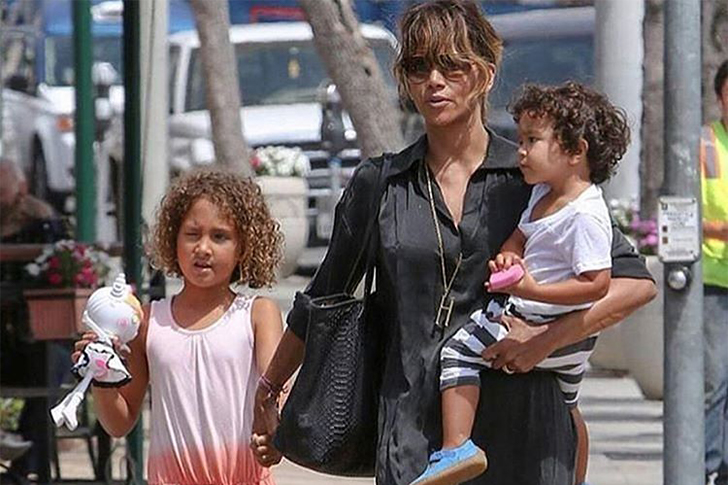 Halle Maria Berry is one of the most sought-after actresses in the industry. She started out as a model and joined various beauty contests. During that time, Halle became the first runner-up in the Miss USA pageant and came in sixth in the Miss World in 1986. Her role alongside Eddie Murphy in the romantic comedy film, Boomerang, gave her the breakthrough she needed. This success led to roles in movies, such as the live-action comedy The Flintstones. Berry's amazing performance in the romantic comedy film, Monster's Ball won her the Academy Award for Best Actress in 2002, turning her into one of the highest-paid actresses in Hollywood at the time.
Like the rest of us, Berry has her days off too. Any free time she has to spare is all for her beautiful children, Nahla and Maceo. Halle might have had some ups and downs when it comes to love, but she got two wonderful and loving children out of it. Given her financial success, Halle and her kids are indeed free of any personal loans whatsoever.
Michael Jordan |  5 Children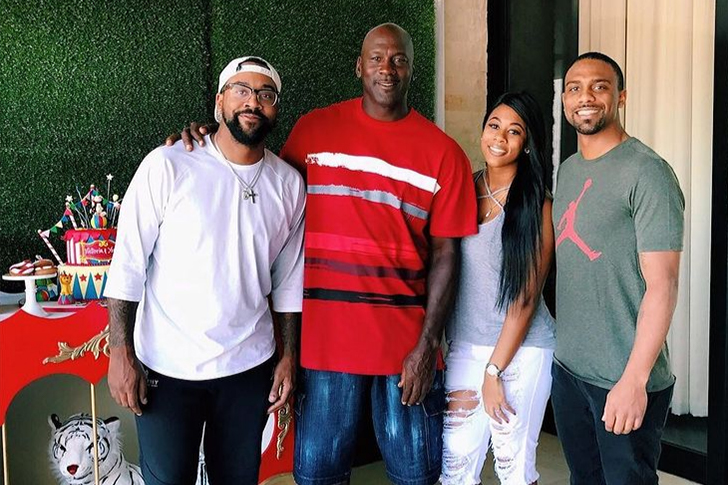 Legendary basketball superstar Michael Jeffrey Jordan is just the king of the court. After playing fifteen seasons in the NBA, Jordan was able to win six championships with the Chicago Bulls. Apart from his incredible basketball career, he is also quite the family man.
He's been married twice. First, with his wife of 17 years, Juanita Vanoy, with whom he shares three wonderful kids, and Yvette Prieto, who he married in 2013 and has two kids with.  His eldest, Jeffrey Michael Jordan, is now continuing his father's legacy and has become a part of the Jordan brand at Nike. He is also the co-founder of Heir Jordan, which focuses on investments. His son, Marcus James Jordan, manages his own company called Trophy Room. It is an online shop that sells Jordan-based fashion. Jasmine Mickael Jordan is his youngest child with Vanoy, and she ended up studying sports management at Syracuse University. She also works with her brother for the Jordan band at Nike. Victoria and Ysabel Jordan are his identical twins with his second wife, Prieto. Michael has definitely succeeded as a father by looking at how great his kids turned out.
Michael J. Fox  | 4 Children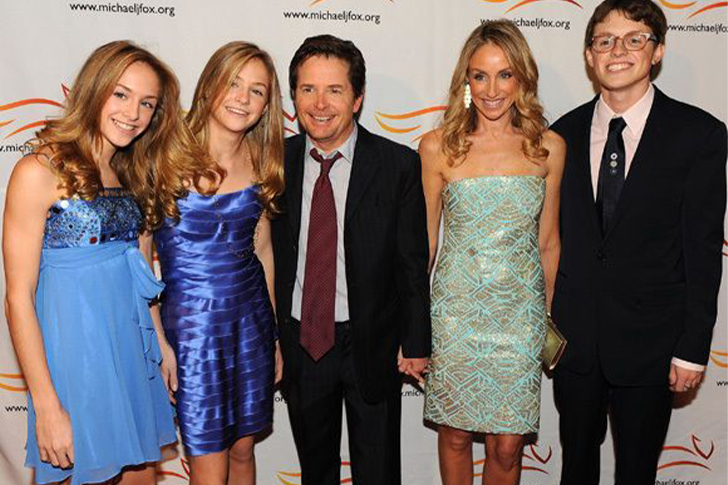 Back To The Future is one of the greatest blockbuster movies of all time, and it has undoubtedly helped cement Michael J. Fox's name in the illustrious world of Hollywood. The film has become a cult favorite that people still reference up to this day. This versatile actor, who won a Grammy Award,  four Golden Globe Awards, five Primetime Emmy Awards, also played Alex P. Keaton in the hit NBC sitcom Family Ties.  This is also where he met his beautiful wife Tracy, who played his character's girlfriend, Ellen. How ironic is that?!
The happy couple has been married since 1988 and shares four children together. Sam Michael, now 31, looks just like his old man. He is also an actor who aspires to be in the industry, just like his parents. His twin daughters Aquinnah Kathleen and Schuyler Frances, are also yet to pursue a career in acting. His, Esmé Annabelle, on the other hand, decided to pursue a college degree instead. Fox's children are genuinely as promising as he was in his youth.
Michael Douglas |  Children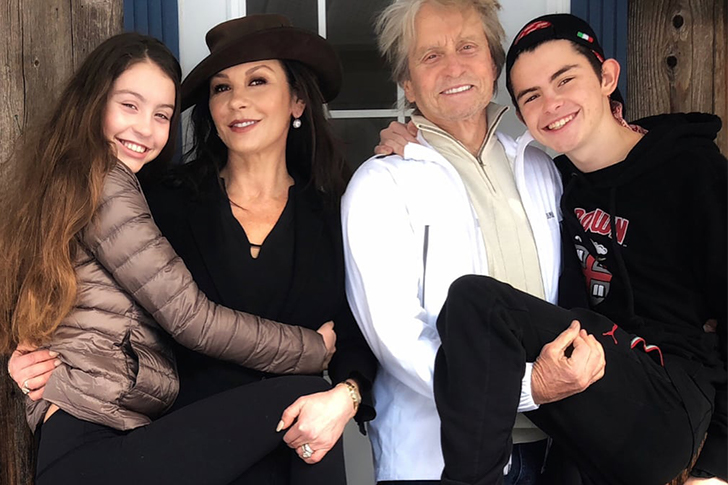 Michael Kirk Douglas' first love may be acting two-time academy award winner, but everything changed when he started having kids. He was 32 years old when he first got married to the daughter of an Australian diplomat, Diandra Luker. They share one son named Cameron. After years of being together, the marriage fell apart.
In 2000, Douglas remarried the amazing Welsh actress Catherine Zeta-Jones. They share two children, a son named Dylan Michael and a daughter named Carys. The lovely couple may have hit a  few bumps in their relationship, but they are always on track, making them one of Hollywood's strongest power couples. Cameron Douglas, his eldest son, followed in his father's footsteps and became an actor too. He appeared in the 2008 movie; It Runs In The Family. Dylan Douglas, his firstborn with Zeta-Jones, also pursued a career in acting just like his parents and older brother. Carys Douglas is also quite the performer, she sings passionately too, and she simply adores fashion. Michael's investments in his kids clearly paid off, seeing how amazing they turned out.
Mel Gibson | 9 Children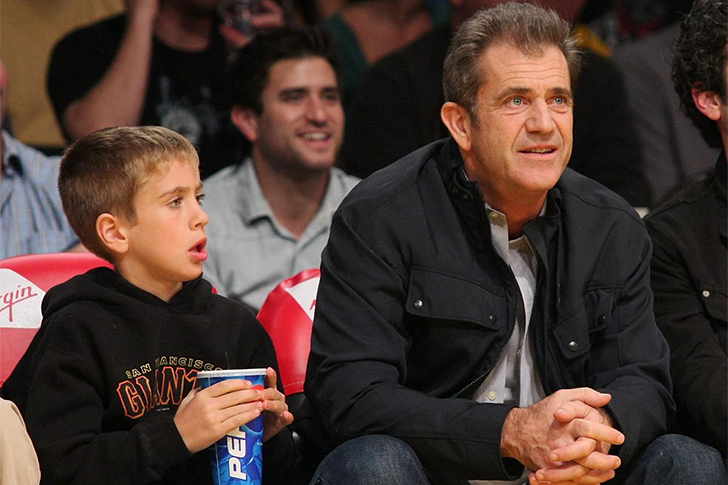 Hollywood A-lister, Mel Columcille Gerard Gibson, popularly known as Mel Gibson, is a household name in action films back in the 1980s. His breakout role in the post-apocalyptic action series Mad Max made him extremely popular.  As a professional actor, he takes his job seriously. However, the versatile actor has a more important job that comes first before acting. That is being a father of nine children.
He started having kids in 1980 when he was married to his ex-wife, Robyn Moore Gibson. After thirty-one years of marriage, they called it quits. He then had his eighth child with Oksana Grigorieva. After their whirlwind-romance ended, they quickly went their separate ways. Rosalind Ross then became Gibson's new love interest. She is also the mother of his ninth and last child. To give you a perspective, his firstborn, Hannah, was born in the 80s, and his youngest was born in 2017. His kids are his greatest possessions in the world, his ultimate investments.
Megan Rapinoe |  0 Children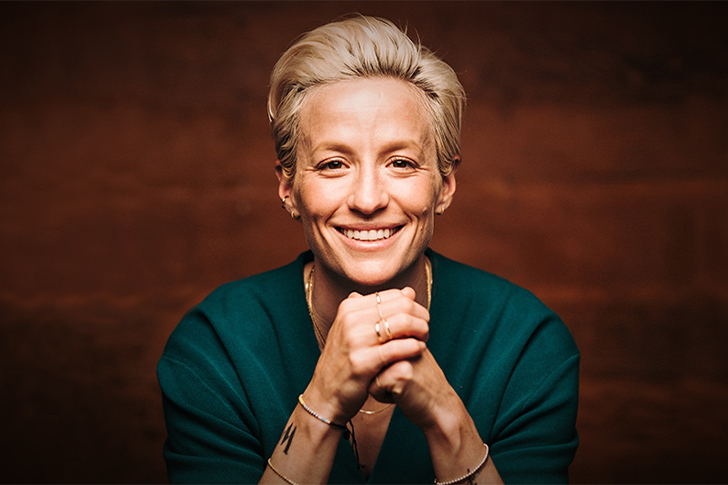 Megan Anna Rapinoe is a 34-year-old professional soccer player born in Redding, California, in 1985. She is a winger and captains OL Reign of the United States national team and the National Women's Soccer League. In 2019, Megan won Best FIFA Women's Player, making her one of the best players in th world. She is a commendable athlete who just has the body and mind required from an aspiring sports professional. She is the youngest of six children. She went to the University of Portland, acquiring a degree in sociology.
This soccer legend is currently in a happy relationship with basketball superstar Sue Bird for three years. Bird was at the 2019 FIFA Women's World Cup when Rapinoe won. To show her support, she even sneaked a quick kiss from the stands. They announced their engagement recently. The happy couple is yet to discuss having children. However, we do believe they would be great parents in the future.
Matt Damon |  3 Children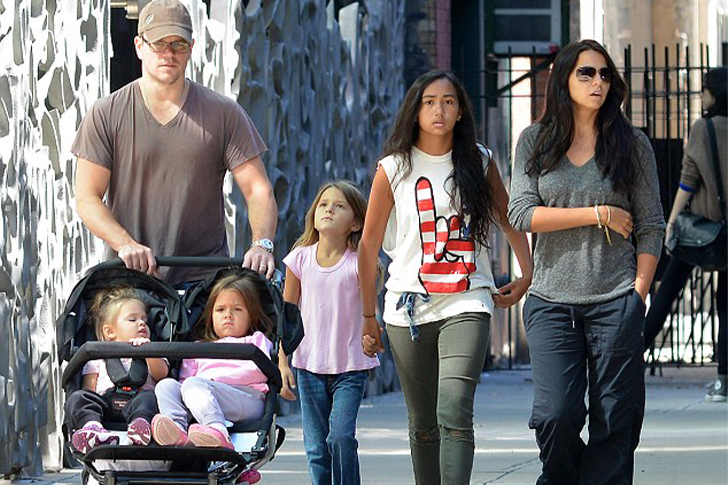 Matthew Paige Damon is one of the most promising professional actors and one of the world's wealthiest stars. He earned $3.12 billion from all the films he has appeared on at the North American box office and earned two Golden Globe Awards and an Academy Award.
In 2003, while he was filming Stuck On You in Miami, he met the love of his life, Luciana Bozán Barroso. They got married at Manhattan Marriage Bureau in 2005, away from the eyes of the general public. They began having kids in 2006 with the birth of their daughter Isabelle, followed by Gia in 2008 and Stella in 2010. Having three girls must be a handful, as Damon can be pretty protective of his girls. Surely, the actor and his wife have laid out some plans for their kids' futures, including securing educational insurance for all three girls.
Martin Lewis |  Children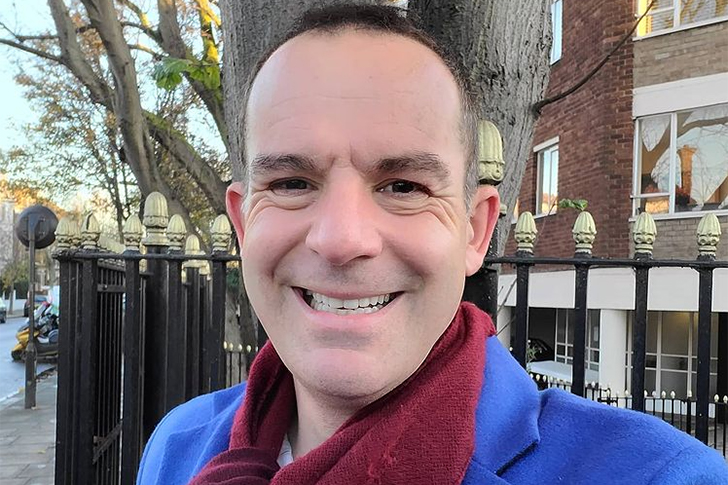 Martin Steven Lewis is an English journalist who founded the website MoneySavingExpert, which is good for financial planning. He started the company back in 2003 and is now its Executive Chair. He got married in 2009 to his long-time girlfriend, former weather presenter Lara Lewington, on 5 News.
The most sought-after British man in the United Kingdom is not only an award-winning campaigning journalist but is also an award-winning father. His daughter was born in 2012, and she is now eight years old. Together, the couple decided to name their daughter Sapphire Susan Lewis. Although it may be exhausting at times, he enjoys fatherhood very much. In fact, when his daughter was born, he wrote her a special blog that followed her birth. It even said that his little bundle of joy was just six pounds and six ounces at birth. This dotting father certainly has his priorities straight, and we're sure he's got the right insurance for his daughter.
Martha Stewart | 1 Children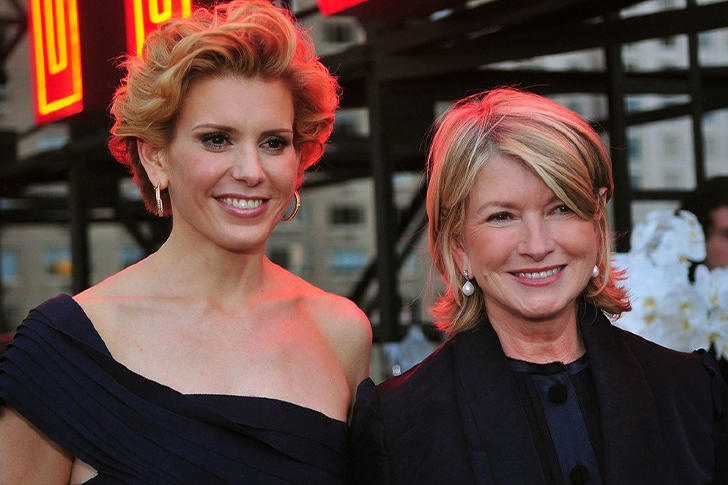 Martha Helen Stewart is a television personality best known from Martha Stewart Living, which ran for twelve years, 1993 to 2004, and Martha, which ran for eight years, 2005 to 2012. She also accomplished a lot through different business ventures like establishing the Martha Stewart Living Omnimedia. Through her initiatives, Martha was able to achieve a higher degree of success. Apart from all the fame, Martha also got blessed with an exceptional daughter like her.
Her daughter's name is Alexis Stewart, and she is now 55 years. She was born in September 1965 to Martha and her ex-husband Andrew Stewart. Alexis used to be a television host. Mostly, she made a career out of poking fun of her famous mom and made a name for herself in show business. She also keeps an open book about her personal and private life, spilling the tea on the satellite radio show Whatever with Alexis and Jennifer. Overall, this mother-daughter relationship is an inspiration to women everywhere.
Mark Harmon | 2 Children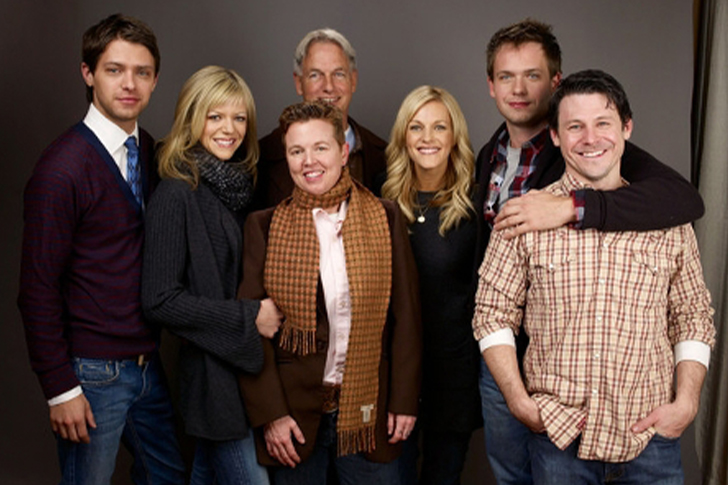 Thomas Mark Harmon is an A-list actor who portrayed Agent Leroy Jethro Gibbs' role in the primetime hit, NCIS. He is one of the hottest celebrities in Hollywood back in the 80s. Initially, he wanted to be a football quarterback when he was getting a college degree, but his true calling was acting. Mark later fathered two sons who are just as magnificent as he is.
Together with his wife Pam Dawber, Mark was able to have two sons, Sean Harmon and Ty Christian Harmon. These kids, just like their parents, joined the industry. While one of them is an actor, the other works behind-the-scenes. His eldest son is an actor who played the young Agent Leroy Jethro Gibbs in several NCIS episodes. He clearly inherited his father's knack for crime and action dramas. His youngest son, on the other hand, is into screenwriting. It was important for his kids to get a college degree, but the universities they went to remain unknown.
Marie Osmond | 8 Children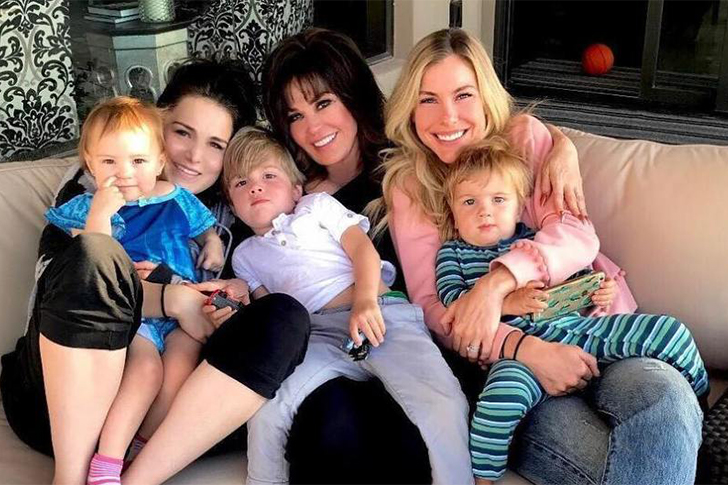 Hollywood celebrity Olive Marie Osmond is big on television. It's safe to say that Donny & Marie would be nothing without Marie. However, apart from singing and acting, Marie is also the talk show host of her very own, Osmonds. She is a multi-talented personality who can professionally sing and act with so much grace. That isn't all. She is also a mother of eight amazing children.
Her firstborn, 37-year-old Stephen James Craig, now has a family of his own. Jessica Marie Blosil followed after four years, who is now a wife to a beautiful lady named Sara. Next came Rachael Lauren Blosil, who is now a loving mother of two. Brandon Warren Blosil and Brianna Patricia Blosil then followed the bunch. Abigail Olive May Blosil and Matthew Richard Blosil are just exceptional as the rest of their kids. Last but not least, the family's angel, Michael Byan Blosil. Marie's family may be large, but we're sure the degree of happiness it brings the singer is beyond incredible.
Mariah Carey |  2 Children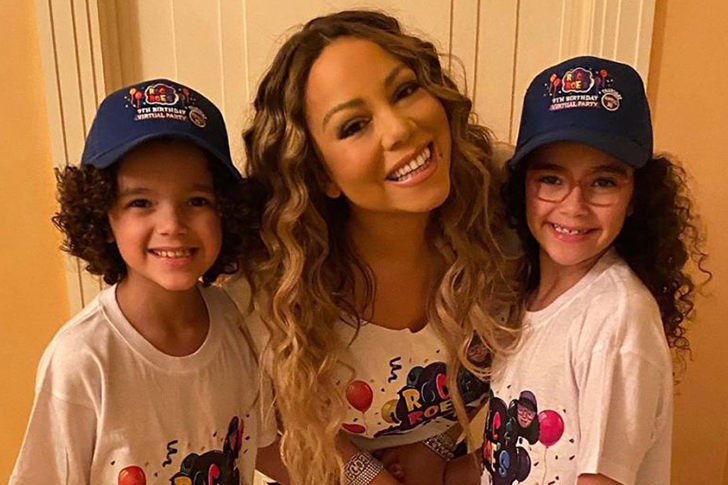 Songbird Supreme, Mariah Carey, is undeniably one of the biggest and brightest stars in Hollywood. Her use of the whistle register when she sings is truly one of the singer-songwriter's signatures. After having her first five singles hitting number one on the Billboard Hot 100, Mariah quickly became a Hollywood icon. However, aside from being a breathtaking singer, Mariah is also a devoted mother to her two children.
She and her ex-husband, Nick Cannon, share the kids. The singer gave birth to the twins, her son, Moroccan, and her daughter, Monroe, in 2011, who are both as charming as their mom. She would spend all her days off work with her kids. She would even share hilarious moments of her children on TikTok. Making sure she doesn't miss them growing up so fast. The 9-year-olds are as promising as their multi-talented mother. With a mom like Mariah, these kids would never have to worry about loans their entire lives.
Malcolm-Jamal Warner |  Children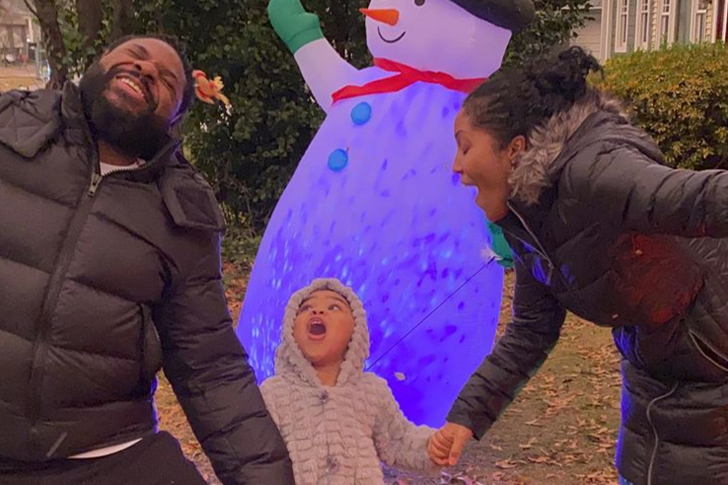 Malcolm-Jamal Warner is an American actor best known for his role on the NBC sitcom The Cosby Show as Malcolm McGee. Nowadays, he plays the role of Dr. AJ Austin in the medical drama The Resident on FOX. As blooming as his career on television is, his personal life became more exciting when he became a father to a beautiful baby girl.
Fatherhood did bring out the best in him. He is very protective of her daughter, keeping her childhood years away from the prying eyes of the public. He even refuses to give out her name to the press. He does spend a lot of quality time with her little angel, and he would share photos of them together. Her daughter's birth meant the world to the actor, claiming he is grateful for such a wonderful gift. He is indeed a great dad. He will probably have a lot of investments under her name when she gets older.
Lori Loughlin | 2 Children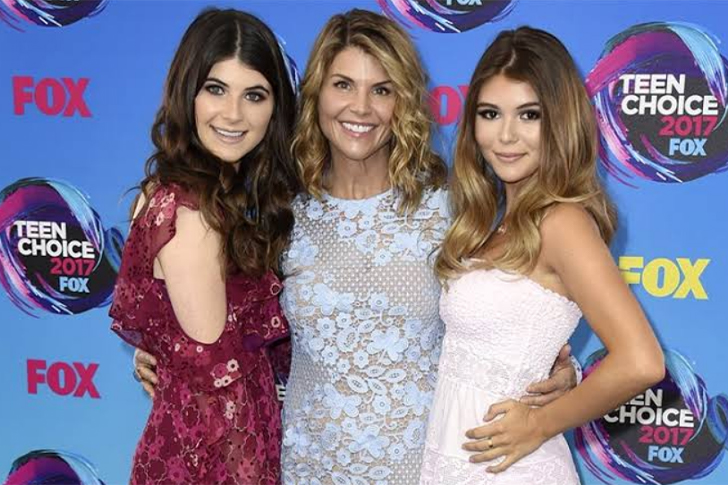 More often than not, most of us had a childhood dream of working in the entertainment industry. With that said, it comes as no surprise that Lori Loughlin made her way into the spotlight when she was 11 years old, working as a print model. At 15, she made her way into the TV scene with her acting credit in the soap opera The Edge of Night. Since then, Lori has gotten recognized for her roles in Full House and its sequel series, 90210, Summerland, and Garage Sale Mystery.
Besides working in filming sets, the actress is also a mother of two kids, Isabella Rose and Olivia Jade, who have since become stars in their own rights. Through the years, the duo has established their presence on the internet through their respective Instagram accounts. Along with Olivia already launching her very own makeup line, it's safe to say that it won't take long before these two become just as famous as their mother.
Lisa Kudrow | 1 Child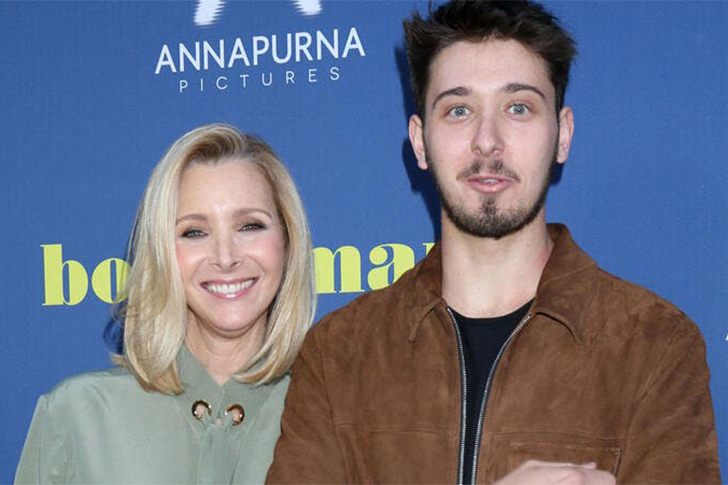 After a long day of work, many of us would often jump straight to the living room couch and check what's on TV. Through the years, many shows have piqued our interest thanks to their stories and actors. Well, one such program that has since left a mark in many people's lives is Friends, with Lisa Kudrow being one of its lead stars.
Mid-production through the show's fourth season, Lisa got pregnant with her and her husband Michael Stern's baby – the writers subsequently incorporated the pregnancy into the story. Not long after, the couple welcomed their son, Julian Murray Stern. With the actress being a college graduate with a degree in biology, it comes as no surprise that Lisa also encourages Julian to focus on his academics. However, outside school, the couple's only child has already been showing interest in becoming a filmmaker. Maybe someday, he and Lisa could finally work on a project together.
Lisa Bonet | 3 Children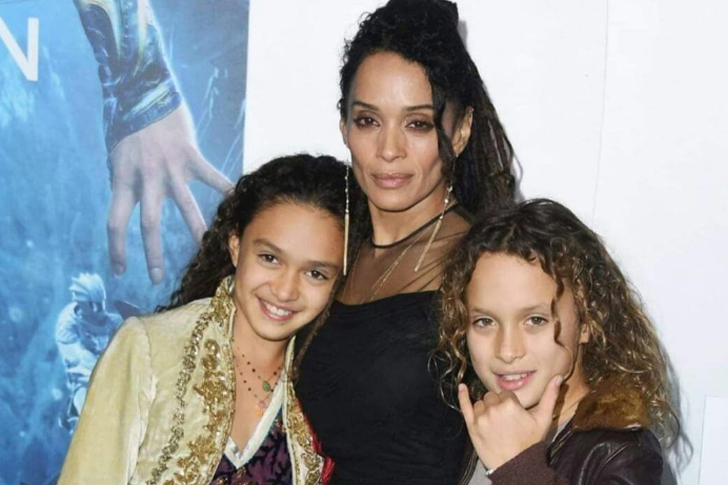 Before she made her way into the Hollywood spotlight, Lisa Bonet took acting classes at Celluloid Actor's Studio. After participating in beauty competitions and landing guest roles on TV shows, Lisa achieved widespread recognition for her role as Denise Huxtable on The Cosby Show. Since then, she's also worked on A Different World, Enemy of the State, Biker Boyz, and Life on Mars.
Although she now claims to be semi-retired from the business, Lisa's daughter, Zoë Kravitz, has since been making her own investments in the entertainment industry. Being the eldest among the actress' three kids, Zoë began her career while still in high school, debuting in 2007's No Reservations. Today, she has become well-known for her roles in X-Men: First Class, Mad Max: Fury Road, and is set to portray Catwoman in the upcoming film, The Batman. Although not much is known about her younger siblings yet, we wouldn't be too surprised if they eventually pursued acting careers as well.
Liam Neeson | 2 Children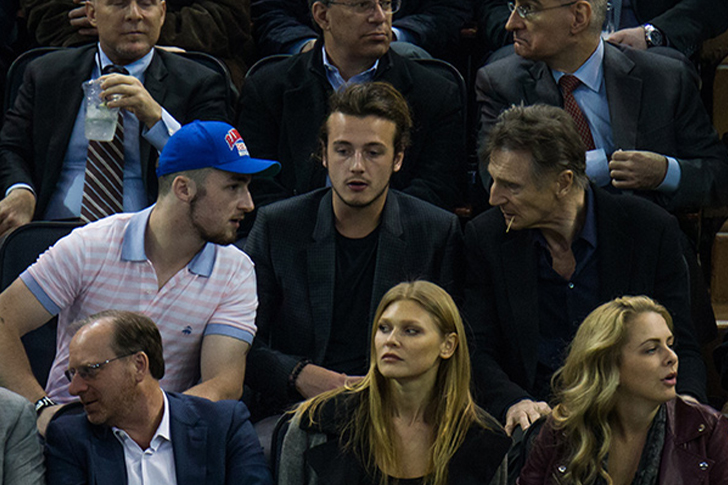 Although he already decided to pursue an acting career, Liam Neeson first worked various jobs, including as a forklift operator and truck driver, to help with his personal loans. Not long after, he finally found his place in the entertainment industry, with his earlier roles in Excalibur, The Bounty, The Mission, and Darkman. Since then, Liam has gained worldwide acclaim for starring in Schindler's List, Star Wars: Episode I – The Phantom Menace, Batman Begins and Taken.
Although he has already portrayed a plethora of characters, none can undoubtedly top his favorite role of being a father for his two sons, Michaél and Daniel. Michaél, the eldest among the two, has since followed in his father's footsteps. In fact, the two recently shared the screen with their leading roles in the 2020 drama, Made in Italy. Meanwhile, Daniel is making a career for himself in the fashion business and has already launched his Pine Outfitters brand.
Lee Majors | 4 Children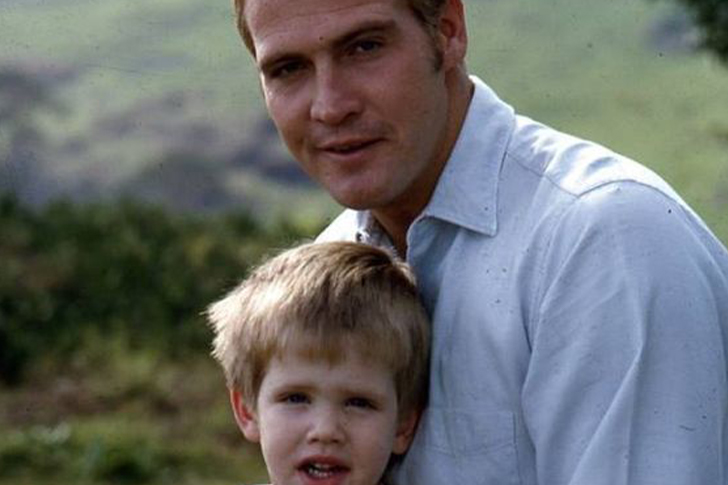 In his earlier years, Lee Majors was quite an athlete who showcased his track and football skills. By the time he was studying for his college degree, however, Lee had shifted his focus to acting and performed on plays held at a nearby theater. Since then, he has become one of Hollywood's established actors and has starred in The Big Valley, The Six Million Dollar Man, and The Fall Guy.
While he isn't busy with any upcoming projects, Lee takes time to be a father to his four kids, three of which have also found their way into the acting business. Although his eldest two, Lee Majors II and Nikki Majors, haven't had any new work in years, the two's younger sibling Dane has also been establishing his name in the scene recently. With that said, is it too much to ask for a movie with papa Lee and his kids taking on leading roles?
LeBron James | 3 Children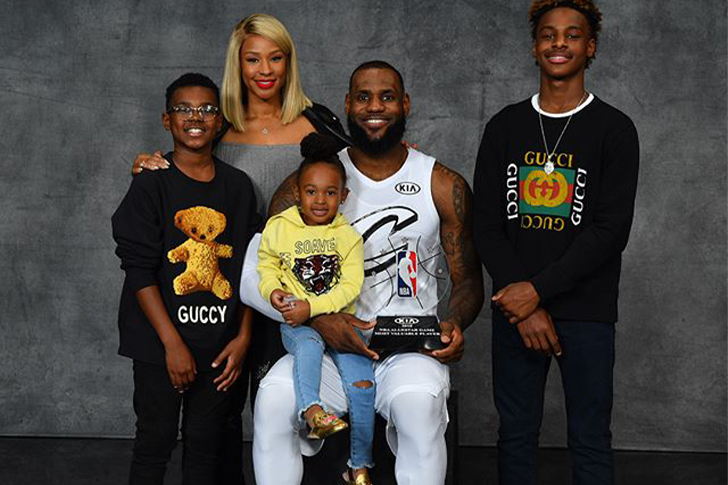 A hobby that eventually brought him worldwide fame, LeBron James is now one of the NBA's greatest players. With that said, he has since become a proud recipient of numerous awards, including four NBA MVP Awards and two Olympic gold medals. His most significant endeavor, however, takes place outside the court. Through his LeBron James Family Foundation, the basketball player has spent a portion of his investment money opening a school, community center, and housing complex in his hometown Akron.
He may have a successful career, but it's safe to say that nothing can make LeBron happier than his family, including his three kids. His two older sons, Bronny and Bryce, have already been showing plenty of potential in becoming talented basketball players. Meanwhile, their youngest sibling Zhuri has recently become famous on social media. By the looks of it, LeBron has been doing a great job of being a father and best friend for this trio.
Laura Ingraham | 3 Children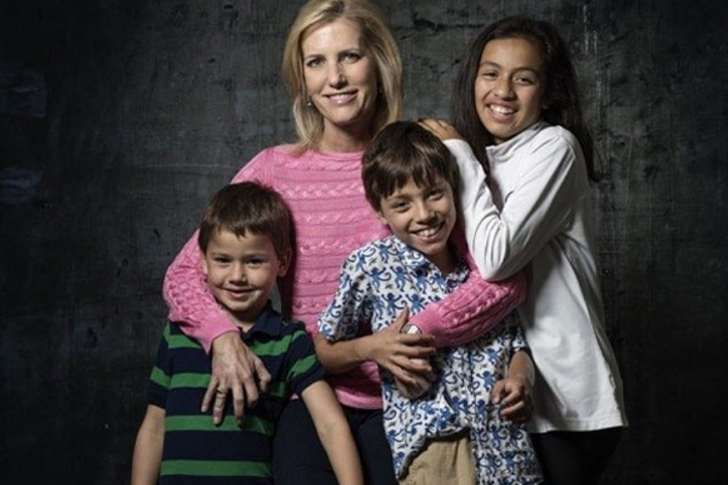 Before becoming a TV show host, Laura Ingraham found a living as an attorney for a New York-based law firm. Along the way, she also worked as a speechwriter, an editor for The Prospect magazine, and a law clerk. Today, Ingraham has gotten recognized for her work in The Laura Ingraham Show, a radio program that ran for almost two decades, LifeZette, and The Ingraham Angle.
Outside of show business, Ingraham is a mother to three kids, all of which she adopted in 2008, 2009, and 2011, respectively. With that said, this trio is composed of Maria Caroline, the eldest, Michael Dmitri, and Nikolai Peter, the youngest. Although not much information is available about them, rest assured that they are all looked after by their loving mom. In fact, Ingraham never fails to post on her social media page photos of herself spending quality time with her kids.
Kirstie Alley | 2 Children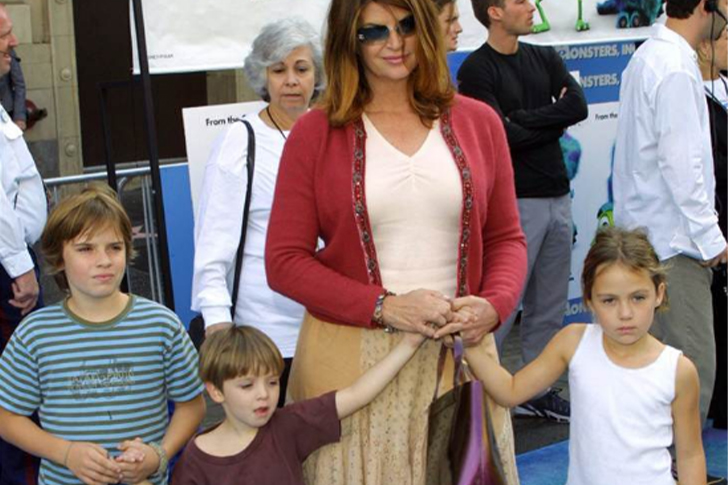 While she worked as an interior designer, Kirstie Alley's earlier appearances in the entertainment industry were a contestant for game shows such as Match Game and Password Plus. Not long after, Kirstie landed her acting debut in the 1982 film Star Trek II: The Wrath of Khan. Since then, the actress has continued her career with roles in Summer School, It Takes Two, Village of the Damned, Deconstructing Harry, and David's Mother.
With her career under the Hollywood spotlight, it's safe to say that Kirstie now has more than a few fans. Even if this fan base is already in the millions, only two of its members can surely take credit for being her top supporters – her two kids, Lillie and William. Ever since she adopted them, Kirstie has never been happier, and the duo has never failed to show how glad they are to have her as their mom.
Kirk Douglas | 4 Children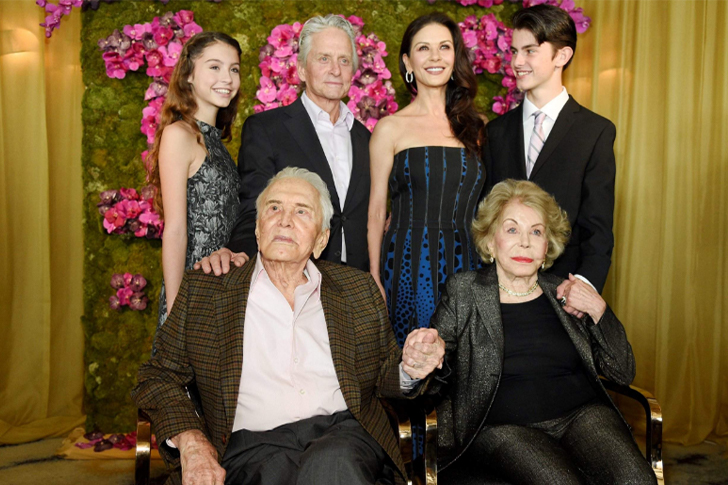 We often realize our goals in life at the most unexpected times. For Kirk Douglas, this was to become an actor, a dream he realized when he was a kindergartner. Before he found success under the Hollywood spotlight, however, Kirk worked numerous jobs to help with his family's personal loans – around 40 jobs throughout his youth. Today, Kirk has cemented his industry status with his roles in Champion, The Bad and the Beautiful, and Spartacus.
To fans around the world, he is known as one of Hollywood's greats. To his four kids, he is known as a dad. Throughout his life, Kirk has never failed to show his love and support for them. In fact, after learning about the FaceTime app, papa Kirk made it a habit to always call and check up on his kids every night. It goes to show that being a world-famous celebrity never stopped him from being a great father.
Kevin Costner | 7 Children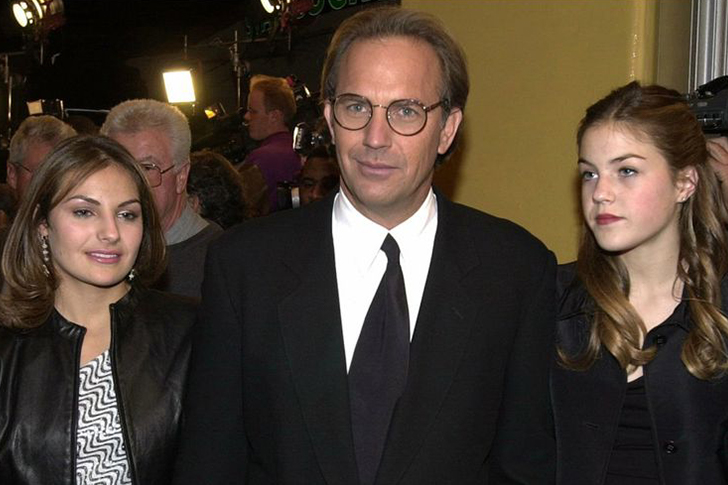 Unlike the previously-mentioned celebrity Kirk Douglas, Kevin Costner discovered his desire to act later in life. Just a year before getting his degree in marketing and finance, Kevin developed a passion for acting. As a result, after his graduation, the at-the-time aspiring actor decided to take acting classes. Today, Kevin has become one of the industry's most well-known figures thanks to his roles in The Untouchables, No Way Out, Dances with Wolves, Hatfields & McCoys, and Man of Steel.
Outside Hollywood's big bright lights, Kevin makes time to be a father for his seven kids. His eldest three, Annie, Lily, and Joe, now follow in his footsteps and have since become talented actors in their own rights. Meanwhile, the younger four, Liam, Cayden, Hayes, and Grace, are yet to make any on-screen roles. Well, one thing's for sure, whatever career they do pursue, rest assured that papa Kevin will always be there for them to provide support.
Kelsey Grammer | 7 Children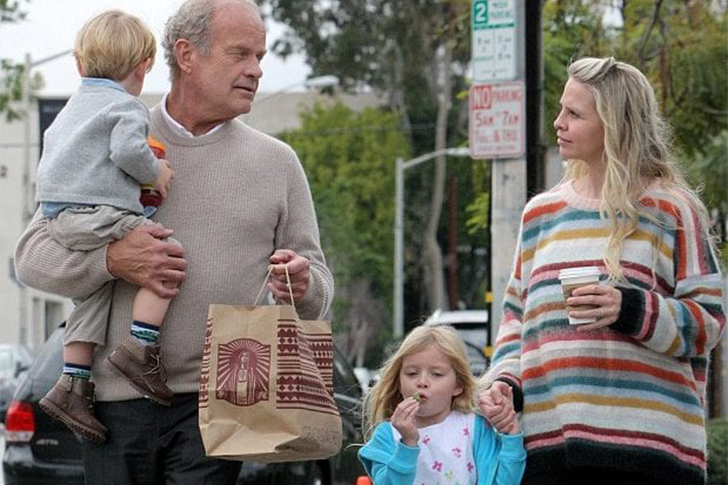 Like many actors, Kelsey Grammer began his career performing on stage plays, with his Broadway debut being for Macbeth, eventually followed by Othello, where he had the chance to work alongside James Earl Jones and Christopher Plummer. Along the way, Grammer also received on-screen roles for notable projects such as Cheers, 30 Rock, Modern Family, and the Cheers spin-off Frasier. Since then, Grammer has taken credit for winning numerous awards, including three Golden Globes, a Daytime Emmy, a Tony, and five Primetime Emmys.
Despite portraying several characters throughout his career, Grammer's greatest role is being a loving father to seven children, with the youngest two being the adorable toddlers Kelsey Jr. and Auden. Meanwhile, his eldest three, daughters Spencer, Greer, and Mason, have already established their acting careers with a few projects under their belts. Topped with Grammer's more-than-obvious love for them, it's safe to say that this is one big happy celebrity family.
Kelly Rowland | 2 Children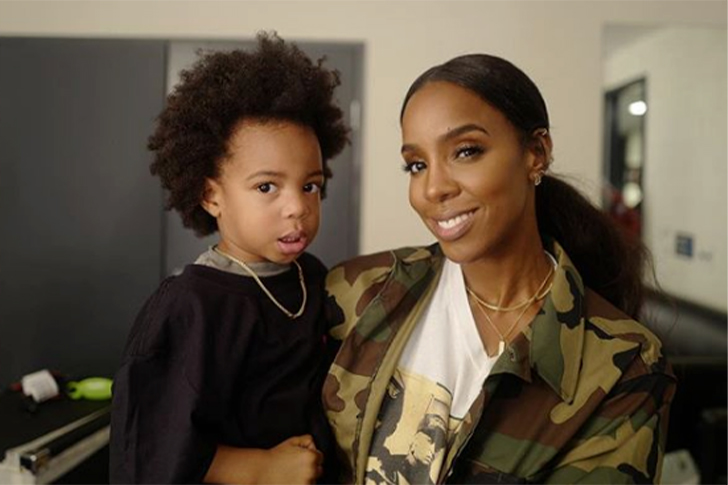 For her start in the music industry, Kelly Rowland performed alongside Beyoncé Knowles in Destiny's Child. They released many hit singles like Killing Time, No, No, No, Independent Women Part I, and Say My Name through the years. Besides eventually pursuing a solo career, Kelly also made investments, ventured into the acting business, and landed roles in The Hughleys, American Dreams, Freddy vs. Jason, and Think Like a Man.
In 2014, Kelly and her manager, Tim Weatherspoon, got married, with guests such as Beyoncé and her younger sister Solange attending the ceremony. Later that year, the singer announced through her social media page that they were expecting a child, who we now know as their son, Titan Jewell. Seven years later, in early 2021, the couple welcomed their second son Noah Jon. Although they haven't thought about their careers yet, it's safe to say this adorable duo will have their parents' support every step of the way.
Kelly Ripa | 3 Children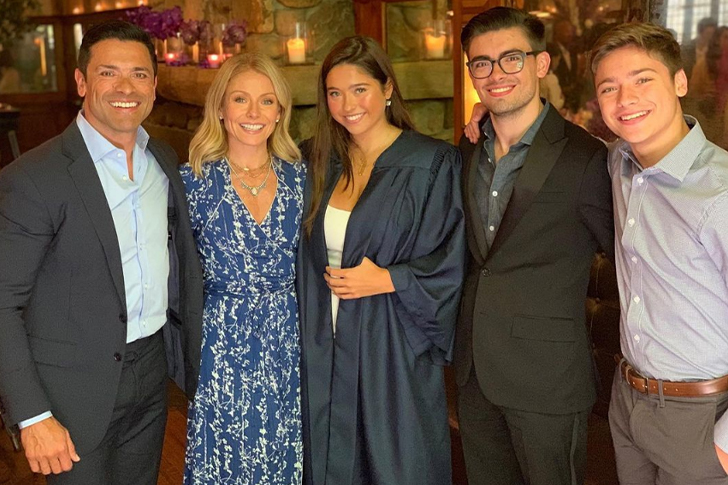 Starting something new is often a good thing, which is also what Kelly Ripa did for her family. Being the first member in her family tree to pursue an acting career, Kelly began as a dancer on Dancin' On Air before landing an acting credit in All My Children. After a few more on-screen roles, Kelly is now a talk show host for Live! with Ryan and Kelly.
During the show, All My Children, Kelly met co-star Mark Consuelos, and the two got married not long after. Today, the couple share their lives with their three kids, Michael Joseph, Lola Grace, and Joaquin Antonio, and are never ones to be shy about how happy they are to have them – just check their Instagram accounts! Although Lola and Joaquin are still finishing their studies, Michael has already made his way into the acting business, starring as the younger version of his dad's character in Riverdale.
Kevin Hart | 4 Children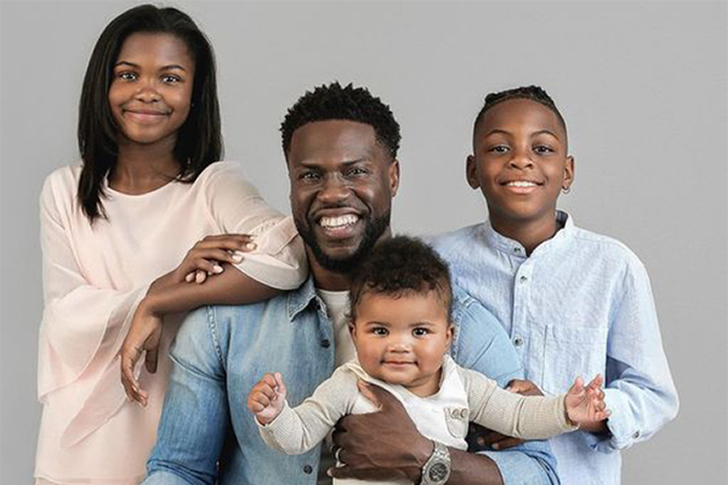 Throughout his childhood, Kevin Hart always had a knack for comedy. Well, perhaps even to his own surprise, this talent eventually became his greatest investment. After spending some time working as a shoe salesman, Kevin began his career as an entertainer, doing stand-up comedy gigs and joining comedy competitions. With his popularity skyrocketing to greater heights, Kevin then had the chance to star in more than a few projects, including Scary Movie 3, Think Like a Man, Ride Along, the new Jumanji movies, and Central Intelligence.
Besides being a talented comedian and actor, Kevin is also quite a family man. In fact, he would even share photos of his family of four kids on his Instagram page. Besides gushing about them on social media, Kevin also makes it a habit to mention them in his stand-up comedy routines, and he does so in the most wholesome way possible. Safe to say that becoming a father is the greatest that ever happened to him.
Katie Holmes | 1 Child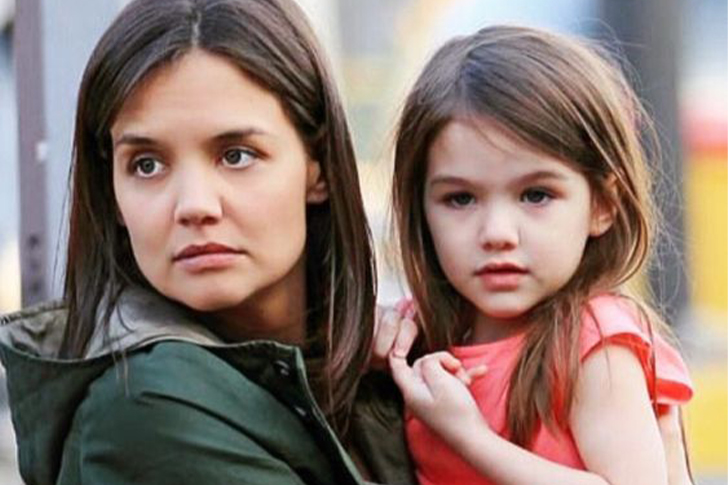 Although her father wanted her to pursue being a doctor, Katie Holmes was determined to become a successful actress. Her first acting gig in the business was for the 1997 film The Ice Storm, where she got the chance to star alongside Sigourney Weaver and Kevin Kline. Soon after, the actress received a higher degree of recognition with her role as Joey Potter in the TV show Dawson's Creek and has since starred in other movies, including Phone Booth and Logan Lucky.
Despite garnering worldwide fame as an actress, Katie considers her daughter Suri Cruise as her top priority. In fact, when she isn't working on an upcoming movie, fans would often see the actress spending quality time with Suri, whether it's at the mall or just strolling leisurely by the sidewalk. Well, by the looks of it, nothing is ever going to stop Katie from providing her daughter with everything she needs, two of which are, of course, love and care.
Kate Moss | 1 Child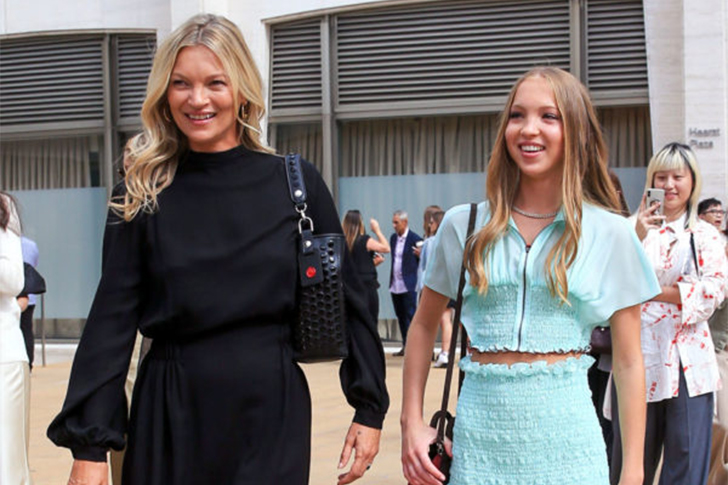 Model Kate Moss is undeniably stunning, so you should not be surprised when you see her little lookalike! Kate's only daughter, Lila Grace Moss-Hack was born on September 28, 2002, to the celebrity and her ex-boyfriend Jefferson Hack. Because of her mother's work, Lila is no stranger to the world of fashion and show business. Growing up, she has not only been exposed to the glamorous and glitzy life of her mom, but she was also slowly learning to follow in her footsteps.
At eighteen years old, Lila is now a model, just like her mother. The young beauty has already modeled for huge brands, including Miu Miu and Marc Jacobs. Though her mom is obviously her role model, Lila still wants to establish her own style and find her brand. It's a good thing that the massive degree of influence and guidance of Kate were always present to help the child find her way in the vast world of Hollywood.
Kate Capshaw | 6 Children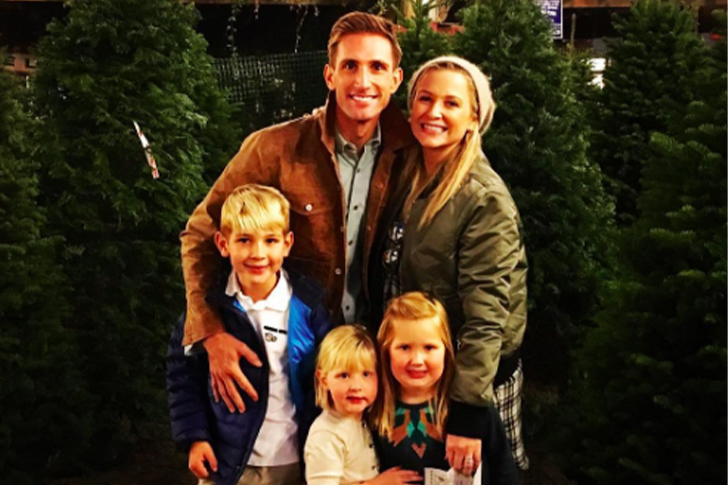 Kate Capshaw has had two marriages. Her first one was to Robert Capshaw back in 1976. During her relationship with Robert, she had a beautiful daughter named Jessica, who was only four years old when the two of them hired marriage lawyers to part ways. She then adopted a boy named Theo.
After this, she met Steven Spielberg on the set of Indiana Jones and the Temple of Doom. A relationship bloomed from the meeting, which resulted in her and Steven getting married on October 12, 1991. They had three kids from the marriage: Sasha Rebecca, who is now 30 years old; Sawyer Avery, 28 years old; and Destry Allyn, 24 years old. Besides their biological children, Steven and Kate adopted Mikaela George, who is 24 years of age. Not to mention, Steven also adopted Theo as his own when they got married. Imagine their household full of kids— it must be really fun!
Sylvester Stallone | 5 Children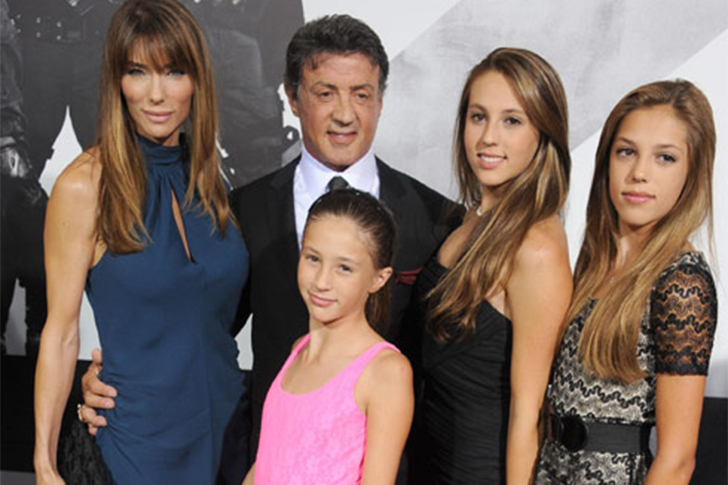 Sylvester Stallone may be a superstar to the world, but he was also a big shot to his kids. Sage Stallone is his first child with Sasha Czack. He was definitely given credit as Sylvester's next-in0line, as did his first film, Rocky V, when he was only 14 years old. The young Stallone also appeared in Daylight with his dad. He had a great career, but his star was put out as quickly as it shone with his untimely passing in 2012.
Moving forward, Seargeoh was Sylvester's second son with Sasha. A smart boy, he was diagnosed with autism and did not really bask in the spotlight as much. Sophia Rose was his third child overall. We are guessing this one's special to the action star because Sophia is his first daughter and the first kid with he had his third wife, Jennifer Flavin. Sophia also seems to like the limelight, just like both her parents. In case you did not know, the kid is a model and was one of the guest judges of Project Runway. Sistine Rose, on the other hand, is his fourth kid and second daughter with Jennifer. We guess showbiz definitely runs in the Stallone blood as she also decided to join the family in Hollywood, becoming a host as well as a model. Last but not least, Sylvester's youngest is also a girl. Scarlet is said to be very protected by her older siblings as she is still in school and is the baby of the family.
Susan Sarandon | 3 Children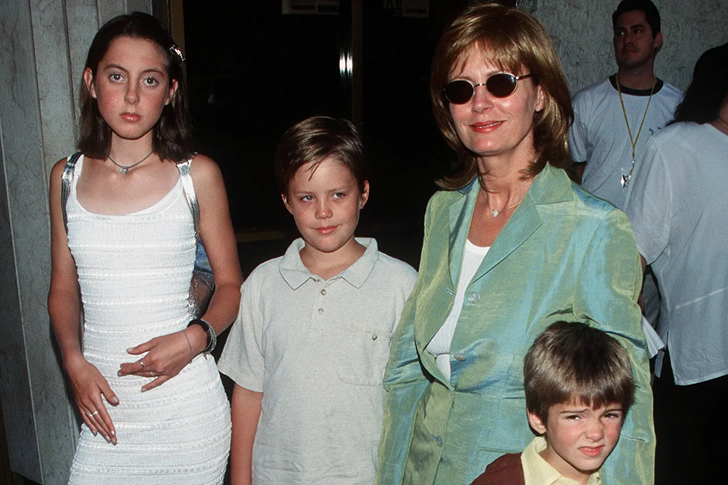 Actress Susan Sarandon has been gracing the screens with her great looks and acting skills. She was not only a great actress, but she also had a colorful love life that her fans looked out for. Her former boyfriend Franco Amurri had a child with her named Eva. In 1998, she had a relationship with Tim Robbins, with whom she had her sons Jack and Miles. They broke up in 2009, though, and she is left with her three beautiful children.
The eldest, Eva, is now in her mid-30s and has followed her mother's footsteps into Tinseltown. She has appeared in New Girl, Californication and Undateable. Despite working on her Hollywood career, the actress did not leave family life behind as she already has two kids, Marlowe and Major. Susan's son, Jack, is now 30 and a great director. Some of the movies credited under his direction include I Am Levitation and Ghost mates BTS. Miles, on the other hand, is 27 and is both a musician and an actor. He is seen in Blockers and Halloween as well as The Day Shall Come.
Steven Tyler | 4 Children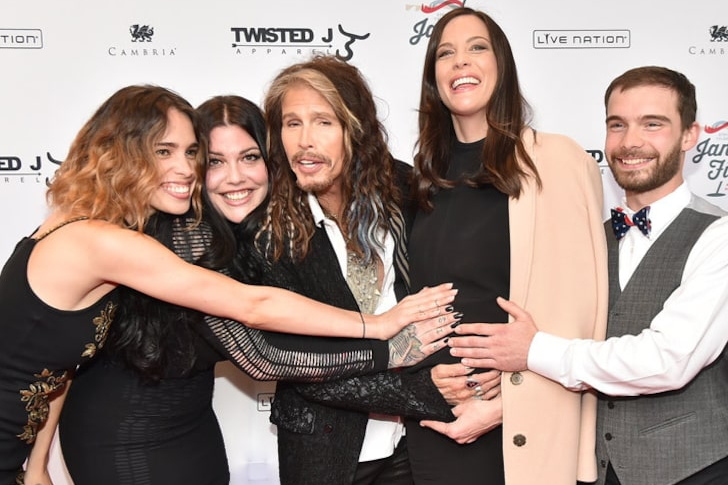 Steven Tyler has a total of three beautiful daughters and an only son. His eldest daughter is Liv, whom he had with Bebe Buell. Arguably, this progeny is the most popular among the Tyler siblings— and for good reason! Now 43 years old, she is an actress who got her breakthrough in Lord of the Rings. She is married and has two kids, Lula and Sailor.
Steven's second daughter, meanwhile, is Mia, whom he had with Cyrinda Foxe. She is now 42 years old and is the owner of the fashion line Revolution 128. She also has a son named Axton Joseph. Chelsea Anna is the third girl whom Steven had with Teresa Barrick. She is now 31 years old and is a musician, just like her dad. The fourth and final child is Taj, his son with Teresa as well. Now 30, he is an actor and was known for his TV credit in Lizzie McGuire. At this rate of success in various fields of art, it seems like the Tyler household is taking Hollywood by storm!
Steve Harvey | 6 Children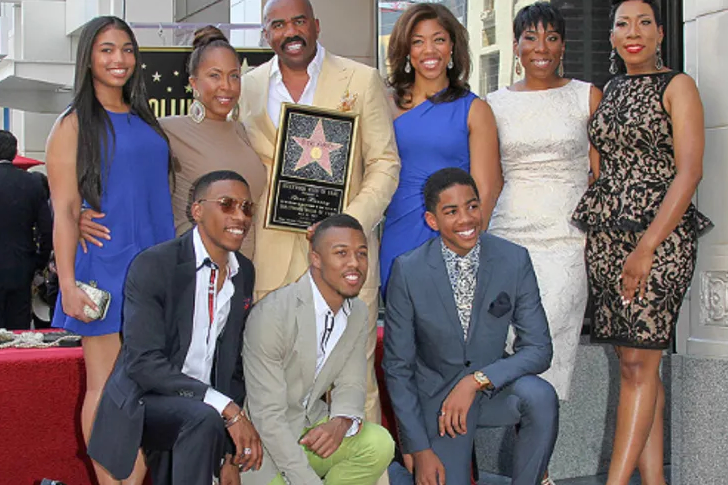 Steve Harvey is known for his great personality and well-modulated voice whenever he hosts, but little is known about his bunch. In case you're wondering, the famed host has a total of 6 biological kids, all in all.
Brandi and Karli are his eldest kids. The twins are currently 35 years old and are great at their respective fields. Brandi is a fitness coach, while Karli is an event host like her dad, but she also doubles as a fashion columnist. Third child Jason is a designer of luxury footwear for women. He put up Yevrah, his own shoe line, back in 2015, where he featured handmade products imported from Brazil. Up next, Broderick is 26 years old and was named after Steve himself. He is into business and investments, further making profits off of the family's already skyrocketing net worth. Lori, on the other hand, is 21 years old and is known as the muse of Pat McGrath. Lastly, Wynton, the youngest, is 20 and works a model, photographer, and stylist.
Stephen Curry | 3 Children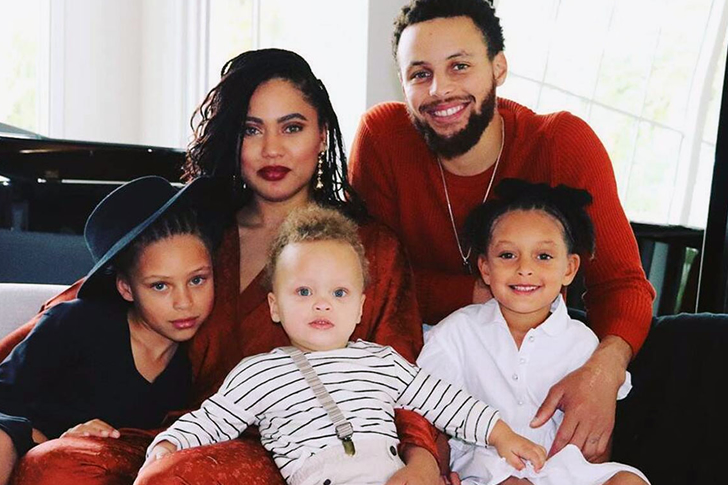 You may think that Stephen Curry's most outstanding achievement is basketball-related, but as he revealed, it is actually being a dad. According to the NBA superstar, he loves being a father to his little kids and is super proud of them. His eldest daughter, Riley, is eight years old. His second child, Ryan, is 5 and his youngest is two-year-old Canon.
One time, the pro-athlete posted a picture of his kids on Instagram, and it hit up to more than 1.1 million likes. He and his wife Ayesha had the three angels after their wedding in 2011. According to her, Stephen has been very hands-on with their kids' education and online classes. She said that since he was so busy with work before lockdown, this was his time to bond with them as much as he likes. The happy family is enjoying their home together despite the difficult circumstances. As long as they stay together, we're sure they'll weather through it.
Stephen Colbert | 3 Children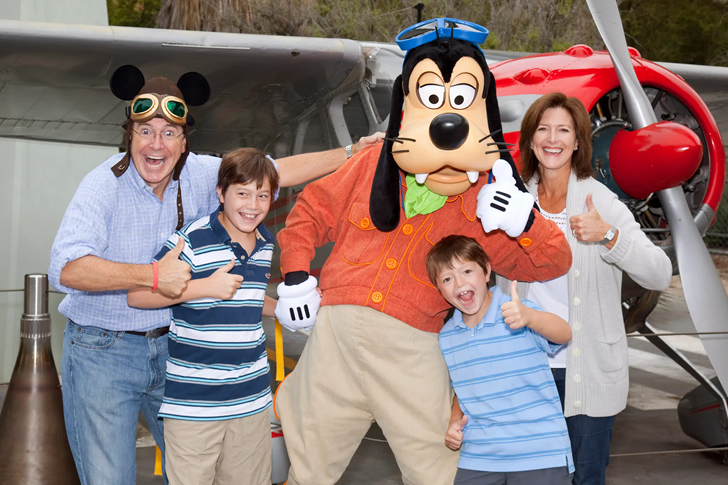 Popular TV star Stephen Colbert has three children with his lovely wife, Evelyn. Their eldest daughter is Madeline, who is now 20 years old. The second one is a boy named Peter who is 17 years old. Their youngest kid, meanwhile, is John who is 14. Since their father is such a star in comedy, you would expect these kids to have a great sense of humor. After all, Stephen told The Daily Show that part of his parenting strategy is using laughs.
When the children were smaller, Stephen admitted to not letting them watch one of his hit shows, The Colbert Report, because he didn't want them to misunderstand him. Since their ages were very young at the time, the comedic host knew their degree of comprehension wasn't very good yet. It's a great precaution on his part to make sure he and his kids are on the same page. Now, they have a wonderful and open-minded relationship with each other.
Sophia Loren | 2 Children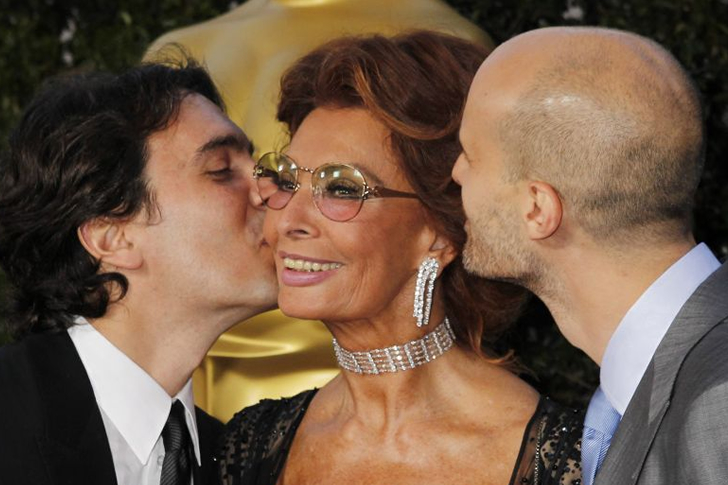 Sophia was a beauty to behold to her fans. To add, she was also a gem of a mother to Carlo Ponti Jr. and Edoardo Ponti, her two sons. Carlo is her eldest who is a famous orchestra conductor. Born in Switzerland, he is based in the United States and has an Italian nationality. He worked in the Conductor's Institute, Connecticut, for two years. The stud also took up a higher degree in University of Music and Performing Arts Vienna, Austria, in 1999. A few years ago, the successful artist founded the Los Angeles Virtuosi Orchestra.
Edoardo, on the other hand, became a filmmaker. Just like his mom, his passion lies in movies, and he loves directing and writing them. Some of his known works are The Nightshift Belongs to the Stars, Between Strangers, Sophia Loren on A Special Day, The Life Ahead, and Human Voice.
Snoop Dogg | 4 Children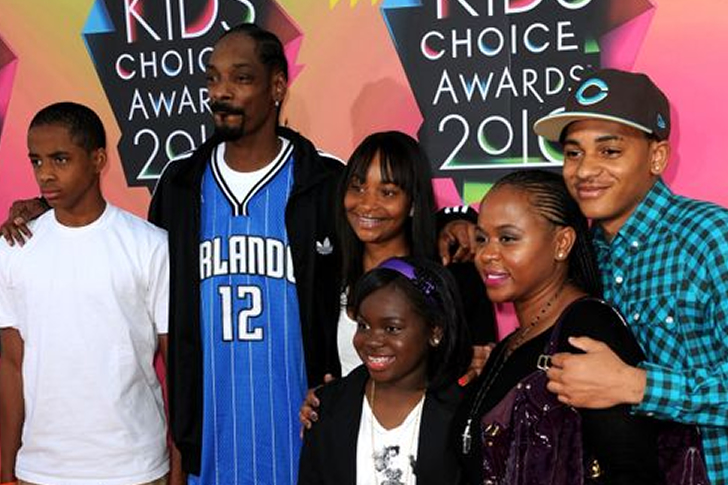 Rapper Snoop Dogg has three kids with his wife named Corde, Cordell, and Cori. The eldest, Corde, is now 27 years old and is a football player. He was a great athlete when he was in high school, so UCLA offered to give him a scholarship as he was earning his degree. Presently, Corde has a son named Sion with his girlfriend, Jessica Kyzer.
On another note, Cordell, the second child, is now 24 years old. Just like Corde, he was also a great football player and is likewise affiliated with UCLA. Cori, the third and the only girl, was born in 1999. She was the only one of the three who decided to be in the music industry, just like her dad. Her first single was titled Do My Thang. Other than the trio, Snoop also has another kid from his second marriage. Julian is Snoop Dogg's son with Laurie Helmond, and as it turns out, he, too, has a passion for music.
Sissy Spacek | 2 Children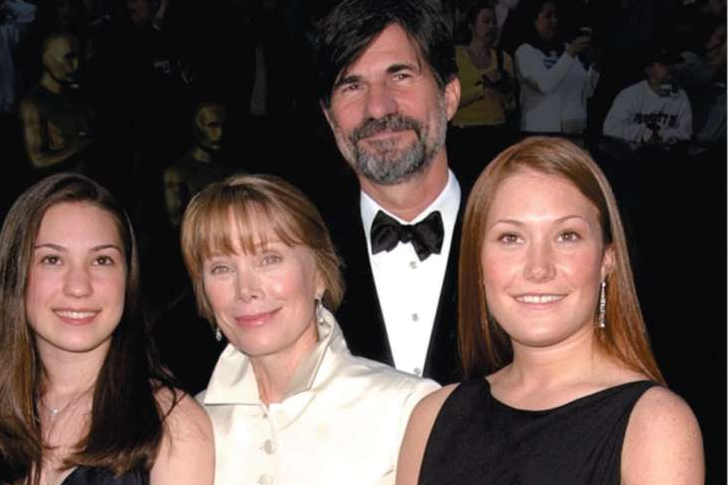 Well-loved celebrity Sissy Spacek has two daughters with her husband of almost four decades, production designer Jack Fisk. The two met on the set of Badlands in 1973 and have had Schuyler and Madison over the years. Recently, Schuyler, the older sister, made the headlines when she announced her marriage with artist Chapman Bullock. She was 29 when they got married. The loved-up couple invited their family and close friends to a small gathering in Charlottesville, Virginia. Overall, it was a beautiful and sentimental ceremony.
On a regular day, Schuyler is a singer and an actress – precisely like her talented mother. Fun fact: she earned her first film credit in The Baby-Sitters Club in 1995. The young star is now a renowned folk artist who is known for her album The Good Stuff, which was released in 2009. Unfortunately, not much is known publicly about her sister Madison, but what we do know is that the girl is six years younger and is definitely enjoying her laid-back lifestyle.
Simon Cowell | 1 Child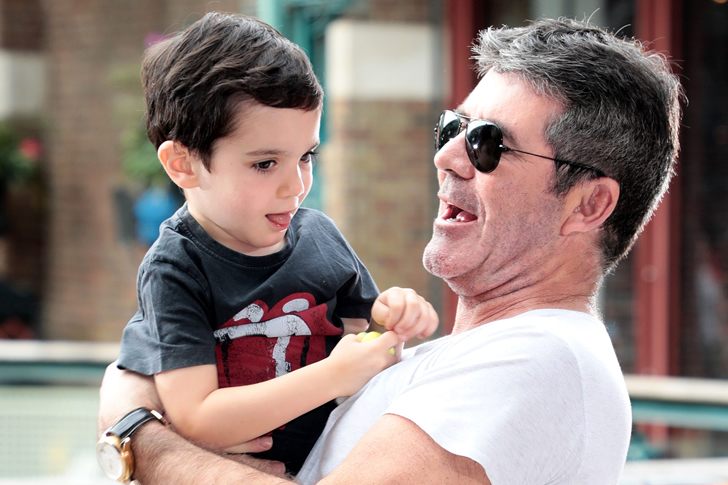 TV superstar Simon Cowell is known to be the face and the man behind a lot of successful talent search reality shows. Behind the camera, he is in a relationship with Lauren Silverman, with whom he has been with for several years. They met in 2004, but she was still with her husband at the time.
When things soon cleared, Simon and Lauren fell in love and had a child together. Their son Eric takes credit for being the reason why Simon has become "softer," according to the critique himself. Eric was born in 2014 and has been an inspiration to both his parents. The reality Tv show judge once stated that being a father really changed him as a person. It couldn't be helped, he said. Simon even said that Eric reminded him of himself when he was a young boy. Love and family really do wonders!
Sidney Poitier | 6 Children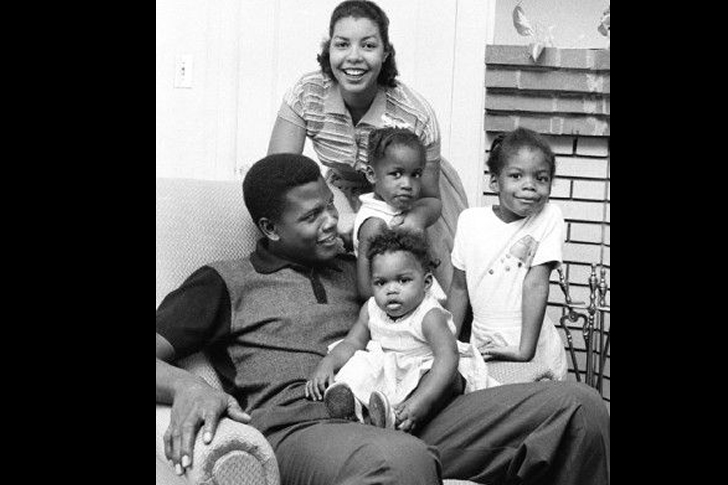 Sidney Poitier had two wives who both bore him girls. His first wife was Juanita Hardy, and with her, he had Beverly, Pamela, Sherri, and Gina. Meanwhile, his second wife, Joanna Shimkus, gave the Amercian-Bahamian actor kids named Anika and Sydney.
Eldest daughter Beverly is a designer for Porter Henderson Jewelry, her own jewelry line. Pamela, on the other hand, is also an actress like her father. Some of her film credits are Savannah, The Jackal, and Liberty & Bash. Third child Sherri loves the kitchen and is a great chef while Gina was into office work, but she passed away in 2018. On the other side of the spectrum, Anika is a filmmaker. She also wanted to be involved in the movie industry like her dad. Sydney fell in love with the spotlight as well and has pursued a career in front of the camera as an actress. In fact, the young Poitier appeared in Grey's Anatomy and Chicago P.D. We guess it's safe to say that the whole family is very talented, and for sure, they got their talents and passions from their parents. Indeed, Sidney did a great job at being their dad.
Sherri Shepherd | 1 Child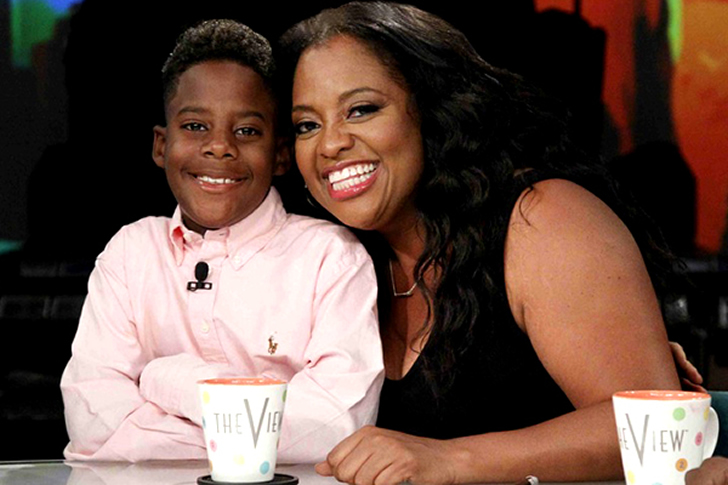 Actress and hilarious comedian Sherri Shepherd has had a long and eventful journey with parenting. Her son is Jeffrey Charles Tarpley, and he is diagnosed with some special needs. Though he has developmental delays, Sherri still thinks her son is a huge blessing to her. The actress said that he was "perfectly imperfect" and that she is very grateful for his presence in her life.
According to Sherri, Jeffrey is so strong that he doesn't allow his situation to knock him down. She even enrolls him in improv classes so that her son could have a space to have fun. After being asked if he ever wanted to become a doctor someday, Jeffrey replied that he wanted to make people laugh, instead— just like his mother. The degree of admiration he holds for his mother is very visible, so we can't wait to see him perform alongside her soon!
Shaquille O'Neal | 5 Children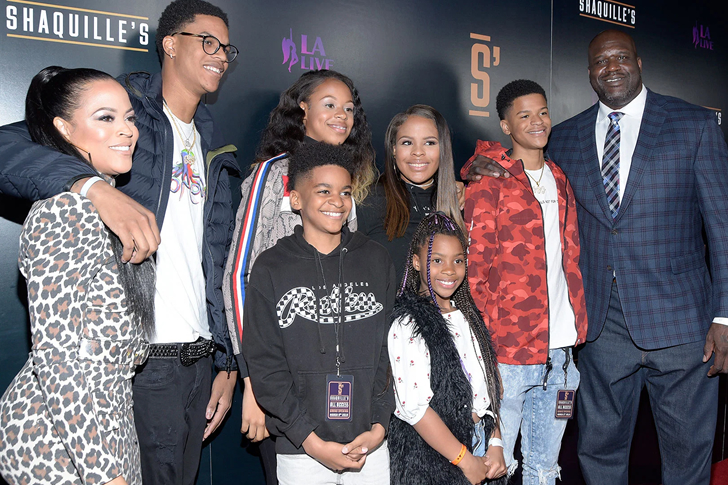 Basketball superstar Shaquille O'Neal is also legendary at home as a dad. His eldest child is Taahirah. She was born to both Shaq and his ex-girlfriend Arnetta Yardbourgh in Florida, but she moved to Houston after taking up her college degree. As a philanthropist, she leads a relatively private life now. Shareef is the next biological child and the first one with Shaq's then-wife, Shaunie. Just like his father, Shareef is also a basketball player whose inspiration is none other than the pro player himself.
Amirah is the next child. She was born in 2001 and is surprisingly also a basketball star. Up next, we have Shaqir who was born in 2003 and is just like his older siblings, who are in love with the ball game. Lastly, the youngest is Me'arah, who was born in 2006 and you got it – she's also a basketball player. At this point, the O'Neals could form their own pro team, and we're ure that this family will make the best team ever!
Shania Twain | 1 Child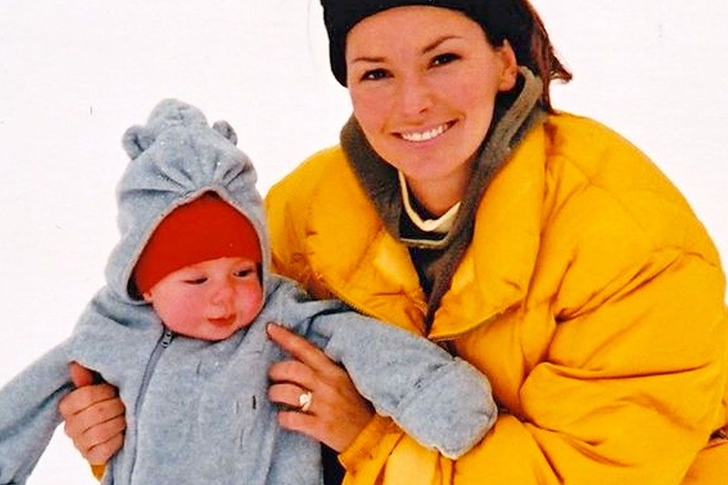 Canadian country-pop singer-songwriter Shania Twain has been in the limelight since the early '80s. She is the voice behind the hit love songs From This Moment On, You're Still the One, and Forever and for Always. As for her romantic life, she has been married twice. Even though her relationship with Robert Lange didn't work out, the musician has been blessed with a son named Eja Lange. Now 19 years old, Eja decided to follow in his mom's footsteps and has just begun creating his own music. As it turns out, however, he enjoys songwriting more than performing. Nonetheless, we hope to hear more of his music ventures soon!
In 2011, Shania tied the knot with her second husband, Frédéric Thiébaud, a Swiss Nestlé executive. In an article, the female singer shared that she wishes she had more kids because she enjoys the challenges of being a mother to a vast degree.
Serena Williams | 1 Child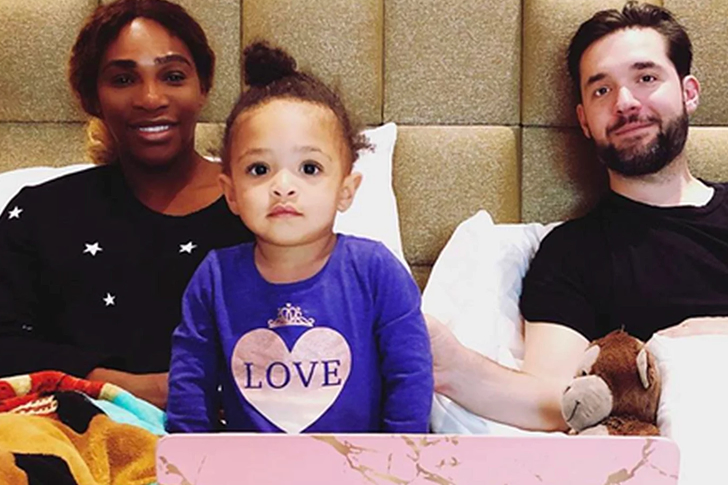 Most of you probably know who Serena Williams is. She's a world champion professional tennis player who is considered one of the best female athletes of all time. Serena is also the highest-earning female player by a mile, gaining a high credit score and a hefty sum of $35 million from June 2019 to June 2020. She is married to Reddit co-founder Alexis Ohanian since November 16, 2017. That same year, Mr. and Mrs. Ohanian gave birth to their lovely daughter Olympia.
The family has been spotted going on adorable play dates. In one instance, Serena took her daughter to a tennis court and spent their family time there. Olympia showed off her impressive tennis swing at only age three! Who knows? She isn't just her mom's mini-me, but she might as well become a mini-champion in a few years. Way to go, Olympia!
Sean Penn | 2 Children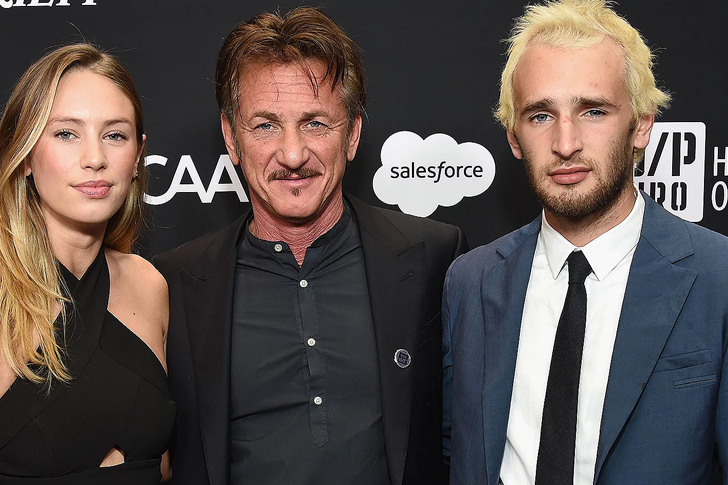 Hollywood actor Sean Penn is best known for his diverse range of film roles in the '80s. In addition to his acting portfolio, he also receives credits as a film director, screenwriter, and producer. He starred in over 50 films and garnered many awards throughout his career. Sean is also a doting father to two kids: daughter Dylan and son Hopper.
Sean's eldest, Dylan, is a model and actress. She has worked with Elle, GQ, and L'Officiel, and when she's not showing up on local billboards, the young beauty appears on the small and big screens. She starred in the 2015 film Condemned, Nick Jonas' music video for Chain, and more. On the other hand, her brother, Hopper, also found his way to star in films like The Last Face, Between Worlds, and an upcoming movie titled Flag Day, directed by his superstar dad.
Sarah Jessica Parker | 3 Children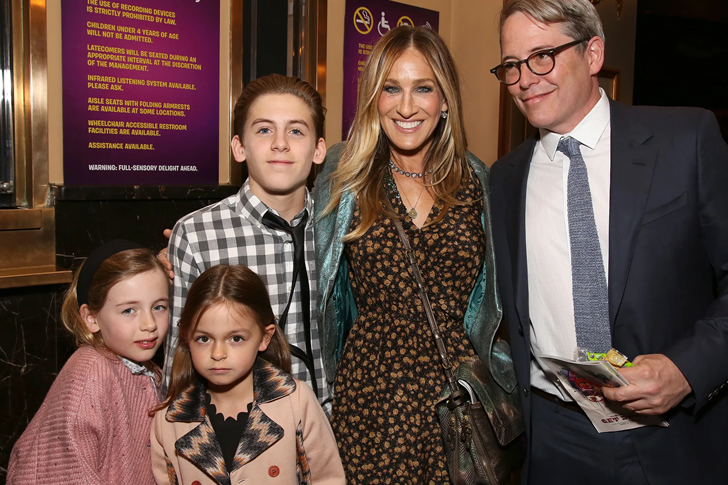 People widely recognize her for her role as Carrie Bradshaw in SATC, and we can't blame them. Actress Sarah Jessica Parker indeed did a phenomenal job portraying the iconic role. She's not only a flooring actress but is also a caring mom to her kids. Since Sarah exchanged wedding vows with actor Matthew Broderick on May 19, 1997, they were blessed with three kids: a son named James and twin daughters named Marion and Tabitha.
Now 18 years old, James almost looks like his father. The father-and-son duo spends quality time watching basketball games together and was once spotted at a Knicks game at Madison Square Garden. Meanwhile, the twins enjoy playing dress-up with their fashionista mom. When asked about some motherly advice for her kids, Sarah said, "I want them to work for something, to dream of it, to will it to happen."
Sandra Bullock | 2 Children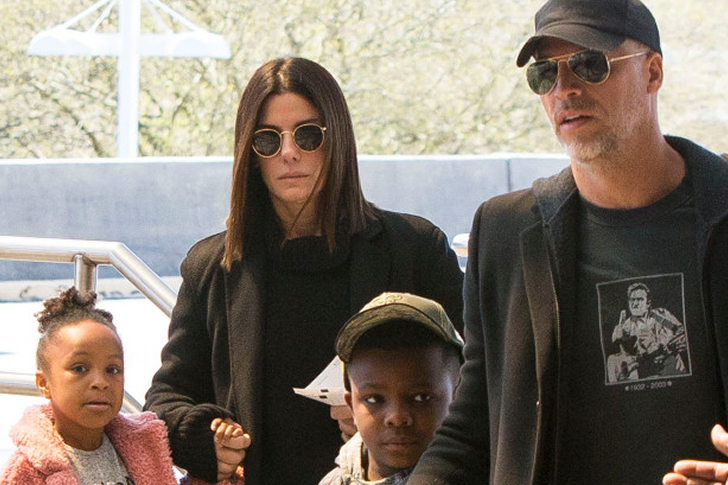 American actress Sandra Bullock maintained a steady roster of film roles in the romantic comedy genre. She also did a great job in drama, including the sports movie The Blind Side and the lawyer film A Time to Kill. The 56-year-old actress has achieved immense fame in the film industry that she decided to give back and help those in need. During the Hurricane Katrina incident, she was inspired to adopt one of the victims, a then-three-month-old child. This child was Louis Bardo Bullock.
It was also Louis that influenced his mom to adopt another child. In 2015, she took home a baby girl named Laila. Today, the two kids get along with each other and are raised by their mom to be grateful children. A family friend even revealed in an interview that Sandra teaches her kids about the importance of giving back.
Samuel L. Jackson | 1 Child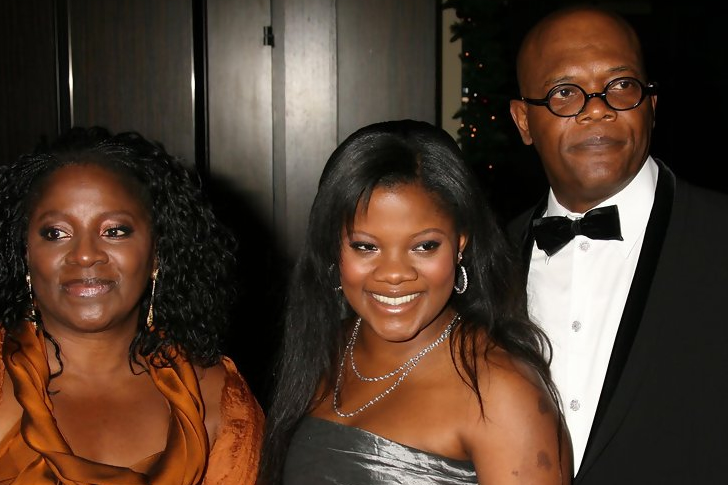 Being one of the highest-grossing actors of all time, Samuel L. Jackson has earned a net worth of $250 million. He has over 150 film appearances and has a box office total sitting at over $16 billion. Standing beside him in all the ups and downs of his life is his wife of 40 years, LaTanya Richardson, whom he met while studying at Morehouse College.
The two gave birth to a daughter named Zoe in 1982. While Zoe didn't follow in his father's footsteps in acting, she also ventured into the entertainment industry as a producer. Holding a culinary degree, Zoe has produced food competition shows like Top Chef Duels, Top Chef, Top Chef Jr., and Netflix's Sugar Rush. She has received Emmy Awards nominations for her work in these shows and also accompanies her father to red carpet events since she was a child.
Sam Elliott | 1 Child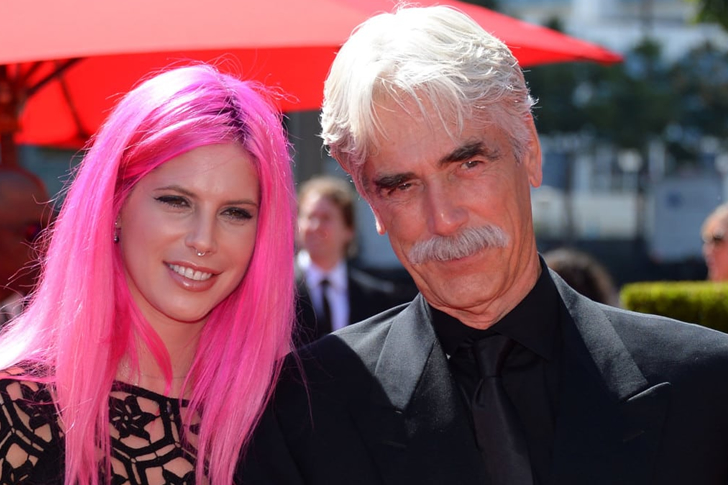 Being in Hollywood for more than 50 years is an achievement itself, but actor Sam Elliott has received several award nominations ever since he began working in the industry. Most recently, the 76-year-old actor starred in the musical drama A Star Is Born and the comedy-drama The Hero. He tied the knot with actress Katharine Ross in 1984, and they have been blessed with a daughter named Cleo Rose Elliott.
Now in her mid-thirties, Cleo opted to pursue the music scene rather than join her parents' acting pursuits. She shared that her parents are very supportive of her career choice and that they're happy she doesn't want to be an actor. The independent youngster released her first album in 2008 and plans to create more songs. Today, she continues to gas up her music career in Malibu, California. The family of three was recently spotted at the A Star Is Born premiere.
Sally Field | 3 Children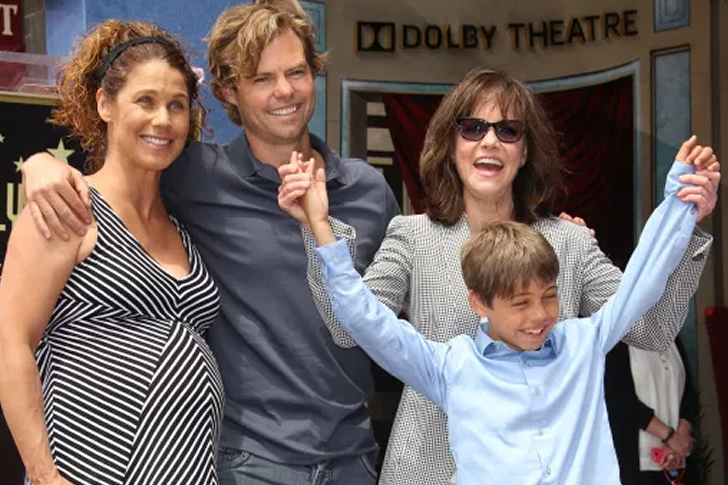 Sally Field started her career on television, appearing in shows like The Girl with Something Extra and Gidget, and went on to escalate her movie career in the late '70s. Since then, she became a recipient of various accolades, including three Primetime Emmy Awards. Outside Hollywood, the actress is also successful in being a mom of three grown men. Sally first experienced motherhood in 1969. The actress gave birth to her eldest child, Peter, followed by Eli, in 1972, and Samuel, in 1987.
In case you're wondering, Sally's eldest is currently writing screenplays and has received writing credits for Top Gun: Maverick, The Hunger Games: Mockingjay series, and more. Eli, on the other hand, dabbles in acting, writing, and directing. Last but definitely not least, Samuel made a name for himself as a notable film director. All of Sally's children are following her legacy, and she couldn't be any prouder!
Ron Howard | 4 Children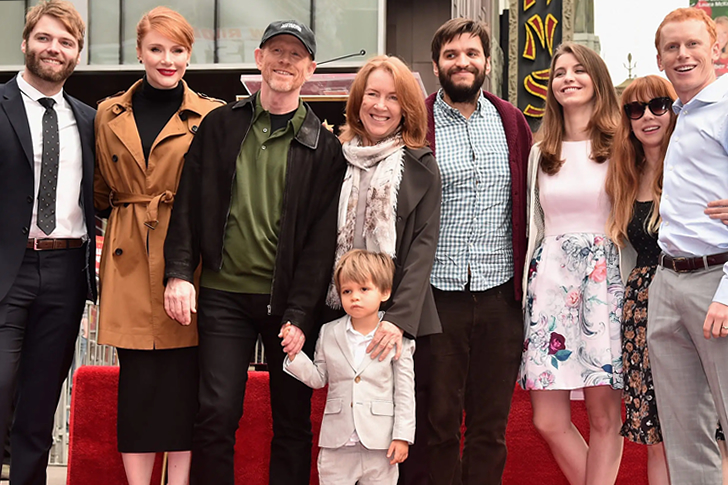 Before becoming a highly-successful filmmaker, Ron Howard was a child actor. He rose to fame in the sitcom The Andy Griffith Show, and from there, he worked his way up to the ranks of A-list personalities. He furthered his career by directing blockbuster films like The Da Vinci Code and A Beautiful Mind. Ron married writer Cheryl Alley in 1975 and gave birth to four children: daughter Bryce Dallas, twins Jocelyn Carlyle and Paige, and son Reed Cross.
Bryce, their eldest daughter, starred in the Jurassic World franchise and the Oscar-winning film The Help. Paige has also acted, working in minor roles in 90210 and Medium. Unlike her siblings, Jocelyn shies away from the spotlight. The youngest, Reed, is an avid golfer. He once appeared on his dad's show Arrested Development in 2018. We can see how Ron likes to involve his kids in his show business investments.
Robert Redford | 4 Children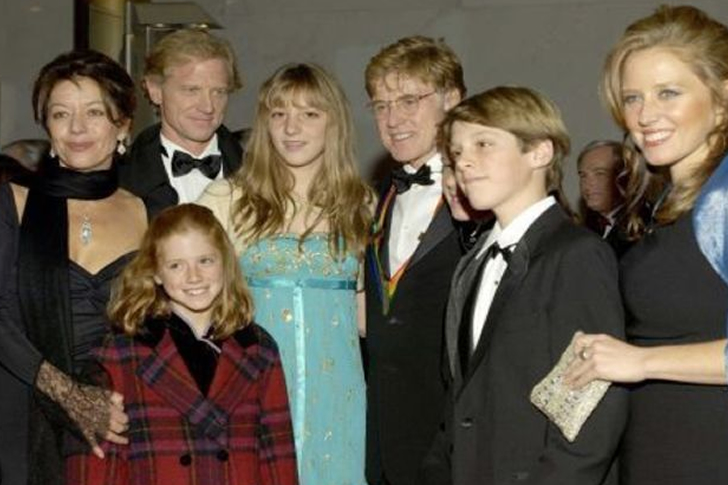 Best known for his role in Butch Cassidy and the Sundance Kid, Robert Redford is one of Hollywood's living legends. He kicked off a streak of box office successes throughout his career. With his wise money management, he bought a ski resort in Provo, Utah, which became an office for his ventures, including the Sundance Film Festival and Sundance Channel.
After his marriage with Lola Van Wagenen didn't work out, he didn't give up being a loving parent to his four kids: Scott Anthony, Shauna Jean, David James, and Amy Hart. Shauna went on to become a successful painter, while Amy paved a career as an actress, starring in Giving It Up, Cry Funny Happy, and Candybar. Sadly, the two boys, Scott and David, passed away due to health problems. Robert has since focused his time on his family despite his busy schedule.
Robert De Niro | 6 Children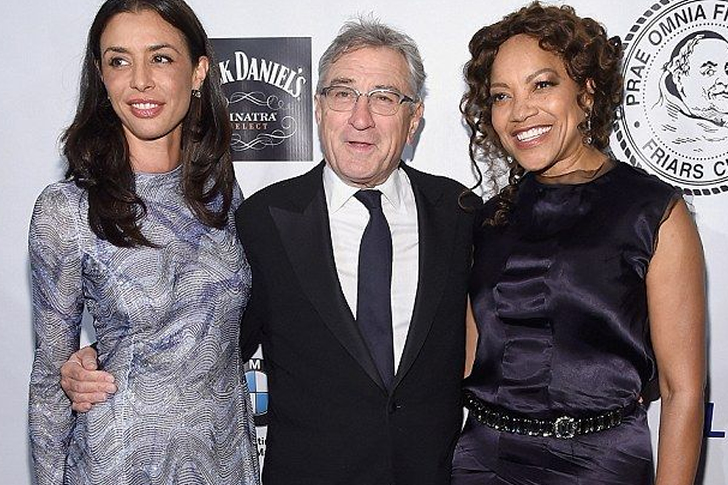 Robert De Niro may hold a string of blockbuster films and accolades, but he just didn't stop there. He is a father to six kids, namely Drena, Helen Grace, Raphael, Julian Henry, Elliot, and Aaron Kendrick. The Godfather actor experienced parenthood for the first time in 1976. Since then, he has been blessed with a big, happy family. "I love my children. I love just being with them," De Niro shared on one occasion.
Drena, the eldest, worked as a DJ, fashion consultant, and model. She currently serves as a spokesperson for an orphan sponsorship program. Raphael is a New York City real estate broker who knows his way around home finance. Both he and Drena tried their luck in Hollywood like their famous dad. On the down side, there is not much information about the other four children as they chose to stay away from the limelight.
Reese Witherspoon | 3 Children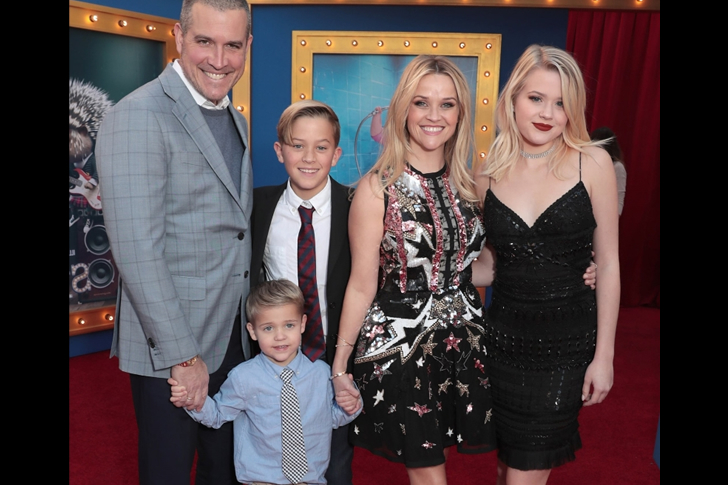 She has portrayed an attorney in Legally Blonde and as a fashion designer in Sweet Home Alabama, but actress Reese Witherspoon is probably the best at being a mom to her three kids. Her children, Ava and Deacon Phillippe are born to her former marriage with actor Ryan Phillippe, while Tennesse resulted from her current union with Jim Toth.
Her eldest, Ava, currently pursues her education at the University of California Berkley. She appeared in Vogue magazine and modeled for her mom's clothing line. Deacon is also still in school and loves playing basketball and ski. Her youngest, Tennessee, is attending first grade in California. Like many moms, the actress teaches her kids to be responsible and is letting them do household chores every day. "We have rules around the house. I feel like I'm always telling people to clean up," she said in an interview.
Raquel Welch | 2 Children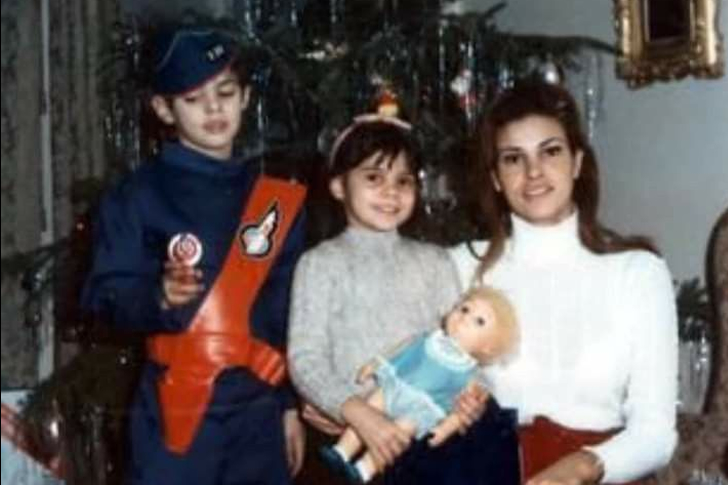 Raquel Welch has been a film icon since the '70s and is best known for portraying strong female characters. Her success isn't limited to the film industry, though, as she ventured into several businesses as well. She launched a line of wigs, jewelry, and skincare, with her signature wigs expanding until today.
Through her first marriage to James Welch, Raquel became a mom of two. Her kids, Damon and Tahnee, both tried their chances in Hollywood while growing up. Damon worked as a production associate in his mom's fitness video and appeared in an uncredited role in The Beloved. Tahnee also enjoyed her shot of fame, albeit briefly. She starred in the Cocoon film series and I Shot Andy Warhol. While their mother, Raquel Welch, is still seen out and about by the paparazzi, the two kids are no longer gracing the silver screen today.
Robert Downey Jr. | 3 Children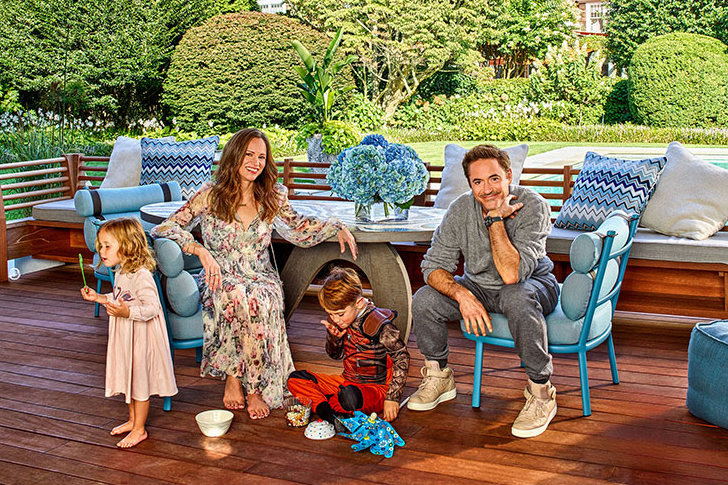 Before reaching the pinnacle of his acting career as Iron Man, Robert Downey Jr. starred in minor roles. In the '90s, he went through some rough patches in his life that he had to hire lawyers. Thankfully, the actor stood back up and made his breakthrough in the Marvel film series. He was also able to start a family of his own. His eldest child, Indio, is his son from his first marriage. Downey Jr. remarried in 2003 and welcomed an additional of two kids, Exton and Avril.
Of the three Downey kids, Indio has the most Hollywood exposure, which can be attributed to his being the firstborn. He sings in a rock band and dreams of becoming a famous musician someday. Downey Jr.'s two youngest kids, Exton and Avril, are age 8 and 6, respectively. Since they're still young, it seems that their famous dad still has a lot of playtimes to spend with them.
Ryan Reynolds | 3 Children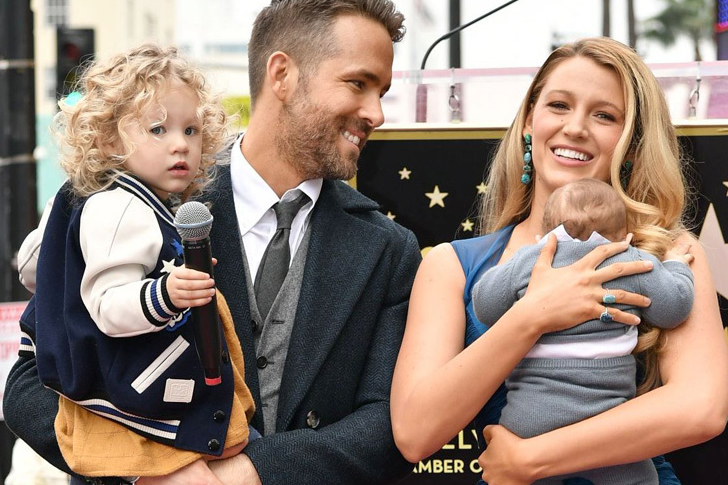 If we are to name one of Hollywood's most adorable fathers, that would be actor Ryan Reynolds. The Deadpool star always takes to social media snippets of his family life. Aside from posting romantic captions addressed to his wife, actress Blake Lively, Ryan also publishes on his Twitter hilarious stories about their three kids: James, Inez, and Betty.
The kids are ages 6, 4, and 1, respectively, and one of their favorite pastimes is having their dad read some bedtime stories. The Reynolds family currently resides in the Pound Ridge neighborhood of New York. Ryan reportedly bought the house in 2012, six months after he and Blake started dating. The property features seven bedrooms, which could mean that the family of five can still have an addition of two! Unless they're planning to have more kids, we suggest that they either renovate the home or hire a moving company.
Priscilla Presley | 2 Children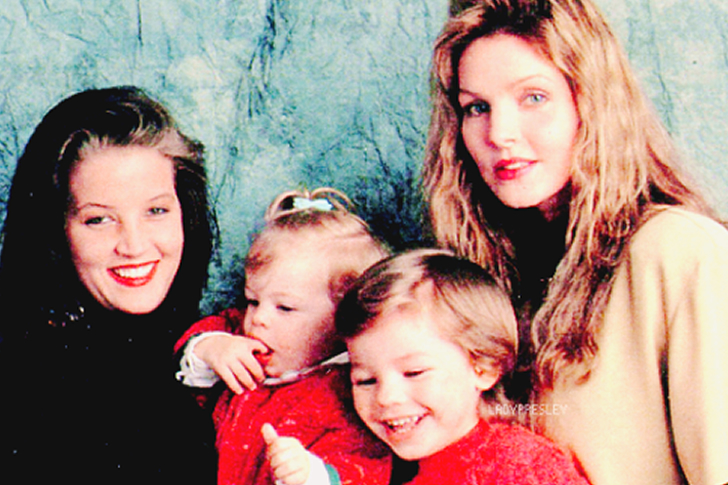 Priscilla Presley is the wife of the late Elvis Presley. He is a man who needed no introduction since we all know him as the King of Rock and Roll, or just simply the King. It must have been a tough life being married to a king, but with Priscilla's resilience and grace, she was able to raise two amazing kids.
Together with Elvis, Priscilla had Lisa Marie Presley. She also has a son with Marco Garibaldi named Navarone Garibaldi. As most people know, Lisa was linked to another king – the King of Pop, Michael Jackson. The younger Presley is now 53 years old and had four children, but unfortunately, one of them passed away not so long ago. Just recently, Lisa spoke about how she felt her father's presence during her experience with Graceland. The American singer-songwriter admitted it was a bittersweet struggle, but mostly, she gave credits to her dad for being such as great father and human being. Navarone, on the other hand, is a 33-year-old handsome man who is active on social media. Many have commented that he looks just like his mom— and we think so, too.
Pink | 2 Children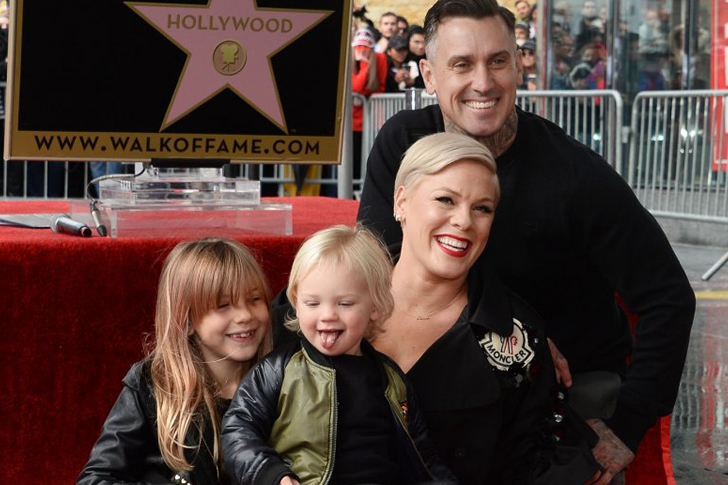 Pink is one of the most successful and famous artists of today. Together with Alicia Keys, she brought a whole new definition to the word diva. They are both on top of Hollywood's list of fan favorites. Pink is a one-of-a-kind singer and songwriter. She is also lauded as a great celebrity mother as she sure knows how to make an investment of her time and effort in parenting despite her busy schedule. Many of the songs she has written were for her eldest daughter Willow Sage Hart, who is now nine years old. Willow seemed to inherit her mother's talent since these two are constantly singing together, and Willow has such an amazing voice herself. She has gone viral with her rendition of the song A Million Dreams from the hit movie The Greatest Showman.
Jameson Moon Hart, on the other hand, is the 4-year-old son of the pop superstar. Recently, Jameson and his mom Pink were challenged with health complications, but fortunately enough, they survived – most especially because of the care of his dad and Pink's husband, Carey Hart. Pink recently greeted her son a happy birthday with so much love.
Pierce Brosnan | 5 Children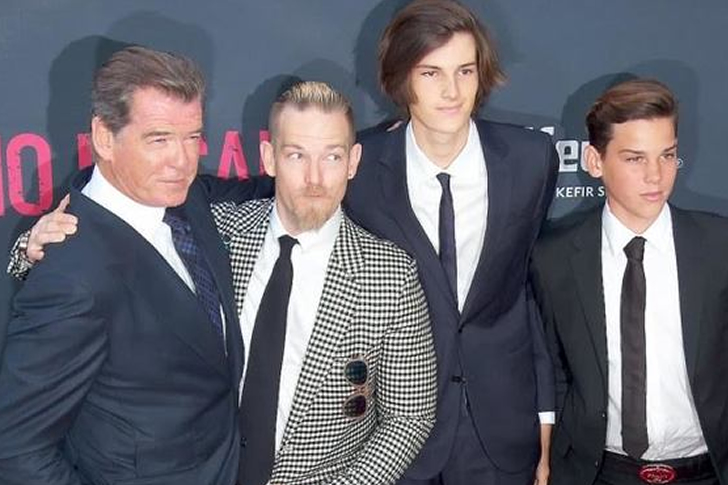 Pierce Brosnan is one of the most famous and successful actors of all time. He is best known as one of the actors who landed the role of James Bond. The celebrity is not only an action star; he is also good at musicals. The Mamma Mia movies are proof of that, so the films should take some credit for Brosnan's discovery of hidden talents. The actor is best known, however, for his enduring love story with his beautiful wife, Keely Shaye Smith. He always gushes about her on interviews, mentioning how Keely manages to make him weak every time she looks at him.
All in all, Brosnan has five kids. Two of his kids he shares with Keely, Dylan, who is 24 years old, and Paris, who is 19 years old. Both are entirely carbon copies of their parents' beauties. Meanwhile, Sean, who is 37, Christopher, who is 48, and Charlotte, are Brosnan's kids with former wife, Cassandra Harris. The five children seemed to be getting along well, so there shouldn't be a problem with the Brosnans being one happy family. Unfortunately, Charlotte is no longer with them, as she passed away in 2013.
Phil Mickelson | 3 Children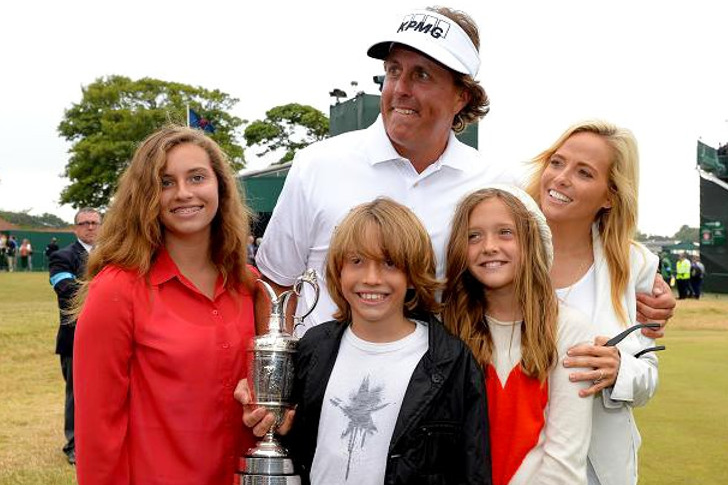 Professional golfer and champion Phil Mickelson has been married to his beautiful wife Amy since 1996. Credits to the 50-year-old champ's loyalty, the two are still going strong through the years and three kids later.
Evan Samuel, Amanda Brynn, and Sophia Isabel Mickelson are the three kids that this lovely couple shares together. Evan is a 17-year-old handsome young lad who is known to be on the list of one of the most famous celebrity children. He is active on social media, too. Amanda, meanwhile, is a 21-year-old scholar, an archivist, and a historical artist. She is currently with the Cogut Institute of Humanities. Lastly, Sophia is a gorgeous 19-year-old who decided to be a part of Hollywood and pursued her passion for acting. In fact, the young Mickelson had her debut role in the film Ruta Madre a few years back.
Pat Sajak | 2 Children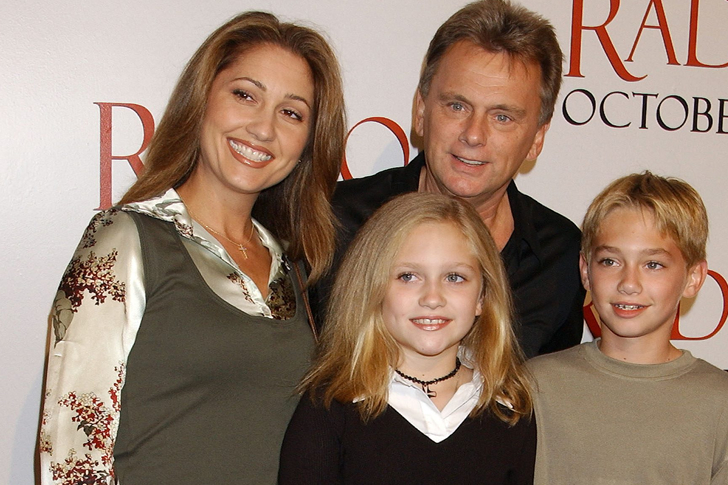 TV personality and game show host Pat Sajak has two beautiful children, Maggie Sajak and Patrick Michael James Sajak. Having inherited Pat's good looks, the kids are now looking superb, too! The gorgeous 26-year-old blonde Maggie is a country singer. Clearly, she is into showbiz since she has co-hosted one of her father's game shows before. Maggie has chosen a wise and passionate investment for her talent and future— which is another thing that she has gotten from her dad!
Consequently, the 30-year-old and equally good-looking Patrick is the eldest son of the game show host. He is tall, handsome, and has been seen from time to time watching sports with his dad. Opposite to his sister, however, Patrick wants to keep his status and other aspects of his life a mystery – or rather just private. Pat's son and daughter might have had different passions and personalities, but they sure have one thing in common: they love their dad just as just much as he loves them.
Oprah Winfrey | 1 Child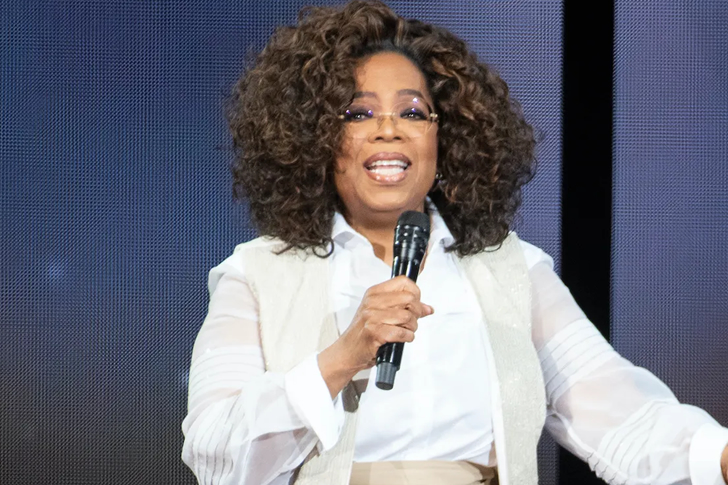 Credits to Oprah Winfrey, the world has known the best television host of all time. She is one of the biggest names in Hollywood who mainly dominated the field of talk shows. Oprah is many things – she is a billionaire, a producer, an entrepreneur, a strong woman, and a funny friend. What most people don't know about her, though, is that she actually had a son. As the Queen of All Media once admitted to all open interviews, she had a son when she was just 14 years old. She named him Canaan because according to the talk show royalty, the chosen Biblical name means "new."
Sadly, Canaan Winfrey didn't make it past the age of 1. The baby was premature, but Oprah said it was important for her to name him and have a proper memorial. All of this happened in 1986 when Oprah was a young teenager, and she was at her lowest moment in life. This tragic event must have affected the Queen of Talk Shows drastically, as it eventually changed her perspectives and she has disclosed that she never wanted to have a child again.
O. J. Simpson |5 Children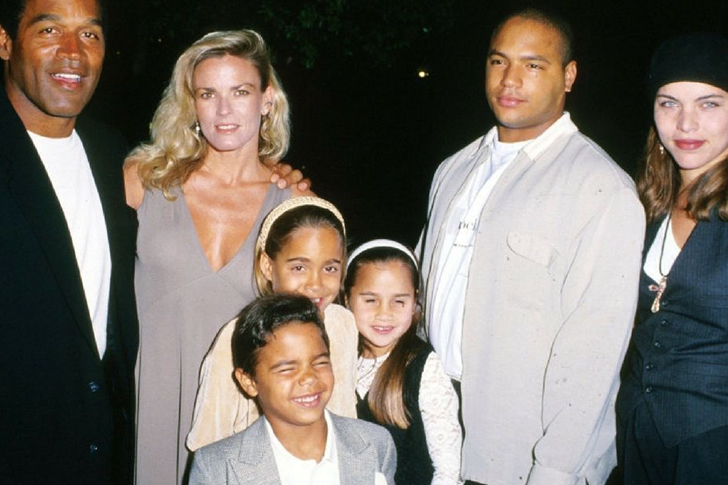 Former football running back, broadcaster, actor, and advertising spokesman O.J. Simpson has a total of 5 kids. In spite of some of The Juice's infamous news and controversies, we should give him credit for being a good father. As a matter of fact, Sydney Brooke, Justin Ryan, Jason, and Arnelle Simpson are all on good terms with their dad.
Unfortunately for one of them, Aaren, was gone too soon. She was only a year old when she got involved in a swimming pool accident that led to her untimely passing. Truly, it was a difficult time for the family. As for the four, they have grown to be trailblazers in their own fields— and good looking just like their dad! Sydney is 35 beautiful girl who graduated from Boston University in 2010. She refers to her father as her best friend. Justin is a 32-year-old handsome young man who has decided that he wanted to live his life away from his famous family and their Hollywood legacy. Jason Simpson, on the other hand, is now 50 years old and is probably the most controversial among the siblings. Lastly, Arnelle is now 52 and is currently struggling with housing issues, but she fortunately recovered with her family's' help.
Will Smith | 3 Children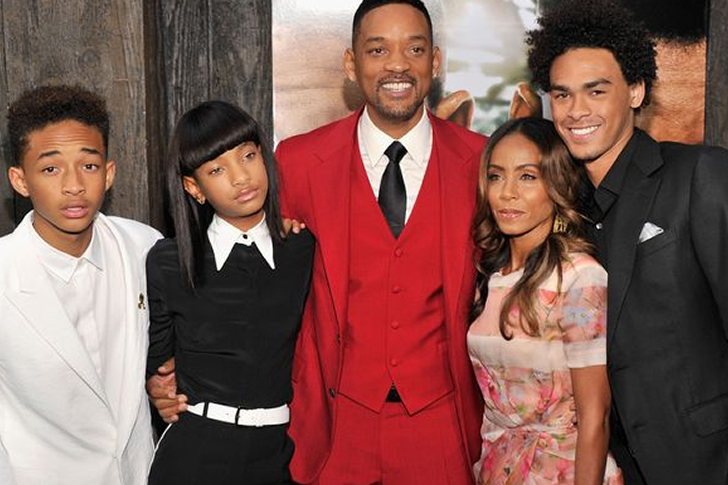 Will Smith is one of the most famous and successful actors of all time. From starring in action films to family-friendly Disney projects, Will is a versatile talent and a legend beyond compare. With his natural positive humor and attitude, he is most beloved by fans— but most of all, his family. He and his wife, the beautiful Jada Pinkett Smith, is one of the most popular celebrity couples of all time. Their marriage was a long-term investment that turned out to be so worth it.
They have shown to us not once, not twice, but so many times that they are couple goals. Jaden, Willow, and Trey are the children of the award-winning actor. Trey is Will's first kid with his former wife, Sheree Zampino. He is now 28 years old and is a stunning charmer, just like his father. Jada and Will had Willow and Jaden together. 20-year-old Willow, of course, is a famous singer. She has reached success and even has a house of her own now. Jaden, meanwhile, is also an actor, and at the age of 22, he has already appeared in various films, some of which are with his dad.
Wesley Snipes | 5 Children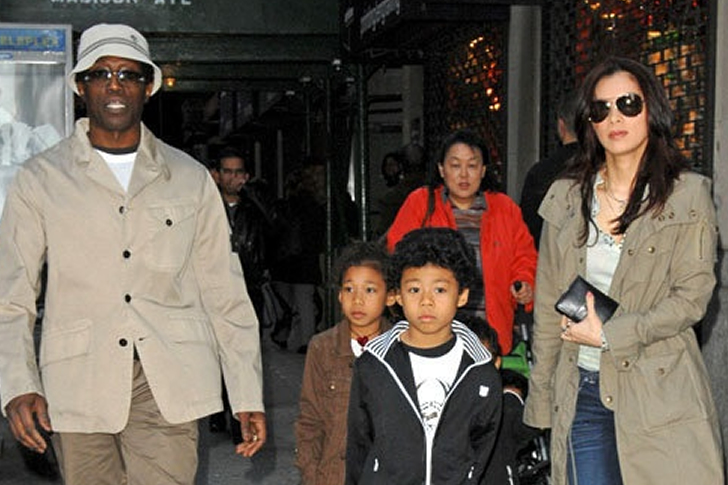 Actor, producer, martial artist, and author Wesley Snipes must receive all the credits for being the coolest dad when it comes to his children's names. He shares one son with his former wife, April Dubois, and four kids with his current wife, Nakyung Park.
Jelani Asar (33), Akhenaten Kihwa-T (20), Iset Jua-T (19), Alaafia Jehu-T (16), and Alimayu Moa-T Snipes (13) are all close to their father. Jelani is Wesley's eldest son to former wife, April Dubois. If you ask us, the younger actor clearly gets all of his nice features from his parents, and the combination couldn't be more perfect. Jelani seems to be responsible in his early 30s and is also the conservative type when it comes to relationships. Not much can be said about the other four youngsters, since they are still making their way to being young adults. Despite this, the five Snipes siblings share one thing in common – they all have incredible height, and when we say that, we mean they are at least 6 ½" tall!
Wendy Williams | 1 Child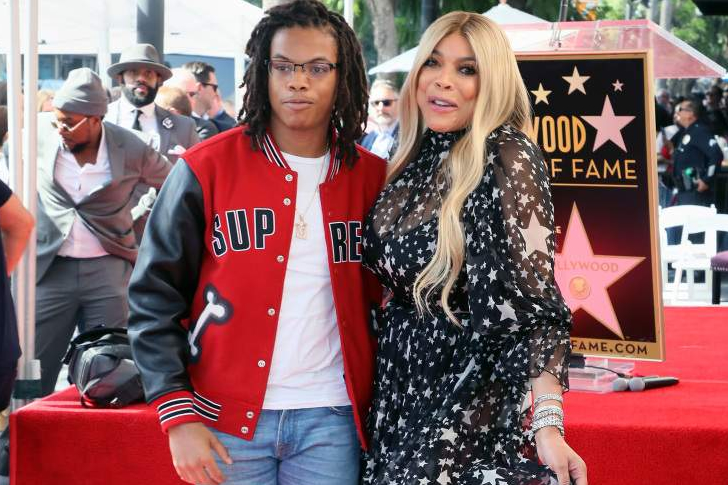 Wendy Williams is one of the most famous and also the most controversial talk show hosts of today. She manages to always grab people's attention with whatever she says in front of the camera, and sometimes, even off-camera. She and her former husband, Kevin Hunter, have been married from 1997 to 2019. Even though these two decided to call it quits, they were able to work things out and became co-parents to their only child, Kevin Hunter Jr. As it turns out, the decision was an investment that clearly paid off.
Kevin Jr. is now 20 years old and clearly takes on the good genes from both his parents. He looks good, and he has a full sense of humor too. There was a point when the child was involved with illegal substances. With the support and the right treatment from his loved ones, however, he was able to overcome it in no time.
Valeri Bertinelli | 1 Child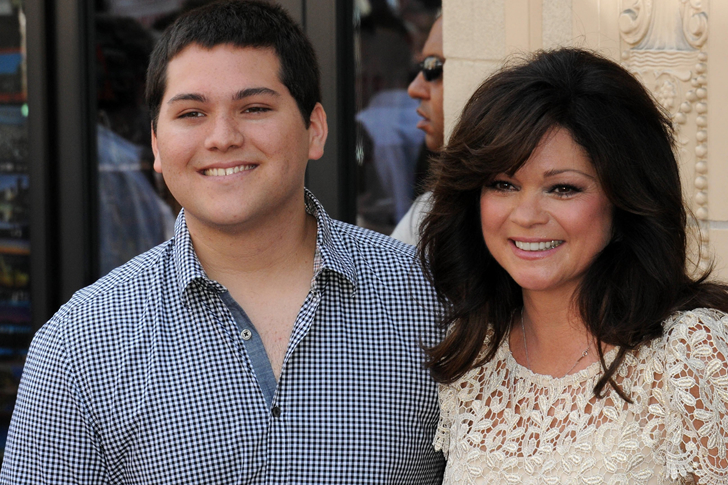 Valerie Bertinelli only has one child, Wolfgang Van Halen. For sure, the kid's last name rings a bell. He is the son of the late Eddie Van Halen, the iconic songwriter and guitarist of the equally legendary band, Van Halen. Valerie and Eddie once became a thing and tied the knot in 1981. With the help of the former couple's lawyers, they unfortunately parted ways in 2007.
Since then, the 60-year-old TV personality put her sole attention on her kid, though she once again got married in 2011 to Tom Vitale. Just like his dad, Wolfgang became a part of Van Halen. Though this profession made Valerie worried for her kid due to the negative connotations that came with being a band member, she fully trusted her son. In an interview, the Food Network host proudly said Wolfgang had made excellent choices in life that she had no reason to be afraid for his career.
Tommy Lee Jones | 2 Children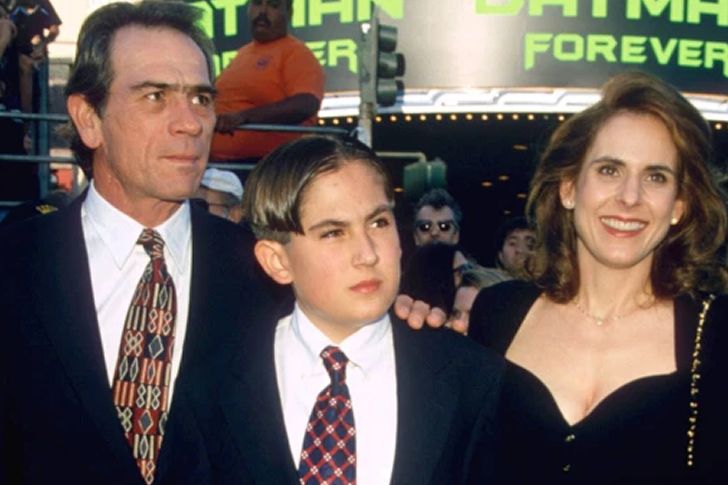 Despite being married thrice, Tommy Lee Jones only has two kids, Austin Leonard and Victoria Jones. He had them with his second wife, Kimberlea Cloughley. Tommy and Kimberlea exchanged vows in 1981, but their union sadly ended in a separation in 1996. Anyhow, they are left with kids who are good reminders of the degree of happiness the ex-couple used to share when they were still together.
Austin is now 38, while Victoria is 29. Yep, there is a great nine-year gap between the siblings, for some reason. As they are now both grown up, their parents are surely proud of the successful paths they take in life. Just like their dad, Austin and Victoria followed in his footsteps and joined the entertainment world. Austin has two movie titles under his name, The Homesman and The Good Old Boys. His sister, on the other hand, has starred in Men in Black II and Sorry, Haters. They say the apple doesn't fall far from the tree— undoubtedly, the next generation of Joneses are also as good as Tommy in acting.
Tom Selleck | 2 Children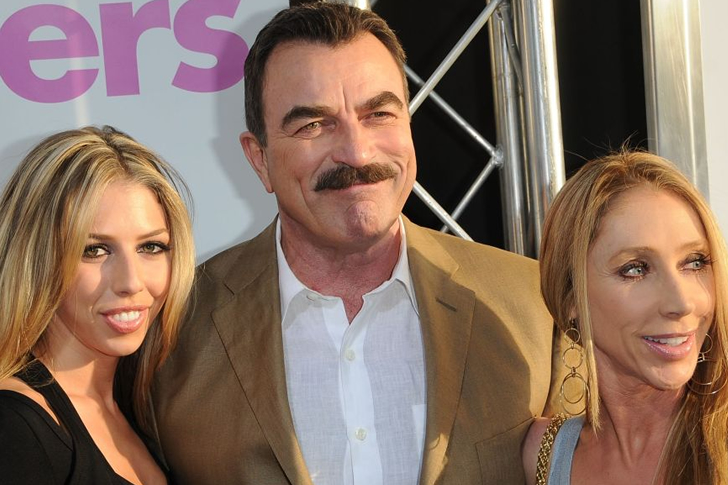 He may be known as the Reagan family's patriarch in the hit CBS series Blue Bloods, but Tom Selleck is a real-life dad to his two kids, Hannah Margaret and Kevin Selleck. Hannah is the 76-year-old actor's daughter to his second wife, Jillie Mack, to whom he was married in 1987. Alternatively, Kevin is his son from his previous marriage with Jacqueline Ray. As soon as Tom and Jacqueline tied the knot in 1971, they adopted Kevin. In 1982, however, Tom and Jacqueline went on their separate ways, thanks to their attorneys' help.
Despite knowing their father is a great actor, only one of them followed in his footsteps. Hannah made her own career path and became an equestrian. She's now making a big name in the world of horseback riding and even gained national recognition for it. The woman is a champion, by the way. On the other hand, Kevin joined the entertainment world as an actor and musician. Tom is one lucky dad to have two successful kids who work hard to achieve the success they have today.
Tom Hanks | 4 Children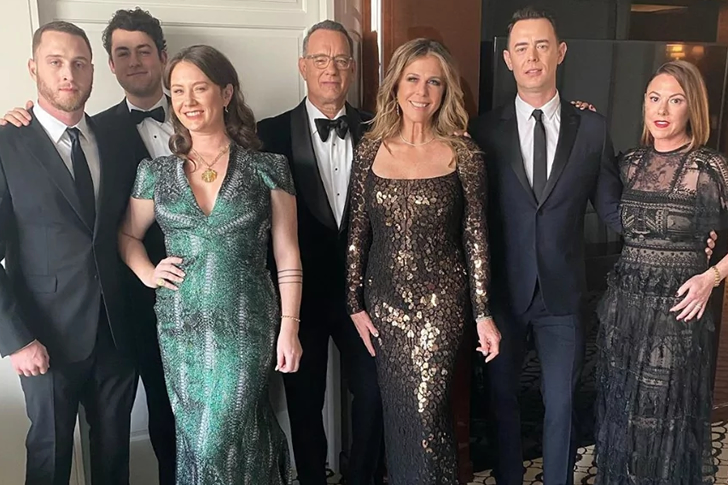 Tom Hanks and Rita Wilson have a beautiful blended family. After these soulmates got hitched in 1988, they had become a family of six. The couple welcomed their two sons, Chet and Truman Hanks, in 1990 and 1995, respectively, while he also has two kids from his previous marriage with Samantha Lewes. The 64-year-old actor and his first wife also share two kids, Colin and Elizabeth Ann Hanks. Despite being separated, Tom and Samantha are amicable, and their kids should give them credit for that.
Indeed, Tom is a lucky bloke. He doesn't only find success in his acting career but also in real life. He and Rita are going strong and now celebrating almost 33 years of marriage. The actor's four kids are all successful in their own fields. Colin and Chet both follow in his footsteps, while Elizabeth is a successful writer based in LA. Lastly, Truman is working behind the camera at a production company.
Tom Cruise | 3 Children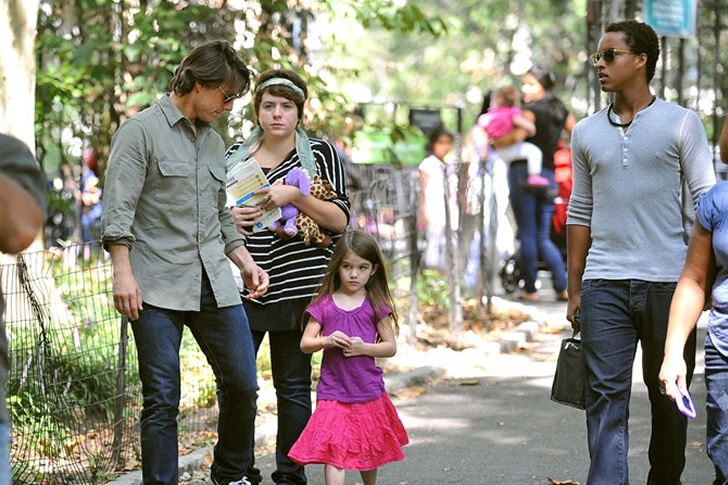 He may be currently single, but Tom Cruise is a father of three kids. As one of the most sought-after, handsome, iconic, and not to mention highest-paid stars in Hollywood, it is no surprise that the 65-year-old star used to be married to some of the most beautiful in the industry. From 1997 to 1980, he was married to Mimi Rogers. He then tied the knot with Nicole Kidman in 1990, and after their separation in 2001, he wedded Katie Holmes in 2006, but their union also ended up in 2012.
Although Tom didn't have a kid with Nicole, they adopted two kids, Connor and Isabella Cruise. He also has a biological child with Katie, the now-14-year-old Suri Cruise. Isabella, meanwhile, is now a successful artist, and with the help of the right investment, she has established her own company called Bella Kidman Cruise. In addition, Connor is also a well-accomplished guy and now a DJ. Suri is still young and maybe busy with her studies, and it remains to be seen if she will follow in her parents' footsteps.
Tina Fey | 2 Children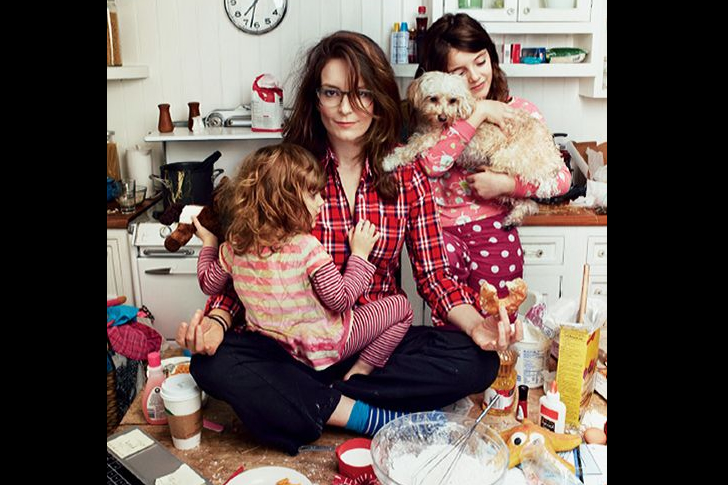 Tina Fey has only been married once in her life, and it was to the famed composer, actor, director, and producer Jeff Richmond. Despite the 10-year age gap, these two are living happily together. Tina is one lucky girl for having almost everything that she wants. She has a successful career, a happy two-decade marriage, and two kids. Indeed, her life is perfect to some degree.
Her children, Alice Zenobia and Penelope Athena Richmond, may still be young—they are 15 and nine years old, respectively—but they are already showing an interest in following in their mom's footsteps. Alice had a cameo role in Tina-created sitcom 30 Rock, where she played the young version of her mother's character. Penelope, oppositely, is everything like Tina. Aside from their looks, she is as funny as her, especially when she crashed one of her at-home on-camera interviews. They are genuinely a perfect example of the adage "like mother like daughter."
Tim Mcgraw | 3 Children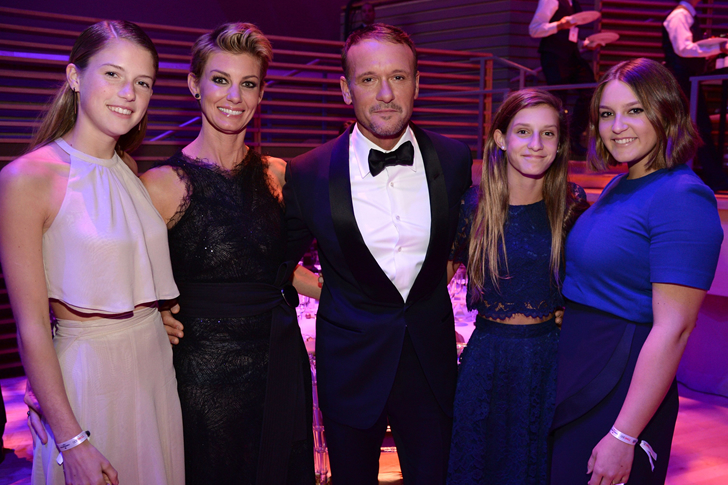 The country music superstars Tim McGraw and Faith Hill didn't only produce the best songs ever, but also the most beautiful and talented daughters. In their 25 years of marriage, the couple has been blessed with three kids, Gracie, Maggie Elizabeth, and Audrey Caroline McGraw. The trio has been making occasional appearances with their parents on different red carpet events, though they are also busy doing their own things. Now, they are all grown up and working on separate careers of their own.
The firstborn Gracie relocated to Los Angeles. Thanks to a moving company, she had made the move without a sweat. The middle child, Maggie, is still busy with her studies and working hard to get her masters. Lastly, the youngest of them all, Audrey, just graduated from high school. Despite the young age, she has already shown an interest in the entertainment world and is taking up a film making course.
Tim Allen | 2 Children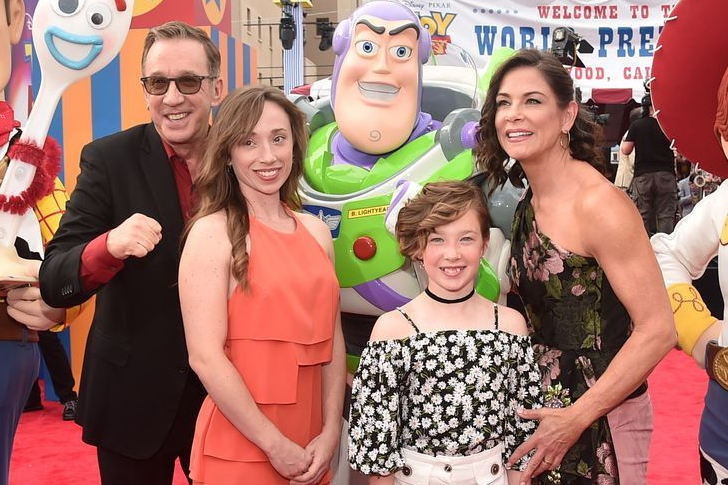 As one of the most famous comedians of today, Tim Allen has already made a legacy in the entertainment industry. He is an all-around funny guy, famous for his TV and movie credits Home Improvement, Toy Story, and The Santa Clause. For sure, he has made a lot of kids laugh, including his own two children, Elizabeth Allen Dick and Katherine Allen.
Although Tim is a very private person, fans know a thing or two about his life. He was once married to his college sweetheart Laura Deibel, and though their union didn't work, ending up separating in 1999, they were blessed with a beautiful daughter, Katherine. His firstborn is now 32 years old and occasionally seen with her dad in red carpet events. Tim later remarries after dating Jane Hadjuk for five years. They now share a kid, Elizabeth, who is currently 11 years old. Just like her big sister, Elizabeth joins Tim and her mom at movie premieres and more.
Tiger Woods | 2 Children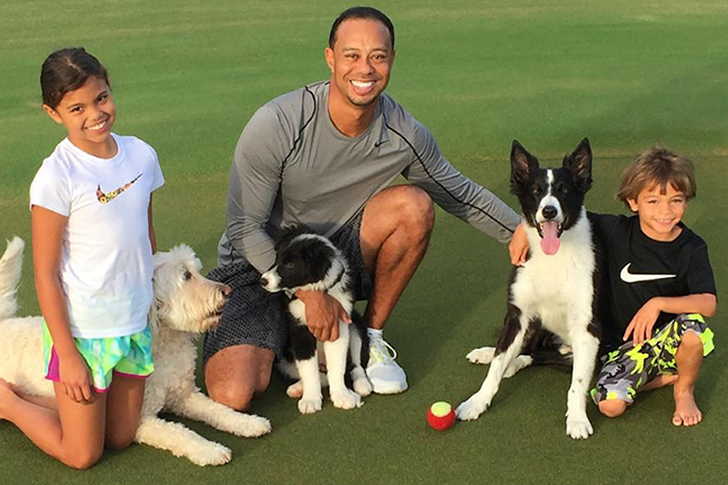 Tiger Woods and his ex-wife, Elin Nordegren, share two kids, Sam Alexis and Charlie Axel Woods. After they went on their separate ways, the iconic golfer has put his focus on his children. His eldest child, Sam, is now 13 years old and also into sports. Compared to her father, however, she is more interested in soccer. Although his daughter may not follow in his footsteps, Tiger has been very supportive of her.
He accompanies Sam to soccer practices and games. In fact, in an interview, he said that as long as his kids are having a good time playing sports, he doesn't mind if it is golf or not. Anyhow, his youngest, Charlie, seems to inherit his father's incredible talent in golf. He already won a junior golf tournament by five strokes, and he seems to be a Tiger Woods in the making to some degree.
Taraji P. Henson | 1 Child
Taraji P. Henson is evidently one proud mama to her only child, Marcell Johnson. She often posts her son's photo on Instagram, and she's even proud of her being a single mom and doing that thing for her child. Although her son is already a grown-up man, he still accompanies his mother in different red carpet events.
Whenever you see them together, you can feel the incredible degree of the bond they have. Today, Marcell is a successful model, and he has every right to be one. Taraji is glad of every achievement he has attained, and she always celebrates his growth and success. When Marcell made his New York Fashion Week runway debut, his mother couldn't help but brag about his growing career. Marcel, too, is following in Taraji's footsteps and already made several appearances on Empire and different TV series.
You've Reached The End